Hello friends! It's been quite a long time since my last post, I know… It's not because I've lost interest in the game, I think I'm getting more and more interested since I had to go a full two weeks without playing :) Anyway, back to the game. As you well know I have finally clinched the UEFA Champions League trophy at the end of last season, my 12th season in charge at Viitorul Constanta. My goals for the 13th season were to win the UEFA Super Cup and the Club World Championship and maybe repeat the good Champions League run. I expected our reputation to go above "national" this time but…
…that wasn't the case! Our reputation remained unchanged, don't ask me how or why.
However, we moved further up the European club rankings, we are now 6th and that is just wonderful.

The same can not be said about the league though, the Romanian top flight dropped 5 places in the European Competition Rankings and I guess that could be an explanation for our club reputation as well.

But we retained the qualification places, which means we will go straight into the Champions League group stage if we win the domestic league. And, as you well know, we will win the domestic league :)

I received a pretty good transfer budget this time but with the reputation remaining unchanged I didn't have too many players to spend the money on.

I did bring in a few lads but only one of them will go straight into the first team: Dutch midfielder Hennie Paauwe from Feyenoord. There were no important sales this time, just a few loans and a few fringe youngsters going out.

And now, the first big test of the season, the UEFA Super Cup against Europa League winners Sporting Lisbon. We had no previous meetings with the Portuguese side but we did have some history in the Super Cup as we lost it in 2018 to AC Milan.
Sporting Lisbon vs Viitorul (UEFA Super Cup)
Starting Line Up: Nicolas Salva – Tomislav Djurdjek, Xavier Dumont, Georgica Dicu, Sebastien Verdier – Hennie Paauwe, Mike Broadhead, Nahuel Lopez – Rastislav Benko, Juan Cruz Argenti, Dramane Sow
This time we got off to a perfect start as Benko opened the scoring inside the first minute after receiving a perfect assist from Sow. Our joy turned into sorrow after seven minutes as Xavier Dumont was forced off the pitch with an injury and Sporting took advantage of his absence right away as they converted a corner kick. Then we took control of the ball as we often do and the reward came on 25 minutes when Dicu half-volleyed home on a corner kick. But things just couldn't get quiet: Benko made a reckless tackle on 32 minutes and the referee showed him a straight red card.
Things remained quiet for a while after the break and Sporting only came close on 66 minutes when they threw away their first big chance of the match. But they managed to make it all square 10 minutes later with a fabulous shot from distance… They even came close to denying us the chance to fight for our lives in extra time as they smashed a long shot against the crossbar in the fifth minute of injury time.
The game went into extra time and lady luck finally smiled upon us six minutes into the supplementary time as Sow was tripped inside the penalty area and substitute Alin Dicher coolly converted from the spot. We ended the match with just nine men as Argenti had to be taken off two minutes from time but the sacrifice was worth it as we clinched one of the trophies that were missing from our cabinet: the UEFA Super Cup!
Match Highlights:click here to watch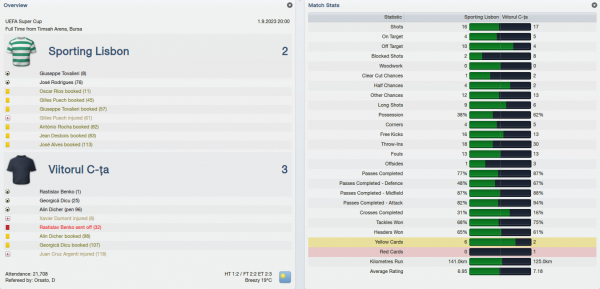 Dumont was sidelined for a month after that injury but that didn't have an impact on our league form as we won 17 out of the first 18 games, conceding only one draw and three goals overall in the process.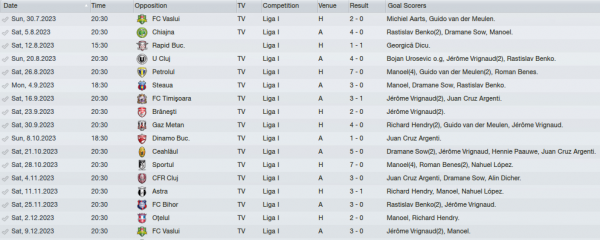 Yeah, I know, we're heading for another league title :)

The Romanian Cup was a relaxing ride as well, I guess we'll win another one of those too.

On to more difficult things now: the Champions League.
We were seeded first again for the group stage draw and we managed to confirm our status as we ended the group unbeaten. We recorded some nice results too, including a 4-2 beating of Valencia.

We finished top of the group but that didn't give us an easy draw in the first knockout round as we will face Arsenal. We have beaten them before though, so I guess we can hope to do that again.

Last but not least, the Club World Championship. We took on a rather weak side in the semi finals and we went through easily, with Manoel and Jerome Vrignaud bagging a brace apiece.

The final saw us taking on Mexican side America, a team that Kevin might know a lot more about after facing them in the North American Champions League a few times :)
America vs Viitorul (Club World Championship Final)
Starting Line Up: Nicolas Salva – Tomislav Djurdjek, Xavier Dumont, Georgica Dicu, Sebastien Verdier – Hennie Paauwe, Mike Broadhead, Yasen Zlatinski – Rastislav Benko, Juan Cruz Argenti, Dramane Sow
The opening 20 minutes in Yokohama were boring as hell, the Mexican were keen on keeping the bus parked and we were unable to break through. Argenti managed to create a first good chance after 22 minutes but his good shot from the edge of the area was diverted onto the post by the goalkeeper. We kept the pressure on their defence and we finally broke the deadlock just before half time thanks to a spectacular low drive from Zlatinski who had the courage to take his chance from 20 yards out.
We were a lot less convincing after the break and the Mexicans nearly punished us on a corner kick on 64 minutes but we were rescued by the crossbar. We regained control after that scare and nearly doubled the advantage on 71 minutes when Sow's header bounced clear off the post. There was no threat in sight though, the ball was in our control most of the times and substitute Manoel had the chance to wrap things up two minutes from time but he ended a good run with a disgusting finish. The trophy was ours though!
Match Highlights:click here to watch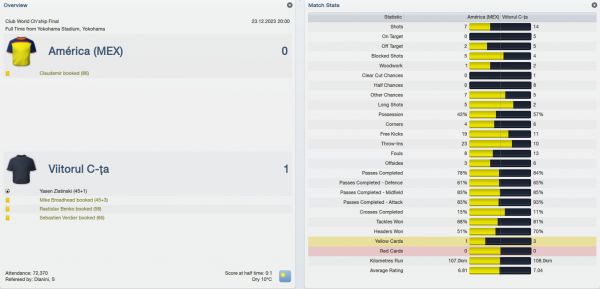 So, I have won the last two possible trophies in this career, it only took me 12 and a half seasons :) But I guess I won't stop here, I'm just 16th in the world-wide hall of fame and Mourinho still is ahead of me :)

Before wrapping up, I want to share something that makes me really happy: Manoel, the team's veteran at 29 years of age, is leading the charts with his awesome average rating so far. He was one of the first important signings that I have made at this club and seeing him still performing well after so many years is quite enough to make me a happy manager, mainly because I was patient enough to keep him at the club even though he was almost constantly injured during the first couple of seasons. He was signed on a free transfer in 2013, this is his 11th season at the club so far, making 180 league appearances for Viitorul and bagging no less than 115 goals. Oh, and he just got an award as the Club World Championship Best Player.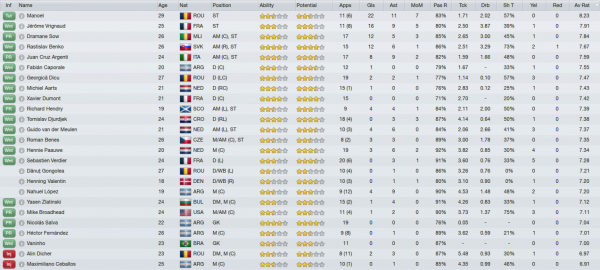 That's about it for now, thanks for going through this update, I hope you have enjoyed it. I'm looking forward to your comments but please don't ask me about my future career in Football Manager 2012 :) I'll remain at this club for now and I guess I'll just play it by ear and see what happens.

Subscribe to our Newsletter