Hello folks and welcome to a new episode of my Football Manager 2012 story! After reaching the Champions League semi finals last season with Viitorul Constanta I was hoping for some major changes at the club during the summer. What I hoped would change was our club reputation, still listed as "national" at the end of the season. But before going into that aspect, let's see how the European rankings have changed following our good run last season.
The great news was that we are now the 9th best club in Europe according to the UEFA coefficients and that is simply unbelievable, no Romanian club has ever featured that high up in the rankings. That also gives us a chance to be seeded first in the Champions League group draw, if one of the top eight fails to qualify.

The Romanian First League has also made a small step up the ladder thanks to our performance.

But the qualification places remain unchanged. And, to my surprise and anger and frustration, our reputation remained unchanged as well! Why? I really do not know.

So we had a hefty transfer budget for a change but I didn't have too many options to spend it due to the reputation remaining unchanged.

Moreover, quite a few of my players told me that they wanted to leave because the club's reputation didn't go up as I had promised them. Juan Belencoso wanted to leave and I did let him go for 5 million pounds to Marseille. Then goalkeeper Tomas Held wanted that too and he left for 6.75 million to Sporting. And the list continues: Ali Amara  left for 6.25 million to Lille while Sebastien Verdier and Dramane Sow also wanted to leave. I didn't let them though mostly because I was unable to find suitable replacements.
All in all we received 23.5 million in transfer fees, with Sammy Mbarga also leaving for 2.9 million, but not because he wanted to ;) Midfielder Gabriel Neacsa was sent out on loan because I had a better player coming in.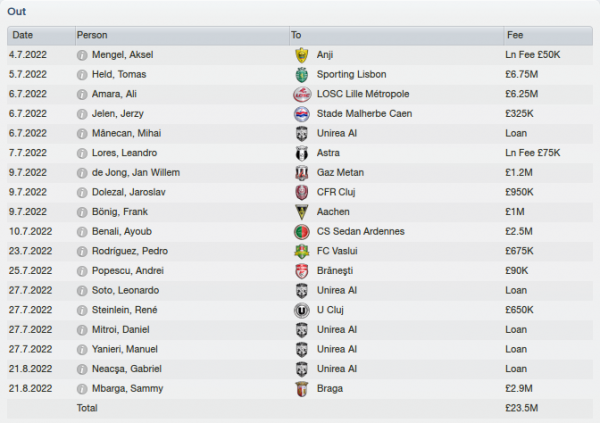 We spent less than we received, 18.25 million, and that's not because I'm cheap :) Nicolas Salva is our new goalkeeper, a bargain at 300K, youngsters Federico Caporale and Michiel Aarts are our new backup pair at the heart of the defence while Mike Broadhead is our new guiding light in midfield.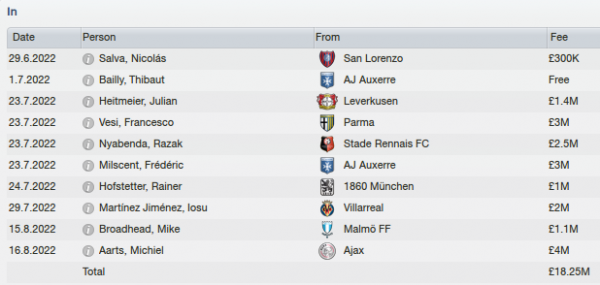 I have also chosen to promote a very young lad from our youth team, Henning Valentin. The Dane has just turned 17, he has been at our club since he was 15, and I hope he will grow up quickly and make our fans forget all about Ali Amara.
Here's how the 24-man squad looks like, click on the names to view the current profiles:
Goalkeepers: Nicolas Salva, Vaninho
Right Backs: Tomislav Djurdjek, Henning Valentin
Left Backs: Sebastien Verdier, Ali Amara
Centre Backs: Xavier Dumont, Georgica Dicu, Michiel Aarts, Fabian Caporale
Central Midfielders: Maximiliano Ceballos, Mike Broadhead, Alin Dicher, Yasen Zlatinski, Roman Benes, Kamel Ben Yahia, Hector Fernandez
Strikers: Juan Cruz Argenti, Manoel, Rastislav Benko, Dramane Sow, Jerome Vrignaud, Peter Guba, Guido van der Meulen
With this squad we recorded nothing but wins during the summer, including our 9th consecutive Romanian Super Cup. And we conceded just two goals in the process, both against Steaua Bucharest.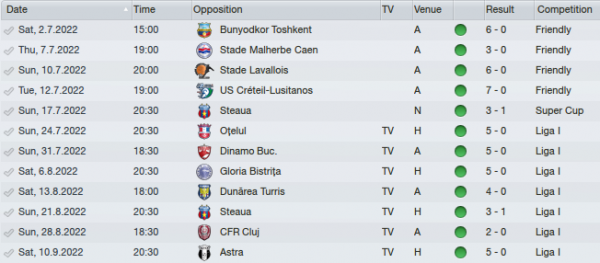 The stats so far show some improvement from Juan Cruz Argenti, who finally seems able to find the back of the net. New signing Fabian Caporale also seems to be enjoying life at the club while Kamel Ben Yahia, on the other hand, has missed all the matches this summer due to an injury.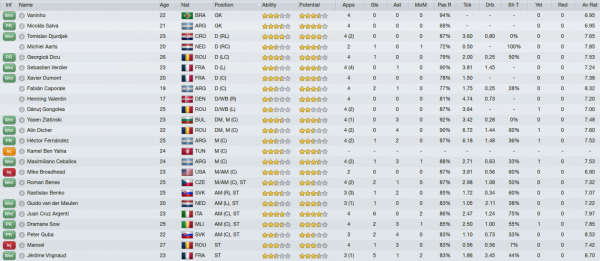 And now, the moment you were waiting for: the Champions League group stage draw! Believe it or not, we were seeded 1st this time! We still got AC Milan from the second pot and Shakhtar from the third but we have beaten both teams in the past. In fact, we defeated AC Milan last season in the quarter finals…

The bookmakers don't have too much faith in us though but they've been wrong before, as we all know ;)

We have a lot of money right now but not much to do with it. There are some improvements being built at the training ground but that's about all. I can't spend big money on big players because those big players don't want to come to us due to the reputation, I can't ask the board to expand the stadium for some reason I am unaware of, nor build a new stadium for that matter.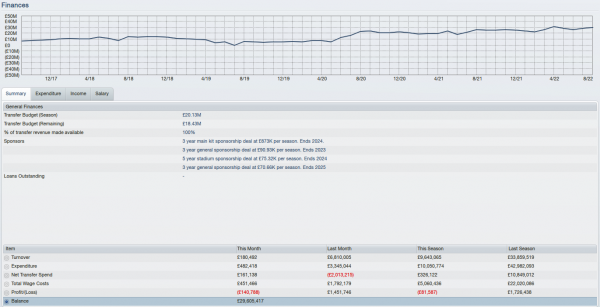 I guess we have hit another deadlock but hopefully, if we manage another good European run, that infamous reputation will finally move up a notch and allow me to take this club further up the ladder. Thanks for reading, looking forward to hearing your thoughts.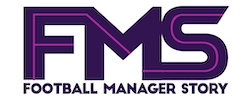 Subscribe to our Newsletter