Hello friends, it's time for another try to reach the Champions League final as my Football Manager 2012 story enters the second half of the 12th season in charge of Romanian club Viitorul Constanta. The first half of the season was perfect on the domestic front as we grabbed 18 wins out of 18 in the league. The Champions League group stage went smoothly as well as we finished atop the group, ahead of AC Milan.
I didn't do much in terms of transfers during the winter break, just two changes in the first team:
Midfielder Kamel Ben Yahia was sold for 4 million and I bought young Argentinian Nahuel Lopez for 7 million to replace him.
Striker Peter Guba was sold for 5.25 million and the replacement was free as I decided to promote youngster Richard Hendry from the Under 19s team.
As you remember we were drawn against Anderlecht in the first knockout round, the easiest opponents we could get at this stage. We grabbed a 1-1 draw in the first leg but we could have done a lot more since we had 19 shots but just 4 on target. The second leg was a lot easier, we beat them 2-0 to advance to the quarter finals.

The draw put us against Arsenal, not an easy task. I would have preferred Schalke but I guess there are no easy opponents at this stage.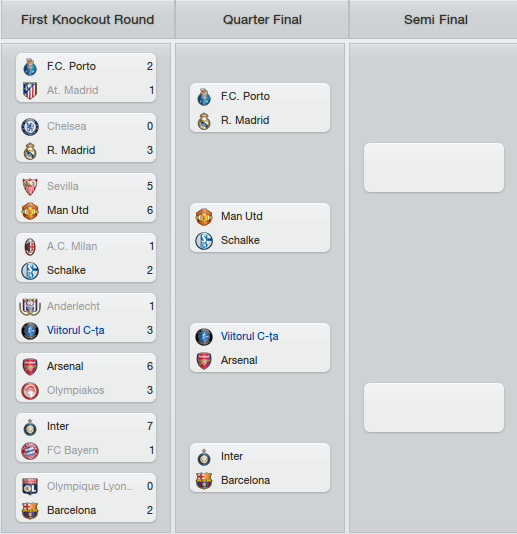 We had a decent record against Arsenal before that clash, 1 win and 1 loss in competitive games plus a friendly win. But all those games had been played in 2019, that's almost four years before the battle ahead.

I had quite a few injury worries before the game though as Sebastien Verdier, Fabian Caporale, Roman Benes and Juan Cruz Argenti were all unavailable due to fitness problems. As for Arsenal, they have Antonio Conte as their manager, two great midfielders in Jack Wilshere and David Alaba and a dangerous striker in Connor Wickham.
Viitorul vs Arsenal (Champions League Quarter Final Leg 1)
Starting Line Up: Nicolas Salva – Tomislav Djurdjek, Xavier Dumont, Georgica Dicu, Danut Gongolea – Yasen Zlatinski, Maximiliano Ceballos, Hector Fernandez – Rastislav Benko, Manoel, Dramane Sow
My boys got off to a decent start, we managed to get a few shots on target right away but Arsenal were far more dangerous on 15 minutes when a header from inside the penalty area bounced back off the post before being cleared by my defence. Our domination was quite clear though and we finally managed to create a clear chance in the 35th minute but Sow's header from a good position was totally misplaced.
The African striker did a much better job two minutes before the hour mark when he nodded home on a Djurdjek cross to put us ahead. Arsenal replied four minutes later but goalkeeper Salva kept the door shut with a great save. Another four minutes went by before we doubled the lead: Manoel sent in a good cross and Benko produced a perfectly timed sliding finish. I decided to switch to the counter version of my tactic but that didn't help as Arsenal pulled one back on 69 minutes with quite a bit of help from my defenders. Luckily we restored the two-goal lead eight minutes from time as substitute Jerome Vrignaud was held inside the box and Benko coolly converted the penalty kick. It was a well-deserved win and by a decent margin too, even though I would have preferred to keep a clean sheet.
Match Highlights:click here to watch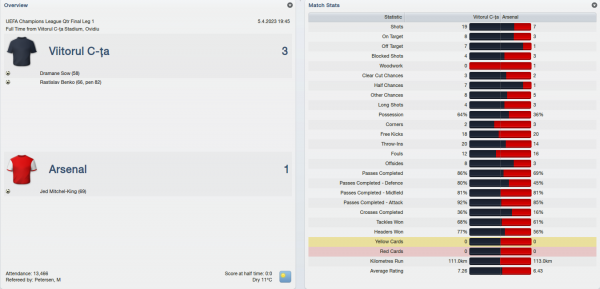 I expected a tense second leg but it was anything else but tense. Arsenal were unable to create clear chances, they had just two shots on target, while we kept things under control. Moreover, Dramane Sow bagged a decisive goal on 56 minutes to send us through to the semi finals for a second time in a row.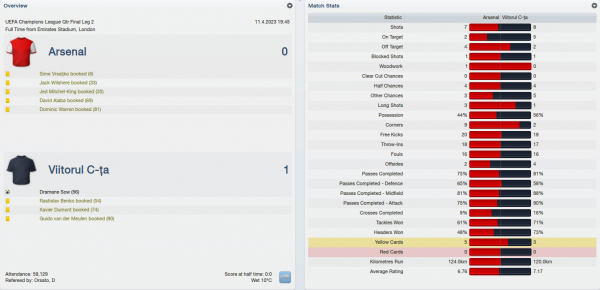 I was expecting to get Barcelona in the last four but we got Inter instead as the Italians defeated the Spaniards in tight battle. Real Madrid and Manchester United appeared to be cruising in the other half of the board…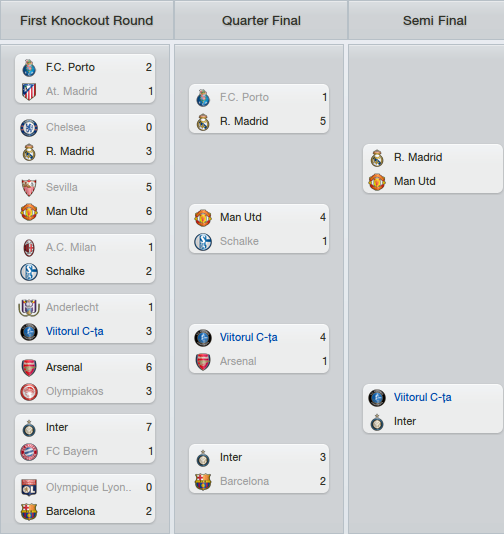 We didn't have a good track record at all against Inter: just one point out of four matches, all of them in the Champions League group stage. However, those games were played in 2015 and 2016 and we did make some progress in terms of squad quality since then.

Our injury problems were a lot easier to handle before the semi final as only Fabian Caporale and Roman Benes were still out. Inter had Josep Guardiola on the bench and two very important and well-known players on the pitch: Lorenzo Crisetig and Iker Muniain.
Viitorul vs Inter (Champions League Semi Final Leg 1)
Starting Line Up: Nicolas Salva – Tomislav Djurdjek, Xavier Dumont, Georgica Dicu, Sebastien Verdier – Yasen Zlatinski, Mike Broadhead, Maximiliano Ceballos – Rastislav Benko, Manoel, Dramane Sow
I decided to start with the counter tactic this time, even though I have always used the attacking version for this season's home games. I thought that keeping a clean sheet was far more important than creating lots of chances but we still managed to get quite a good one on 24 minutes when Benko was sent clean through but fired straight at the goalkeeper. That was the highlight of the first half as Inter were reduced to just one shot (blocked) for the entire 45 minutes. However, I had to replace two players due to injuries before half time, Ceballos and Djurdjek.
Our game was less convincing after the break and the match seemed to be heading towards a goalless draw. We did get another chance on the stroke of full time, it fell to substitute Juan Cruz Argenti, but he imitated Benko and targeted the goalkeeper. Two minutes later we got a corner kick, the last set piece of the game, and we made the most of it: Sow bent in the cross and legendary centre back Georgica Dicu thumped the header home! Get in! It was a precious win, not a spectacular one by any means, but extremely important.
Match Highlights:click here to watch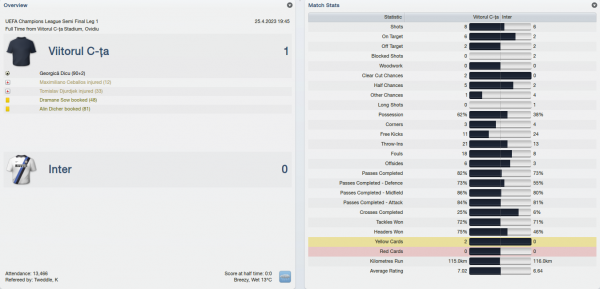 The Inter coach, one of my favourites in real life football, had nice things to say about me before the second leg. I guess he was honest, he doesn't play the Mourinho-type mind games.

I guess you're curious to find out how the second leg went, right? Well, you're just one click away, the answer is in the next page! ;) (just click the number 2 above the comments section)
Go to the next page to read the rest of the story.

Subscribe to our Newsletter