Hello folks and welcome to a new episode of my Football Manager 2012 story featuring Romanian club Viitorul Constanta. My 11th season started with a few good signings and the last episode ended just before the Champions League group stage. As you remember, we were seeded second for the group draw but we still didn't have much luck as we were drawn against Man United, Roma and Dinamo Zagreb. Without further ado, let's go straight to the group matches.
Viitorul vs Man United (Champions League Group C)
Starting Line Up: Tomas Held – Tomislav Djurdjek, Xavier Dumont, Georgica Dicu, Sebastien Verdier – Hector Fernandez, Maximiliano Ceballos, Markus Winkler – Rastislav Benko, Manoel, Dramane Sow
With just Yasen Zlatinski missing through injury, I fielded my strongest eleven, featuring new signings Djurdjek and Ceballos. And we had an excellent start to the game as we broke the deadlock after just six minutes when Winkler blasted one into the roof of the net to wrap up a good team move. Then we enjoyed a good spell of domination but Rooney nearly got us with our feet back on the ground on 24 minutes when he was denied by a good save from Held. I got a bit scared at that point and switched to the counter version of my Barcelona tactic. The game cooled down after that move and the strategy paid off five minutes before the break when Fernandez broke through on a counter attack before crossing inside the box where Sow met the ball with a powerful header. 2-0 at half time!
The second half started even better but Manoel squandered a good chance on 54 minutes. The following corner kick was a lot more pleasing though as Dumont scored his first goal of the season with a spectacular back heel shot! There was no reply from the Red Devils, the game was fully under our control and we could have made the score line even heavier on 87 minutes when Manoel was denied by the woodwork. 3-0 against Man United, I admit that was beyond my wildest dreams! In the other game Roma defeated Dinamo 2-0.
Match Highlights (goals and chances): click here to watch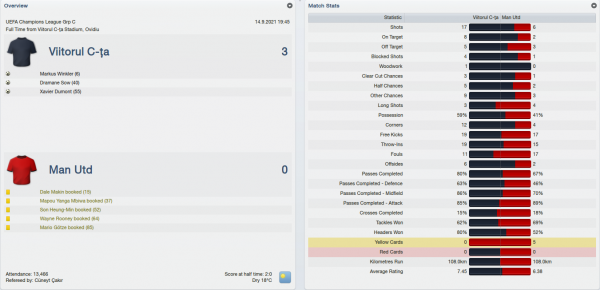 The next game was at Dinamo Zagreb and I will not go into too many details about that one, because it was too easy. We controlled the match from start to finish, Manoel bagged a brace and we won 3-0. Roma clinched a good result in the other match, 0-0 at Old Trafford, and that made our next match even more important.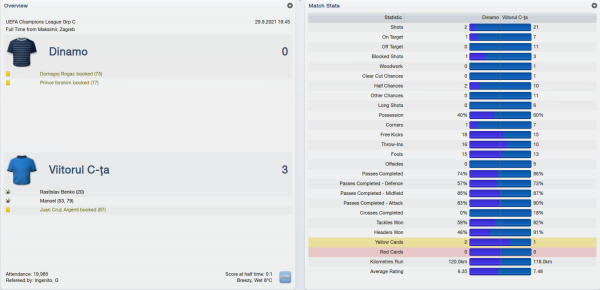 Roma vs Viitorul (Champions League Group C)
Starting Line Up: Tomas Held – Tomislav Djurdjek, Juan Belencoso, Georgica Dicu, Sebastien Verdier – Yasen Zlatinski, Hector Fernandez, Alin Dicher – Rastislav Benko, Manoel, Dramane Sow
We had two injuries in midfield before that important match, Markus Winkler and Maximiliano Ceballos were both out for quite a few weeks. On the other hand, Roma had Federico Macheda and Daniel Sturridge upfront, strength and speed, so I was not very optimistic at the start of the game. The opening 20 minutes were a confirmation of my expectations, with Roma being quite active upfront. They were denied by the crossbar on a free kick in the 22nd minute and then kept us under pressure until half time but my defence survived with no major worries.
Things changed after the break, we took control of the match and the reward came on 66 minutes when Sow powered one in at the end of a fine team move, with Manoel providing the assist. There was no reaction from Roma after the goal, we were still dominating and Manoel wrapped things up seven minutes from time with a fancy solo effort. 3 wins out of 3, I really wasn't expecting that! The other match didn't bring any surprises, Dinamo vs Man United ended 1-4.
Match Highlights (goals and chances): click here to watch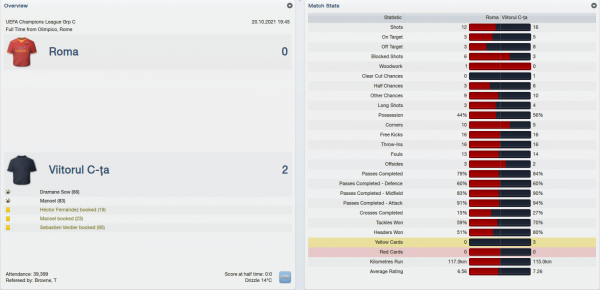 The group table after 3 matches was just unbelievable: 9 points, 8 goals scored and none conceded! At that point we only needed a win against Roma to secure qualification with two games to spare!

Roma vs Viitorul (Champions League Group C)
Starting Line Up: Tomas Held – Tomislav Djurdjek, Juan Belencoso, Georgica Dicu, Sebastien Verdier – Yasen Zlatinski, Hector Fernandez, Alin Dicher – Rastislav Benko, Manoel, Dramane Sow
I chose to field the exact same 11, not out of superstition, but because these were my most in-form players at that moment. The choice seemed to pay off as we created a good chance after just 7 minutes, midfielder Dicher weaved his way into the penalty area but his effort was diverted behind by the goalie. The following corner kick brought another chance as Dicu's header clipped the crossbar. Then it was Sow's turn to have a good opportunity on 22 minutes but the goalie was on that too. The goal finally came on 31 minutes when a good cross from Djurdjek was headed home by Sow. But our joy didn't last more than 10 minutes, Roma struck against the run of play and on their first real chance of the match.
Our domination continued after the break, we were pushing forward relentlessly and we finally scored again on 78 minutes when Djurdjek found another good cross but this time it was Manoel who volleyed home. Roma could have made it all square again six minutes from time when they squandered a huge chance but the three points were wrapped up by Benko with a rather strange injury time goal. We were through to the next round with two games to spare!
Match Highlights (goals and chances):click here to watch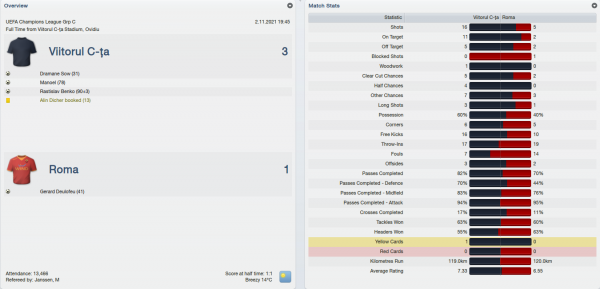 With qualification secured, there is no need to describe the last two games in detail. But I have to say that we beat Manchester United at Old Trafford thanks to a Manoel brace! We were brilliant in defence in that game, rock-solid, while Manoel and company kept harassing them on counter attacks. The last game was also the easiest, we thrashed Dinamo 6-1.

Six wins out of six, can you believe that?

But our perfect record didn't boost our luck, we were quite unfortunate in the draw again as we'll meet Lyon in the next round instead of Zenit or Panathinaikos. Then again, we could have gotten Real Madrid or AC Milan, so I guess it's not that bad. However, we haven't met Lyon before so I don't really know how strong they are.

As for the domestic part of the campaign, it was as easy as ever.
We cruised through to the semi finals of the Romanian Cup…

… and grabbed quite a few landslide wins in the league. We did get four draws though but those were solely due to complacency, no Romanian team can dominate a game against us at the moment.

The league table shows an eight-point gap at the top, not too many but I am not worried, not at all.

The finances are looking good as well, we're on the good side of 26 million pounds and counting.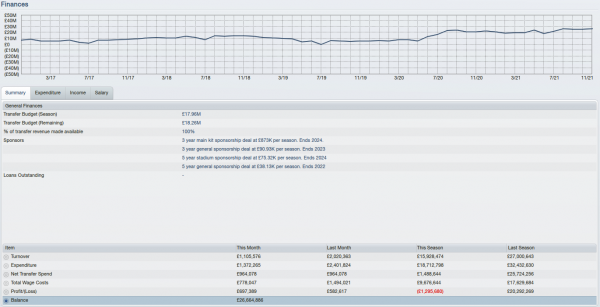 The good financial situation triggered an unexpected gift from the board, I did not request any extra transfer money but they decided to give it to me: 18 million! I just hope I can find one or two good players to spend it on during the winter break.

That's about it for now my friends, thanks for reading this episode that describes an unbelievable campaign so far. I doubt that we can win the Champions League this season but it really does seem that we're getting closer to that goal.  What do you think?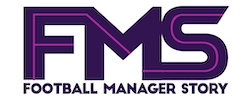 Subscribe to our Newsletter