Hello friends and welcome to another episode of my Football Manager 2012 story! This time our spring was looking a lot more exciting since we had qualified for the Champions League knockout stage for the first time ever after finishing top in the group, ahead of huge teams like Arsenal and Paris Saint Germain.
As for the league, we had recorded 17 wins and just 1 draw in the first part of the season, so I was quite sure that the domestic matches were not going to mean more to us than simple exercise programs. Our focus was on the Champions League, as we were preparing to meet Bayern Munich in the first knockout round.
But before that I had to make a transfer, after selling right back Hichem Belakhdar for a staggering 15 million pounds. The replacement was a lot cheaper, I spent 2.5 million pounds on Serbian right back Darko Andric, an already established but still young player.
And now, let's get ready to rumble…
Bayern vs Viitorul (Champions League 1st Rnd Leg 1)
Starting Line Up: Alberto Maciel – Ali Amara, Juan Belencoso, Georgica Dicu, Danut Gongolea – Hernan Arangio, Yasen Zlatinski, Hector Fernandez – Zezinho, Rastislav Benko, Daniel Mazzoni
I think that a squad's strength is proven by the names you find on their bench before an important match. And since Bayern had immense players like Thomas Muller or David Alaba on their bench I guess that proves just how strong they are. And that's without mentioning the likes of Manuel Neuer, Toni Kroos, Lucas Moura or James Rodriguez in the starting eleven. But all those big names fell out of the spotlight after just more than a minute into the game at Allianz Arena, my boys produced a nice flowing move and Daniel Mazzoni smashed home from inside the penalty area! We were in the lead after a dream start! But our joy didn't last long, Bayern started piling on the pressure and restored parity on 13 minutes. We could have fired one back just three minutes later when Mazzoni broke through on a counter attack but he totally blew what was an excellent chance. Bayern continued their domination but things went on rather quietly until the 39th minute when we conceded a rather easy goal.
Bayern started to play really well after the break, even better than they did in the first half, and they bagged a deserved goal on 65 minutes. My boys reacted quickly and substitute Dramane Sow created a good chance for himself on 70 minutes but unfortunately he wasted it with a rather lame shot. We got punished for that nine minutes before the final whistle when Bayern scored a fine goal and that was that… The German side played really well, no doubt about that, but we could have done better with just a bit more composure in front of goal…
Match Highlights (goals and chances): click here to watch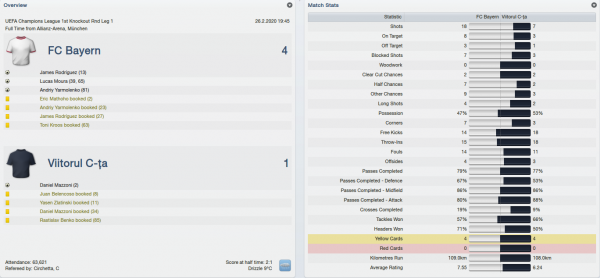 Viitorul vs Bayern (Champions League 1st Rnd Leg 2)
Starting Line Up: Alberto Maciel – Ali Amara, Juan Belencoso, Georgica Dicu, Danut Gongolea – Hernan Arangio, Yasen Zlatinski, Hector Fernandez – Zezinho, Dramane Sow, Daniel Mazzoni
I didn't have much hope before the second leg but I always like to try the impossible. I chose to field the same eleven with one exception: Sow instead of injured Rastislav Benko. The lads started the game with good determination and we broke through the German defence on 18 minutes when a fine move freed Hector Fernandez inside the penalty area, his shot went past the keeper but came back off the post… We enjoyed a good spell of domination throughout the first half but Bayern's rocky defence held firm until the 44th minute when Zezinho finally found a gap there and scored. We needed to score two more without conceding at that point…
And we came close to conceding shortly after the break, my defence forgot all about Lucas Moura but luckily our goalie stopped him. And then things got lively as Fernandez got one on the right side of the post in the 55th minute, a perfect shot and we were really back in! We needed one more goal and that success nearly came on 75 minutes when Zezinho fired a good looking shot from the edge of the area… but it bounced off the post… And then Bayern returned to their rock-solid defensive display and it was over… We came close to the quarter finals but the tie was lost in the first leg due to our lack of efficiency both in attack and at the back. Well, maybe we'll do better next time.
Match Highlights (goals and chances): click here to watch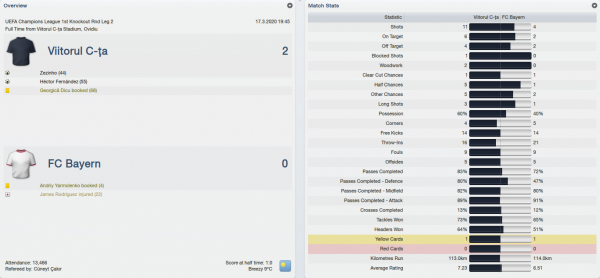 The domestic league was easier than ever, we cruised through the second part of the season with 15 wins and just one draw.

Another landslide league win, there's nobody left to play with around here…

The Romanian Cup was easy as pie, we won it and kept a clean sheet throughout the competition.

The player ratings show some improvement compared to last season but that might be only because the domestic league is getting so damn easy. Anyway, goalkeeper Alberto Maciel didn't convince me that he can be a wonder maker between the sticks so I will probably cash in after snapping him up on a free transfer last summer.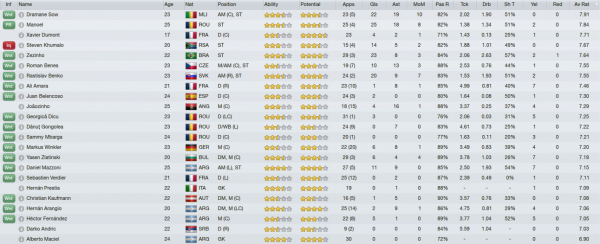 Since we're talking about last summer, let's see how my big gamble improved this season. Centre back Dumont was bought for 7 million, hoping that he will become a first team regular in a year or two. I gave him some first team football right away though, he had 23 starts this season and bagged four goals. Here's his initial profile, from September 2012: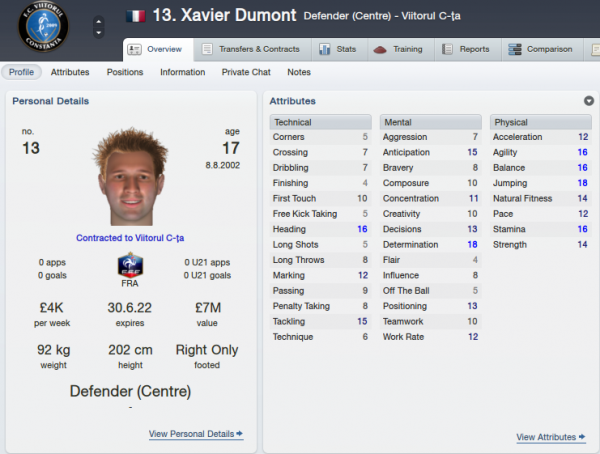 And now his current profile: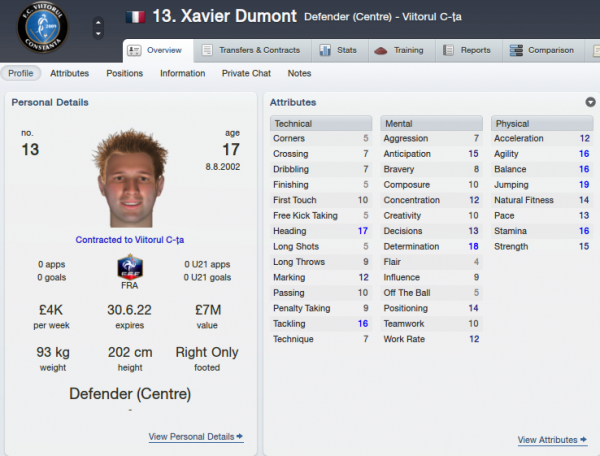 As you can notice several of his attributes have gone up by 1 point: finishing, heading, long throws, passing, penalty taking, tackling, technique, concentration, influence, positioning, jumping and pace. That's not too bad I guess, considering he's still just 17 years old.
Our finances have also improved slightly, we have around 9 million in the bank and we still have to receive the Liga 1 TV rights for next season, some money from season tickets and also some more installments from the big Belakhdar sale.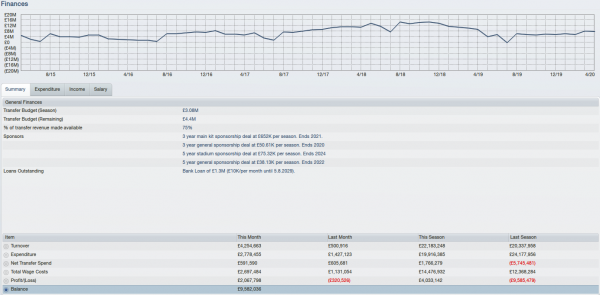 That's about it, we were good this season but somehow I think that we could have achieved more in the Champions League. The team is strong though, I know that, and if we can bring in one or two good players during the summer we might create some panic in Europe next season. Thanks a lot for reading folks and if you have thought or requests to share, you know where to find me :)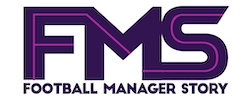 Subscribe to our Newsletter