Hello folks, it's time for the post-title episode of my Football Manager 2012 story! As you surely remember we have won the title last season against all odds and beyond my most optimistic hopes. That didn't solve our financial problems though, or not yet… My main goal for the summer was to reach the group stage of the Champions League or at least fall back into the group stage of the Europa League in order to get the club out of debt and into long-lasting prosperity. Let's see what happened during pre-season…
I wasn't expecting too much from the board in terms of wage and transfer money so I wasn't too disappointed when they presented their expectations. I told them that we could challenge for the title again so I got 110,000 pounds for transfers and just a bit extra wage money. With so little money I have to say that I felt like a poor kid drooling outside a candy shop, there were quite a few great players interested in joining our club but I didn't have the means to make those transfers happen… But we'll get into details later.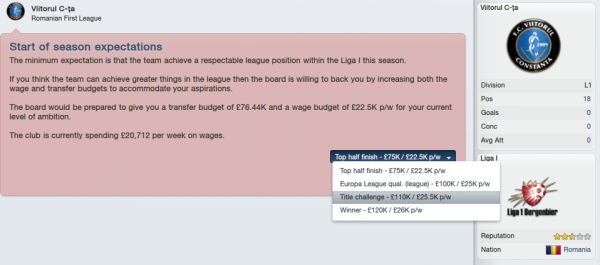 As far as the bookmakers are concerned they believe that we can be somewhere around the title chasers, that's quite pleasing for a change.

Now let's see the transfers. I had to make some money, that was my task and I guess I did a decent job at that as we managed to get almost a million pounds through player sales. Some important names like Zarko Markovic, Vlad Rusu or Marius Albu left the club but I think I have brought in better replacements.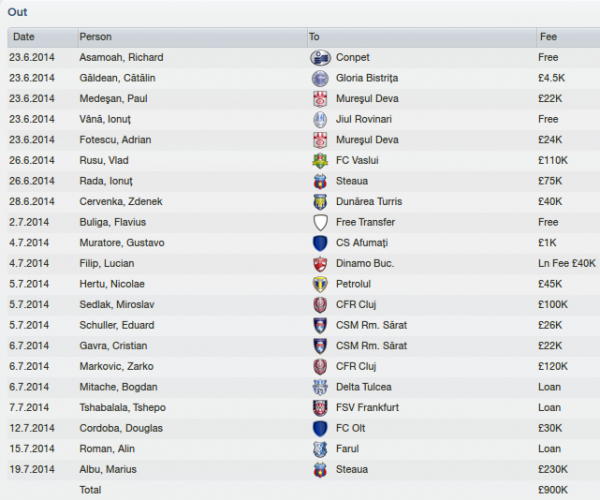 I spent all the money I had on a pair of new strikers but I also managed to make a trademark raid on the free transfers market for a few exciting youngsters.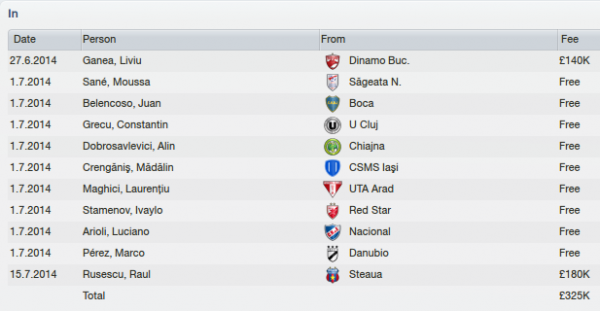 Let me clarify everything with a detailed presentation of my squad, role by role (click on the player names to view their profiles):
Goalkeepers
Confirmed: Octavian Ormenisan, George Serban
New: Xaropinho (promoted from youth squad) – I usually don't need a third goalkeeper but this time I had to promote this Brazilian kid due to an injury to Ormenisan.
Right backs
Confirmed: Ionut Peteleu, Alvaro Casanova – No changes here apart from the fact that Casanova will be used mostly as a right back this season after being a backup centre back last term.
Left Backs
Confirmed: Tshepo Tshabalala, Florin Krajcar
New: Constantin Grecu – Again, I don't really need three left backs but since Krajcar and Grecu are injured I had to recall Tshabalala from loan.
Centre backs
Confirmed: Ionut Putanu, Timur Peniu
New: Edward Motha, Juan Belencoso – These two new lads are just great, they are very young but they should be perfectly capable of keeping us safe at the back this season.
Central Midfielders
Confirmed: Mihai Onicas, Alexandru Lazar, Dejan Danicic, Nenad Grumic, Corado Carstoiu, Ciprian Nastase – No changes here, not that I wouldn't have wanted to bring in at least one quality midfielder but there were no good ones in my price range.
Strikers
Confirmed: Manoel, Joabe, Denis Alibec
New: Liviu Ganea, Raul Rusescu, Madalin Crenganis – This is where I made the most radical changes with two experienced strikers joining : Ganea (one that you might know from Lye's West Ham story) and Rusescu while Crenganis will probably spend more time in the youth team until he proves worthy of a first team spot.
I didn't have much time for friendlies this summer as we were called into action as early as July 16th for the first leg of the Champions League Second Qualifying Round. Well, that was like a friendly to be honest as we totally thrashed Welsh champions TNS. I have to say that I totally understand Stromson's difficulty with Afan Lido after that game, Welsh football is incredibly weak from what I've seen on the pitch that day. The second leg isn't included in the screen shot but it went smoothly, we won 1-0 and advanced to the Third Qualifying Round.

The domestic season started early as well, we had to face Cup winners CFR Cluj in the Romanian Super Cup just a few days after the TNS match.
Viitorul vs CFR Cluj (Romanian Super Cup)
Starting line up: Xaropinho – Ionut Peteleu, Edward Motha, Juan Belencoso, Florin Krajcar – Corado Carstoiu, Alexandru Lazar, Ciprian Nastase – Liviu Ganea, Manoel, Raul Rusescu
I was missing quite a few players and that's why the starting eleven isn't really my ideal one: Octavian Ormenisan, Constantin Grecu and Mihai Onicas were injured, Dejan Danicic was away on international duty while Nenad Grumic was suspended after the red card he received in the last match of the previous season. Despite all those absences we totally dominated the first half and we had 75% possession at half time. That was pleasing but not nearly enough as our domination was totally fruitless given that we only had one shot on target in 45 minutes.
The domination continued after the break and we finally managed to break the deadlock when a sensational pass from Raul Rusescu found Liviu Ganea, the striker was denied by the goalkeeper but the parried ball fell into the path of substitute Denis Alibec who slotted into the empty net. We had nothing to worry about until the final whistle, the match was totally under control and we lifted the second trophy in the club's brief history. The worries did come after the game though: Manoel is going to be out for two months while Florin Krajcar will spend a little over one month on the sidelines.
Match highlights: click here to watch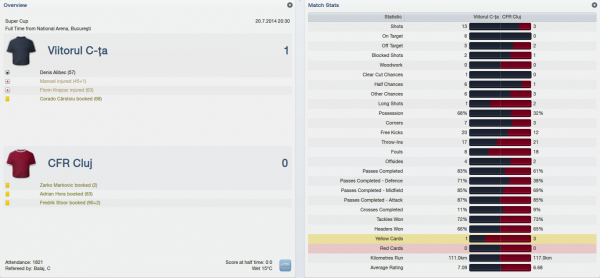 After that glorious evening we'll have to prepare for a gruelling schedule: first we take on Polish champions Lech Poznan in the Champions League and then we'll face almost every big club in Liga 1! I have to mention that if we lose against Lech we'll be entered into the Europa League play off so we do have a safety net there…
Here is our full squad, a bit more numerous that my usual squads but I had to deal with quite a few early injuries this season. When things will get back to normal two of the 24 players will probably be sent out on loan, most likely one of the goalies and one of the left backs.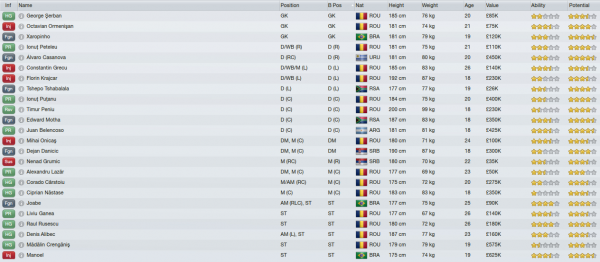 The financial situation isn't looking much better but things should get quite green if we get our hands on that Champions League money…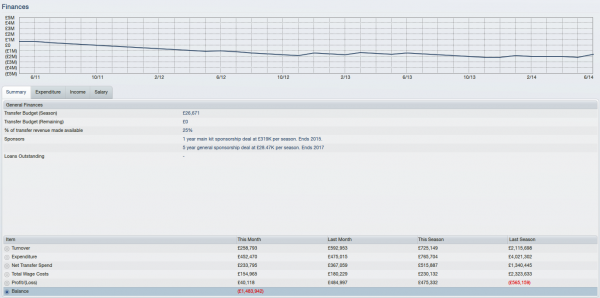 That's about it folks, not too many exciting transfers I guess but that was all I could do given the financial drought. However, we claimed the Super Cup and advanced to the next round of the Champions League preliminaries so I guess things are going as planned so far. Well, maybe except those pesky injuries… Thanks a lot for reading folks, looking forward to your comments and suggestions.

Subscribe to our Newsletter