Hello friends and welcome back to my Football Manager 2012 story. As you remember from the last update I had a plan for the winter break: we were in third place at the halfway point of the season but still in financial trouble so I was planning to sell a few first team players to make room for a new Brazilian youngster plus a few of our own young talents. Well, the plan didn't work out but I guess it wasn't entirely my fault. Let's see what happened…
I certainly wasn't willing to sell Santiago Vazquez for the moment, that thought didn't even cross my mind. Moreover, there were no transfer rumours about him so I never saw the following piece of news coming:

I found myself staring at the screen for a few minutes, I just couldn't believe it. I understand the chairman's decision given the club's finances but that still was quite a shock. I tried to offer the player a new contract but he didn't even want to negotiate, he left the club after just half a season with us! It's true that the transfer fee is quite exciting for a small club like ours and we'll also receive 10% out of the next transfer fee…
That takes me to the winter break transfer news, here's a quick recap and some details:
Players out: Santiago Vazquez, Dragos Balauru, Georgian Marcu, Valentin Simion, Lucian Filip, Chakib Benzoukane
Some of these players are on loan to buy deals so the income wasn't quite what I had expected as we only got an extra 200,000 pounds to add to the big Vazquez transfer. However, our wage budget benefited from these moves, it went down significantly.
Players in: Manoel (free), Tshepo Tshabalala (26,000 pounds)
You already know about Manoel from the previous episode, Tshabalala is a young left back from South Africa that could solve our perennial problems on that flank.
Players promoted from Under 19's team: George Serban, Timur Peniu, Ciprian Nastase
And that's all. I had a bit more money to spend but I decided not to throw the cash out the window since there were no players that could have made a difference in that price range. We played 10 friendlies to get the new lads into the team's tempo and also to make a bit of cash and those games went well as we won nine and drew one with no goals conceded. I was pleased to see new striker Manoel grabbing a few goals while young defender Timur Peniu also did well overall.

On to the real business now, the league matches started at the beginning of March. The first match was supposed to be quite easy but it wasn't, mainly because I had no less than nine first team players away on international duty! Despite that we managed to scrape past 17th placed FCM Tg. Mures thanks to a goal from Vlad Rusu. Then we faced bottom team Sageata Navodari and I have to say I was quite disappointed to watch a wasteful display from my lads. Luckily we were saved by a late goal from Joabe but I had more than one reason to be worried: we had no less than three injuries at the end of that game: Zarko Markovic (5 to 6 weeks), Tshepo Tshabalala (3 to 4 weeks) and Timur Peniu (two weeks).

The first real test of the month was coming up, we were hosting reigning champions Steaua. The big team from Bucharest was not doing too well though, they were in 7th place before the game. I was facing some real squad problems though apart from the three injured players as Denis Alibec and Ionut Peteleu were suspended.
Viitorul vs Steaua (Liga 1)
Starting Line Up: Octavian Ormenisan – Miroslav Sedlak, Alvaro Casanova, Ionut Putanu, Florin Krajcar – Mihai Onicas, Alexandru Lazar, Nenad Grumic – Manoel, Marius Albu, Joabe
The game started with a rather boring show from the two teams and unfortunately that poor display continued throughout the first half. The only interesting moment was on 25 minutes but it wasn't a happy moment at all: Manoel had to leave the field on a stretcher and was going to be out for between 5 to 7 weeks! Not a good start for the Brazilian…
Things were a bit more lively after the restart and we could have broken the deadlock on 56 minutes when a fine move brought the ball to Joabe in a good position inside the penalty area but the striker hit the side netting. Steaua carved a good chance for themselves eight minutes later but that one went to waste as well so the game ended goalless, I guess it wasn't a bad result given all the absences in our squad.
Match highlights: click here to watch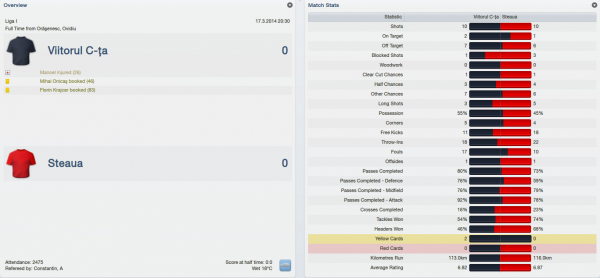 Luckily we had a much easier game coming up, away at newly-promoted CSMS Iasi, and we managed to make the most of it. Ionut Putanu bagged his 10th goal of the season, then Marius Albu scored his first goal of the season and we cruised past the opponents. Things were a bit more complicated against 8th placed Astra as we found ourselves one goal down early on but then striker Denis Alibec stepped up and bagged a beautiful hat-trick to hand us the three points. (click here to watch the highlights)

There was one more game to play before the end of the month and we were facing it from the top of the table! We were about to meet 3rd placed CFR Cluj, a team that was just four points behind us, so you can see that it was quite an important match. Unfortunately our squad problems were even bigger before that game: Ionut Putanu and Florin Krajcar were suspended while Alexandru Lazar and Mihai Onicas were added to the injured list that already had Markovic, Tshabalala and Manoel in it… That's why I was forced to play Sedlak out of position and a not yet fully fit Peniu…
Viitorul vs CFR Cluj (Liga 1)
Starting Line Up: Octavian Ormenisan – Ionut Peteleu, Alvaro Casanova, Timur Peniu, Miroslav Sedlak – Dejan Danicic, Corado Carstoiu, Nenad Grumic – Joabe, Vlad Rusu, Denis Alibec
We dominated the first half, I was pleased with that, but we were unable to create any decent chances. Moreover, the opening 45 minutes ended with yet another injury: Alvaro Casanova had to be taken off and I also had to replace Timur Peniu at the break in order to avoid another serious injury. With those two changes two of my back four were youngsters from the under 19 team!
Despite our improvised defence we managed to create a great chance just four minutes into the second half, right back Ionut Peteleu bent a perfect cross at the far post but Denis Alibec's header was parried by the goalkeeper. Our weak defence showed the first crack on 57 minutes when we allowed the visitors to score from a corner kick, I admit that I was quite sure that we were going to lose the game at that point. The lads played way beyond themselves though, they started to press forward and managed to make it all square again after just eleven minutes when a superb move saw Joabe playing a delicious back heel pass to Dejan Danicic who found the back of the net. We continued to advance in the opposition half but we nearly paid a costly price for that two minutes from time when we were saved by the crossbar on a big CFR chance. The game ended 1-1 and I was quite happy to remain unbeaten under the circumstances.
Match highlights: click here to watch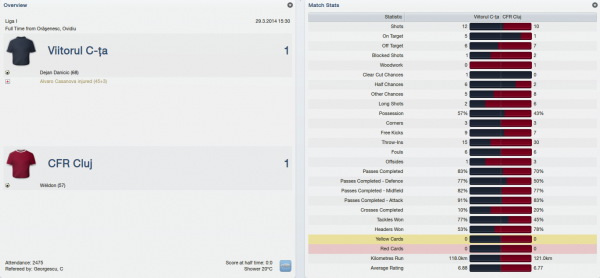 That draw pushed us down in second place but I wasn't too sad about that, we just had to hang in there until some of the injured players would recover. I think that losing a top four placement would be quite a tragedy at this point, we should be able to reach the Europa League next season! There are 10 games left though, anything can happen…

Denis Alibec has firmly establishing himself as a star player in this squad but this season's revelation is Ionut Putanu, the young lad that was promoted from the under 19 team this summer!

The injury report looks a bit less tragic now, we have four players out of contention but at least three of them will be back before the end of April. That is if we won't suffer any other setbacks…

If you look at our schedule you can see that April will be decisive both for our title hopes and for our Romanian Cup ambitions. I am quite worried to be honest because I fear that the slim squad won't be able to cope with such a busy month and that's why I'm considering resting most of my important players in the cup games given that FC Brasov are a second tier team. Apart from that we are going to meet 4th placed Rapid, 5th placed Timisoara and 6th placed Pandurii in the most important games of the month.

That's all for now my friends, thanks a lot for reading and for your support. I'm looking forward to your comments but please don't talk badly about my chairman because he accepted the Vazquez bid, I still love Gheorghe Hagi! :)

Subscribe to our Newsletter