Hello friends and welcome to an overdue update! I know that some of you have been waiting for this one but an unfortunate event prevented me from writing it sooner. Anyway, let's leave sad things behind and focus on the game. Many of you saw the Champions League exit as an opportunity to defend the Europa League trophy that we had won last season but the odds were pretty much against us as far as the bookmakers were concerned. By the way, I've noticed at www.betvictor.com that they see Atletico Madrid and Athletic Bilbao as favourites for this year's real Europa League but I'd bet on Schalke to be honest :)
But let's get back to our game… You might remember me saying that I was looking to buy a new centre back to boost the quality of my defence. Well, that plan was abandoned for now. Let's see why.
Firstly, I had a productive meeting with the board in which they agreed to no less than three of my demands:
– upgraded training facilities
– increased Junior Coaching budged

– and a small stadium expansion, around 1,000 seats!

That spending combined with a string of very good friendly results, including wins against Dortmund, Arsenal (away!) and Anderlecht, made me change my mind and I decided to stick with the current squad for the remainder of the season.

Now let's get to the real deal, the competitive games! The first knockout round of the Europa League saw us taking on Shakhtar Donetsk and I have to say that we were very unlucky in the first leg… We lost that one 1-0 but we missed a penalty and were denied by the woodwork on another two clear cut chances.
We erased that deficit in the second leg but we failed to settle the tie during regular time and that was mostly due to bad luck again as we squandered another penalty kick and several other chances! However, all is well that ends well, we clinched it at the end of the penalty shoot-out…
And then we got Marseille in the next round, the team that we had thrashed in last season's semi final. We had lost the first leg 4-0 back then but this time we did a lot better as we recorded a solid 1-1 away draw.
I was quite optimistic before the second leg but we got off to a poor start and Marseille broke the deadlock after 13 minutes. My boys restored parity before half time and could have clinched the win on several occasions but the ball just wouldn't go in… We dominated the second half quite clearly, we had the game under control in extra time as well but we just couldn't do more than that and the tie went to the penalty lottery… And this time we lost… We really didn't deserve to lose this tie but I guess we paid the price in terms of luck for last season's miracle.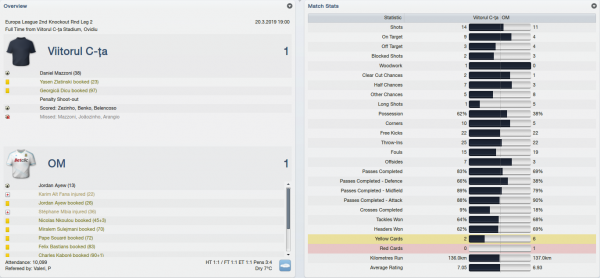 With the Europa League out of the way we had nothing left to do than concentrate on the domestic scene. The Romanian Cup went smoothly, we thrashed UTA in the semi final and then cruised past FC Timisoara in the final, mission accomplished :)
That's our fifth consecutive Romanian Cup trophy, I admit I had lost count so that's why I took the screen shot below :)
As for the league, we had by far the best run so far in the second half of the season: won 14, drew two, lost none. Oh, and we conceded just one single goal in the process!

Needless to say that we had secured the title with six games to spare and set a new record for most points and most goals scored.

And that's our sixth consecutive league title, it's getting a bit too easy…
Our top three strikers were really impressive this season but I have to say that Daniel Mazzoni was a cut above the rest as he won the Liga 1 top goalscorer award and set a new club record for goals in a season. These lads are too good for the Romanian league and there are many foreign clubs that want them but I'm happy to report that we don't have any unhappy faces in the dressing room, the boys still believe my promises that Viitorul will become an even bigger club than it currently is.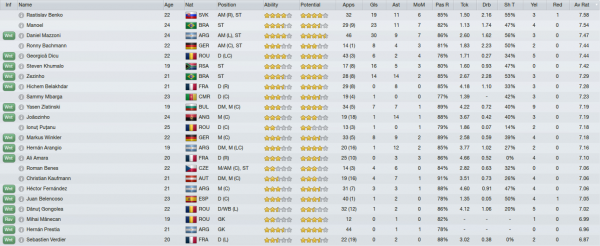 The season ended with a couple of surprises from the board, I haven't made any requests this time! They announced plans to further expand the stadium…

… and further improve the training facilities! Not bad!
However, all that spending on infrastructure had an effect on our finances… There are just 6 million pounds in the bank and I guess I will not have a big transfer budget for the summer. I have a few free transfers lined up though and I also have a few youngsters in the Under 19 team that might be more or less ready to make a step towards the bigger stage.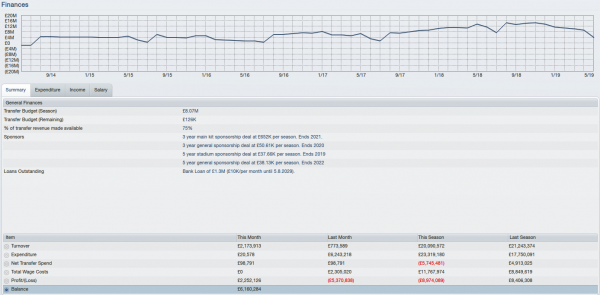 In other news, you might remember that I have sent a few lads on loan to Farul, our feeder club. Well, those lads are so good that they led Farul to an unlikely promotion! That's good news but it's also bad because we'll have to look for another feeder club since Farul will be playing in the same league as us next season…

That's about it folks, not a very happy update but I hope next season will be better. We probably won't have enough money to bring in top class players and our dream of getting to the Champions League knockout rounds might be postponed because of that. But one of my very few virtues is patience ;) Thanks for reading, looking forward to your comments/rants/requests.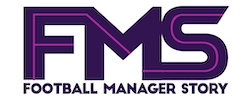 Subscribe to our Newsletter