Hello folks and welcome to the much anticipated new episode of my Football Manager 2012 story! After a fruitful summer in which we spent around 8 million pounds on new players and following a solid start to the domestic season the stage was set for another try to get European glory in the Champions League group stage. The task was not easy as we were going to face Inter, PSG and Sevilla, but I was hoping to do better than last season when we got beaten in six games out of six.
The first match was away at Sevilla, let's see how that went…
Sevilla vs Viitorul (Champions League Group F)
Starting Line Up: Octavian Ormenisan – Lubomir Cerny, Edward Motha, Juan Belencoso, Danut Gongolea – Mihai Onicas, Silviu Pana, Nenad Grumic – Rodolfo Oliver, Rastislav Benko, Raul Rusescu
I have to say that Sevilla's line up was quite impressive, especially the midfield line: Jesus Navas, Demy de Zeeuw, Clint Dempsey and Christian Eriksen. Despite that we surprisingly dominated the opening 15 minutes. Our domination didn't pose major threats though and then Sevilla took control of the game. They didn't create any major chances either and it was us who came close on 33 minutes when a good cross from Danut Gongolea was headed home by Rodolfo Oliver but the goal was disallowed due to a very close offside call. I was hoping to see the end of a goalless first half but that wasn't the case as Sevilla's talented players manufactured a splendid move three minutes before the break and broke the deadlock through Navas' superb finish.
I wasn't hoping for much at that point but there was one lad who was keen on proving me wrong: young striker Rastislav Benko dribbled past a defender and then coolly fired home from inside the penalty area! It was all square on 57 minutes and we managed to hold firm for around 15 minutes before suffering a major setback: right back Cerny had to leave the pitch on a stretcher and since I had already made all three substitutions we had to play with reduced numbers. The pressure mounted in our penalty area as a result and Sevilla didn't need much time to bag two goals and settle the game. We did pull one back through Raul Rusescu three minutes from time but our courageous display didn't give us more than the zero points we got used to last season.
Match highlights: click here to watch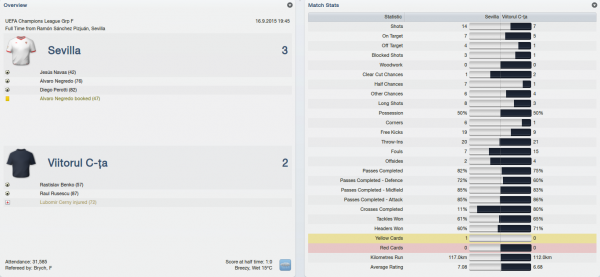 You might remember that last season we had huge problems domestically after the Champions League games and sadly that was the case again. The CL syndrome struck as we had a very poor display in the following domestic matches, we barely went past a Second Division team in the Romanian Cup and then lost the first league match of the season against Astra.
After that poor run you can imagine that confidence was rather low before the game against group favourites Inter, a team that had easily defeated PSG 3-1 in the opening group match.
Viitorul vs Inter (Champions League Group F)
Starting Line Up: Octavian Ormenisan – Ionut Peteleu, Edward Motha, Michael Vesely, Danut Gongolea – Mihai Onicas, Silviu Pana, Nenad Grumic – Rodolfo Oliver, Rastislav Benko, Liviu Ganea
And since Inter had Carlos Tevez and Luc Castaignos upfront for this game you might understand why I wasn't feeling too optimistic. In fact it was Tevez who struck after 25 minutes as a natural consequence of a pretty solid spell of domination from Inter. My lads made me proud though, they reacted well and tried to push Inter into the ropes but we didn't have enough strength do change the score board.
We could have pulled level on 55 minutes when substitute Manoel was given a huge chance following a big mistake in the Inter defence but my striker totally blew it. The Inter bagged two goals on corner kicks and that was that… The other group match ended in a draw, PSG 1 Sevilla 1.
Match highlights: click here to watch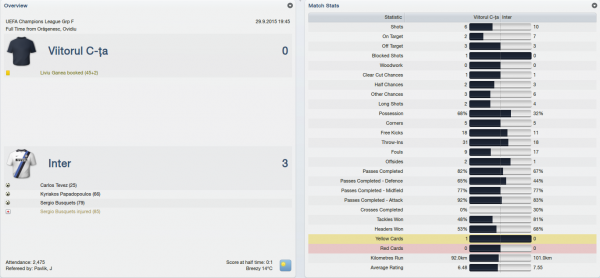 Fortunately we pulled off a good display in the following league match and dispatched Mioveni 3-0 but that win came at a huge price: Edward Motha out for 3 weeks, Rodolfo Oliver out for 3 weeks, Milton Mella out for three months! Without those three and with a rather complacent attitude we produced another disappointing display and lost 2-1 at CFR Cluj.
We were travelling to Paris with injury and performance worries on our minds and after seeing PSG's line up the mood didn't improve, on the contrary: Mario Balotelli upfront with Javier Pastore behind him as an advanced playmaker!
PSG vs Viitorul (Champions League Group F)
Starting Line Up: Octavian Ormenisan – Alvaro Casanova, Michael Vesely, Juan Belencoso, Danut Gongolea – Martin Lukac, Mihai Onicas, Nenad Grumic – Rastislav Benko, Liviu Ganea, Raul Rusescu
The French side didn't show much coherence in the opening minutes though so the game was fairly quiet until the 18th minute when injured Ganea was replaced by Manoel. Then we started playing pretty well and nearly broke the deadlock on 37 minutes when Nenad Grumic's shot from the edge of the penalty area cannoned off the crossbar. The first half ended goalless and with no shots on target from PSG, you can imagine that I was quite pleased!
And I became even happier four minutes after the interval when Manoel found Lukac just inside the area at the end of a fine move and the Slovakian midfielder blasted it home at the near post for his first ever goal for the club! Then we kept possession very well for a while but just one moment was enough for PSG to pull level, substitute Asamoah Gyan was the man in charge on 69 minutes. Then PSG started pushing with more impetus but to my delight we managed to hold out and grab our first ever point in the Champions League group stage! Hurray!
Match highlights:click here to watch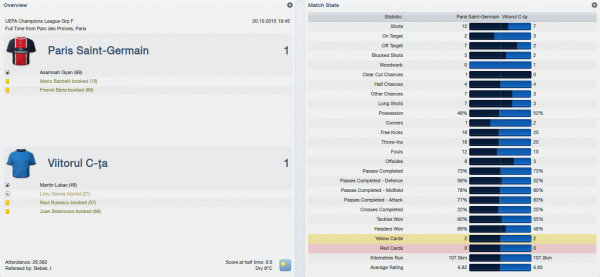 Inter defeated Sevilla 1-0 in the other game of the evening and even though we were at the bottom of the table after three games I was quite pleased to see that we had a good chance of finishing third.
That point probably gave my lads a bit more confidence and our domestic form improved as a result, we could have grabbed three wins out of three but we got punished by a late equaliser in the game against FC Vaslui.
So, do you think that we grabbed that third place in the Champions League group? Well, if you have an answer you will find out if it's right or wrong in the next page, just click on the little number "2" just above the comments section.
Go to the next page to read the rest of the story.

Subscribe to our Newsletter