Hello my friends and welcome to a new episode of my Football Manager 2012 story! This update will be quite long as it will cover both the pre-season and the first half of the season with Viitorul Constanta. This is a bit unusual for those of you who have followed the story since the beginning but the explanation is rather simple: I played FM as psychological therapy this week as I had some health issues in my family to worry about, playing the game helped with keeping my mind off that but I didn't feel much like writing until today. As you remember we dominated the domestic scene last season, won the Liga 1 title and the Romanian Cup quite comfortably, and now we had to prepare for another go in Europe.
The club wasn't very generous in terms of transfer money though, even though I promised them another title.

That promise was a bit against the odds if you listen to the bookmakers but I guess I know a lot more than they do, I was quite sure that we were going to lift another title.

The money that I had available were not enough to bring in any big names but I still managed to do some business, mostly for the future though. The names in the picture below might not tell you much for now but we'll get into more details a bit later.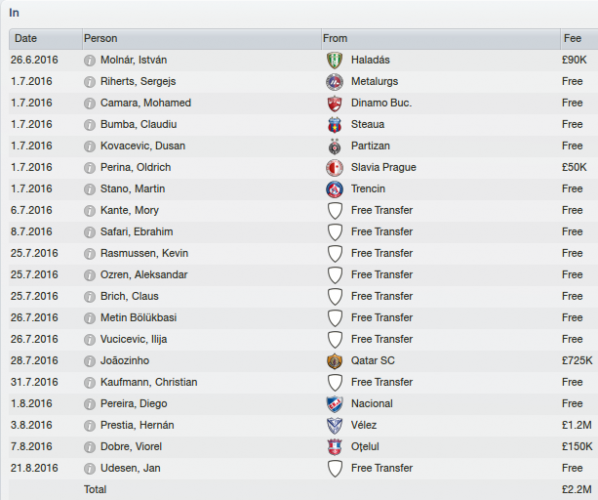 We did pretty good business in terms of sales too, we recouped 2.3 million from player sales as a few faithful servants left the club: Liviu Ganea (350K), Mihai Onicas (100K), Octavian Ormenisan (500K), Raul Rusescu (130K loan fee). We also sold central midfielder Martin Lukac for 575K but that was not my decision as you can see from the screen shot below.

Now let's get into those details, here are the 22 men I started the season with:
Goalkeepers
Hernan Prestia (bought for 1.2 million), Xaropinho (confirmed) – Prestia joined us from Argentinian club Velez Sarsfield but he also has an Italian passport so he is considered an EU player. He could become the goalkeeper that this club has been expecting for quite some time now.
Right Backs
Lubomir Cerny and Ionut Peteleu (confirmed) – no changes here, I have two solid players that are still young as well.
Left Backs
Danut Gongolea (confirmed) and Mory Kante (free transfer) – I wasn't really looking for a new left back but when I saw Kante available on a free transfer I just had to sign him, a solid player with exciting potential.
Centre Backs
Juan Belencoso, Georgica Dicu, Ionut Putanu, Michael Vesely – all confirmed, no changes in a department that worked very well last season.
Central Midfielders
Nenad Grumic, Milton Mella and Silviu Pana (confirmed), Ivo Prochazka (promoted from youth team), Joaozinho (bought for ), Christian Kaufmann (free transfer) – this is the most active area, three new players moved to the first team and quality has increased overall in my view while the average age has decreased. On a side note Nenad Grumic has become Romanian and was eventually called up in our national team!
Strikers
Rastislav Benko, Rodolfo Oliver, Daniel Mazzoni and Manoel (confirmed), Stefan Huza and Florian Folea (promoted from youth team) – no major changes here except replacing high-earning Rusescu and Ganea with a couple of youngsters from the reserves.

We have played just two friendlies during the summer as I felt that we didn't need more since the season started very early with the Champions League preliminary rounds. Things went smoothly as we demolished a team from Kazakhstan before clinching the Romanian Super Cup for the third time in a row but only after a penalty shoot-out.
Then the league started and we did very well up to a certain point. But my main focus was the Champions League and we did very well in there as we reached the group stage again after a solid performance against Serbian giants Red Star Belgrade. As for the domestic leagues, we won all but one game, a shocking and rather unlucky defeat against UTA.

We didn't have much luck in the Champions League group draw either: defending champions Inter Milan are 1st seeded in our group, then we have Shakhtar Donetsk (our parent club) as second seed and Liverpool as third seed while we could have gotten much easier teams in that position (like Celtic for instance).
The odds were firmly against us once again, that wasn't surprising.

However, our reputation in Europe has increased quite dramatically as we moved up no less than 227 places in the coefficient rankings compared to last season!

Since we're talking about good ans surprising news I was shocked to find out that our new stadium was ready even though I thought it would be finished next summer!

What's even more surprising is that the new stadium is still listed as "in progress" in the boardroom screen! Maybe we'll have two stadiums next summer?!
Anyway, our facilities look a lot better with this new stadium plus the youth facilities which reached the "state of the art" status soon after I had taken the screen shot below.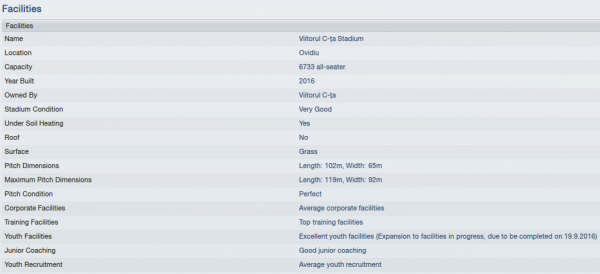 Now let's return to the important stuff: the Champions League group stage! I wasn't very happy to start against cup holders Inter but then we had two back to back home games and I was hoping to finally nail that first ever group stage win.
I invite you to the next page if you want to find out what happened in that fierce Champions League group, all I can say is that I don't think you'll be disappointed ;)
Go to the next page to read the rest of the story.

Subscribe to our Newsletter