Here we go folks, I hope you're ready for a new episode of my Football Manager 2012 story! You surely remember that my Viitorul Constanta had a great 2016-2017 season, the best season so far: we won another double in Romania and we also managed to reach the second knockout round of the Europa League after grabbing no less than eight points in the Champions League group. That performance set the bar pretty high for the new season and that's why the summer transfer window was extremely important for me to prepare the squad for reaching higher goals.
Before moving to the eagerly awaited transfer news let me start with some news I'm quite proud of. Firstly we made another leap forward in the European rankings, we moved up no less than 218 places and we entered the top 100!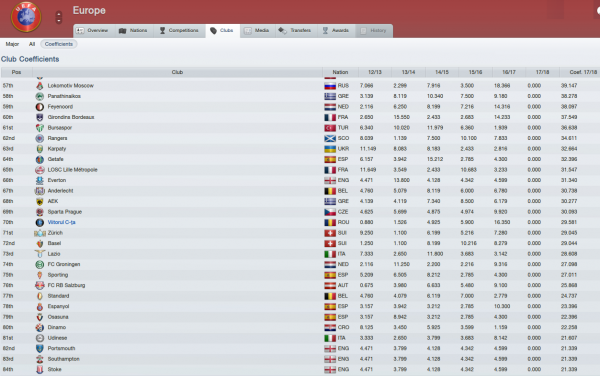 Secondly I'm even prouder to report that we single-handedly managed to improve Romania's standing in Europe: the country will have two teams in the Champions League qualifying rounds next season! That's entirely due to our effort because none of the other Romanian teams managed to reach the knockout rounds of the Europa League last season.

Now on to the money… The board offered us a generous transfer budget, around 9 million if you add the initial budged to the one linked to the season expectations.
I guess it isn't a surprise that I promised another title, we've won four in a row already and I have no doubt that we can clinch the fifth.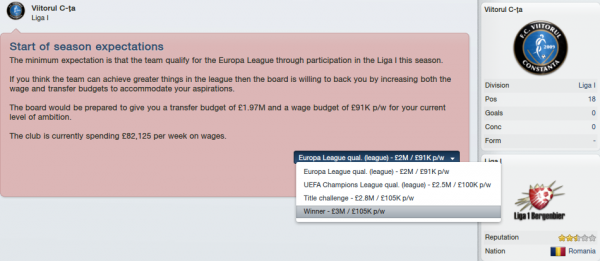 The bookmakers are not so sure though… Well, I don't know if they are suddenly keen on losing money or if they somehow transformed into philanthropists…

And now, finally, the transfers… This summer was quite big on player sales for us, we managed to get 8.25 million pounds into the club's coffers. Some good players have left the club though, here's a quick list and a few explanations:
– Milton Mella (1.3 million) and Silviu Pana (1.9 million) were both sold to foreign clubs because they were no longer good enough to compete for a regular place in the first eleven.
– Ionut Peteleu (0.5 million) and Rodolfo Oliver (3.3 million) were sold to foreign clubs as well but these deals were kinda forced. What happened is that they entered the last year of their contracts and they demanded absurd salaries to renew the deals so I decided to cash in and move on. I regret losing them but that's how life is, you never know what you're gonna get ;)
And now the players in: 12 new names for a total of 10.5 million pounds! Only four of these lads will join the first team straight away:
– Ali Amara – a French full back that will replace Peteleu.
– Roman Benes – a very talented Czech midfielder that could also provide cover as a striker.
– Markus Winkler – a solid and young German midfielder.
– Zezinho – the man who should replace Oliver upfront, a talented but rather slow Brazilian.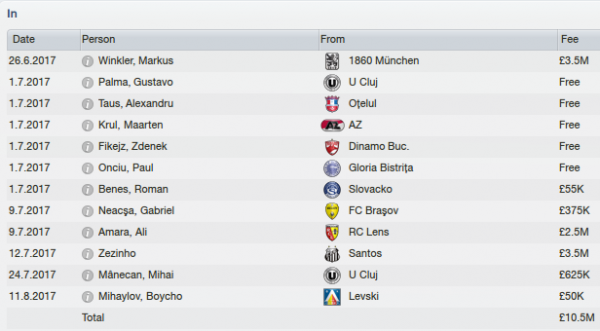 Here's the whole squad (23 men – you can view their profiles by clicking the names)
Goalkeepers: Hernan Prestia, Xaropinho
Right backs: Lubomir Cerny, Ali Amara
Left backs: Mory Kante, Danut Gongolea
Centre backs: Juan Belencoso, Georgica Dicu, Michael Vesely, Ionut Putanu
Central Midfielders: Hector Fernandez, Markus Winkler, Nenad Grumic, Christian Kaufmann, Roman Benes, Drazen Tokic (promoted from u19 squad after doing well on loan last season)
Strikers: Rastislav Benko, Manoel, Daniel Mazzoni, Zezinho, Olexiy Romanchuk, Scott Ward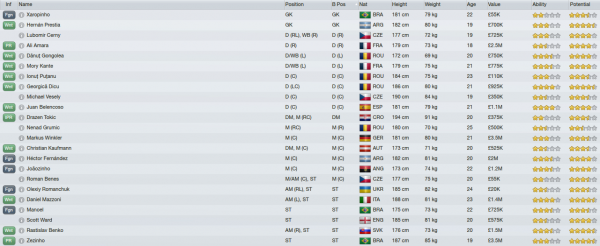 July 2017 Results
We scored quite a few goals in July, a few in friendlies but also managed a staggering tenner against a tiny team from Luxembourg in the CL Second Qualifying Round. We ended the month with the first league match, a 1-1 draw against Rapid, our rivals which we had beaten in the Romanian Super Cup a few days earlier.

August 2017 Results
The team really got going in August, eight wins out of eight and another qualification to the Champions League group stage…

We were in the last pot in the draw once again and we were handed another tough group… I think we can aim for the third place but not higher since FC Porto is a mighty strong team and Real Madrid is… Real Madrid!
The back to back matches with CSKA Moscow will be the key to the campaign, I think that if we manage to get four points out of those two games then we might have a shot at the third place.
Here are the player stats so far: Rastislav Benko is still the man who leads the team forward, Manoel also seems to have found his feet while new lad Zezinho enjoyed a good first couple of months with six goals in six starts. Joaozinho is the leader in our midfield so far while Georgica Dicu and Juan Belencoso still form a rock-solid tandem at the back.
That's about all I had to say for now boys and girls, feel free to criticise my transfers in the comments ;)

Subscribe to our Newsletter