Hello friends and welcome to a happy episode of my Football Manager 2012 story! Why is it so happy? Well, I guess the title might have already given you a hint: I finally had money to spend, lots of money! After doing the domestic double last season the board finally decided to give me a share of the Champions League wealth to spend on new players and that is exactly what I did! :)
When the initial budgets were announced on June 14th I was in disbelief, almost 6 million pounds for transfers! Needless to say that I immediately spent some of that money…
… but not enough, so when the season expectations were set I got something extra in exchange for a title challenge promise.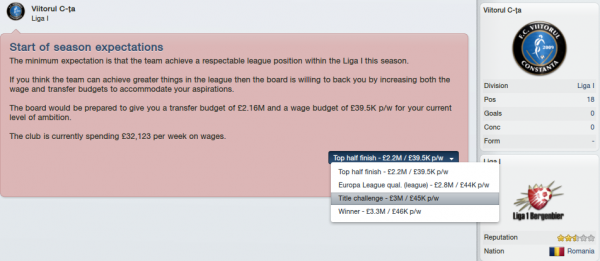 The whole budgets thing can be misleading though so I guess I'd better show you the transfers so that you can see for yourselves how much I have really spent this summer. Well, it wasn't all about spending as I managed to get some money into the club through player sales. The total is 3.8 million but another 1.9 million will be added in December when Alvaro Casanova will be leaving the club in exchange for that sum. There were some important sales so let me give you a bit more details on those:
– Joabe was sold because he didn't want to extend his contract, Mexican club Atlante paid 1.8 million for him.
– Tshepo Tshabalala was sold because I found a Romanian replacement, 1.3 million pounds were received for him from fellow Liga 1 club Otelul Galati.
– Denis Alibec wanted to leave the club and I accepted his request, he left on a loan to buy deal to Rapid Bucharest. You might think that I regret losing him but I really don't because I have much better strikers now ;)
You can also see that there were lots of outgoing loans and that is because my Under 19 team has no less than 39 players at the moment, I just had to let some of them go in order to get some first team football.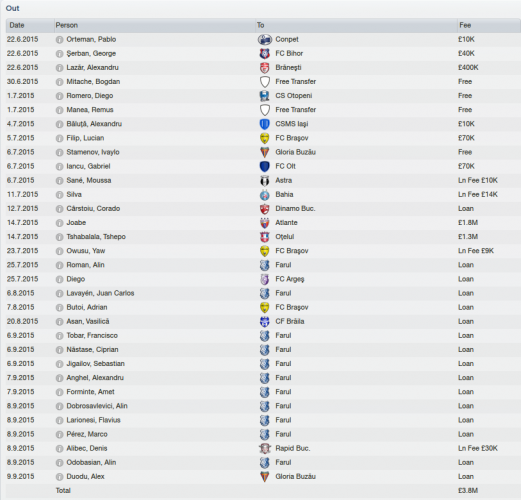 And now the huge list of incoming transfers: 23 new players for a total of 8 million pounds! You already know that most of these lads went straight into the under 19 team and some of them have already left on loan deals but there were some big money signings that I will describe a bit later.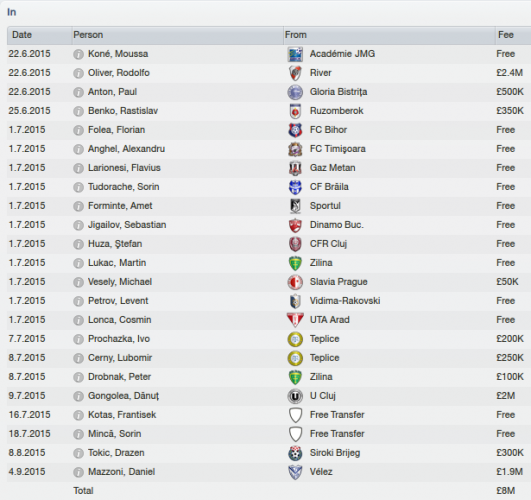 A bit later is now, let's see the squad, role by role:
Goalkeepers
Octavian Ormenisan, Xaropinho – no changes here although I am looking for a new goalkeeper.
Right Backs
Ionut Peteleu, Lubomir Cerny – with Alvaro Casanova complaining about wanting to move to a bigger club I had to find a replacement and I think I have: 17-year old Lubomir Cerny was bought for 250K and I think he can become even better than Casanova.
Left Backs
Florin Krajcar, Danut Gongolea – Gongolea is one of the most expensive signings, I paid no less than 2 million pounds! I guess that's a bit too much but it was a matter of pride because he is the best player in the national under 19 team so I just had to get him ;)
Centre Backs
Juan Belencoso, Edward Motha, Ionut Putanu, Michael Vesely – just one new name here but a pretty exciting one: 17-year old Vesely who was bought for as low as 50K. This lad might have a huge future ahead of him.
Central Midfielders
Mihai Onicas, Silviu Pana, Milton Mella, Nenad Grumic, Dejan Danicic, Paul Anton, Drazen Tokic, Martin Lukac – Do I really need 8 central midfielders? Normally the answer is no. But since I have two rather long term injuries to deal with (Danicic out for two months and new signing Anton out for 3 months) I had to expand my numbers in this department. There are three new names: Anton is a reliable and versatile Romanian while Tokic and Lukac might become first team regulars.
Strikers
Liviu Ganea, Raul Rusescu, Manoel, Rastislav Benko, Rodolfo Oliver, Daniel Mazzoni – here is where I went crazy with the money! There are three new names but two of them were quite costly: Oliver was bought for 2.4 million and Mazzoni for 1.9 million while young Benko was quite a bargain at 350K. I won't be commenting on their attributes, you can view their profiles  by clicking their names and see for yourselves. Just a quick note on Daniel Mazzoni: he has an Italian passport so he is not a non-EU player but unfortunately the deal went through one day too late so I was unable to register him for the Champions League.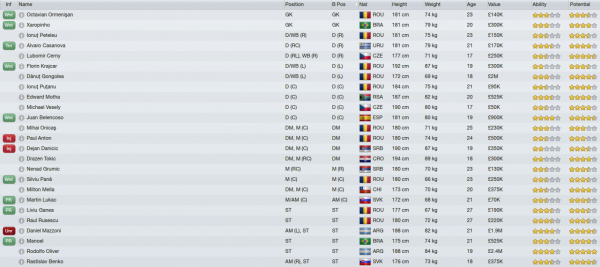 I think I have a much stronger squad overall, especially upfront. That wasn't very obvious in the friendlies but we didn't have time to play too many of those because of the Champions League qualifying rounds.
But before the Champions League preliminary battles we had another important game to play, one with silverware on the table: the Romanian Super Cup against Rapid Bucharest. You all remember how we won the title against them last season so I was expecting a fierce rivalry on the pitch.
Rapid vs Viitorul (Romanian Super Cup)
Starting Line Up: Octavian Ormenisan – Ionut Peteleu, Edward Motha, Juan Belencoso, Danut Gongolea – Mihai Onicas, Silviu Pana, Nenad Grumic – Rodolfo Oliver, Rastislav Benko, Raul Rusescu
I was expecting my lads to show some determination right away but that wasn't really the case and it was Rapid that broke the deadlock after 14 minutes on a nice team move. Fortunately we pegged them back immediately as young striker Rastislav Benko bagged a goal on his debut to make it all square after just three minutes. We were not playing well though and Rapid came close to scoring again on the stroke of half time but my goalkeeper pulled off a huge save to keep the score level at the break.
Benko, the young Slovakian striker, had quite a few things to show that evening though and he banged in his second goal of the game 10 minutes after the restart. Then the game cooled off, it was reasonably quiet and I had nothing against that. But we got punished for our attitude eight minutes before full time when Rapid scored the equaliser after some rather clumsy defending from new boy Danut Gongolea.
The game went into extra time and that's when young sensation Rastislav Benko turned on the style again: first he earned a hat-trick on 96 minutes and then he bagged his fourth of the game by tapping in a good low cross from Gongolea. It was an exciting match overall but I have to admit that we won it thanks to just one player.
Match highlights: click here to watch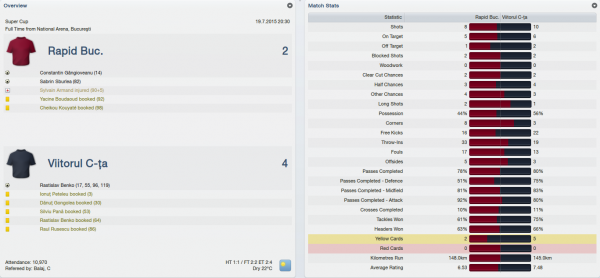 And now the important part of the summer: the Champions League qualifying rounds! Well, there isn't much to say really because the three rounds were quite easy. We started with a quiet 2-0 aggregate win against Buducnost Podgorica from Montenegro, then killed the tie against BATE Borisov in the first leg and finally did the same against Dinamo Zagreb in the last round.
The easy qualifying run didn't earn us a better place in the group stage draw though, we were seeded fourth again so we were handed another impossible group: Inter Milan, PSG and Sevilla… I hope we'll get at least one point this time, I can't really hope for more.
The odds are firmly against us in the Champions League but I guess we were fortunate to avoid the top favourites in the group draw.

Since we're talking about odds, here is the bookmakers' view on the Romanian Liga 1: Rapid are the favourites and we come fourth! Usually I don't express very optimistic thoughts but this time I can say it out loud: the bookmakers are wrong this time because I think we have by far the best squad in the league.

I can prove it too as I have already played the first seven league games of the season. We should have won all seven of them but we were a bit unlucky against Dinamo, we dominated all our opponents quite clearly and I think we'll be able to have a much better goal scoring ratio once the squad gels. There is one goal I want you to see, the third one that we scored against Gaz Metan in the opening match of the season: click here to watch

Rastislav Benko is by far our best player so far with his staggering scoring ratio but I'm pleased to see "veterans" Raul Rusescu and Liviu Ganea competing well against their younger rivals. Expensive left back Danut Gongolea seems to have settled in right away while centre back Edward Motha is finally showing good form after a not very convincing first season with us.
So, I have stopped the game just before our first Champions League group game, against Sevilla. I have some good club news before wrapping up the post though:
1. We sold all the season tickets for the very first time!

2. Our already excellent youth facilities will be further improved!

3. Even though I have spent loads of money the club still has over 4 million in the bank! I love the Champions League! :)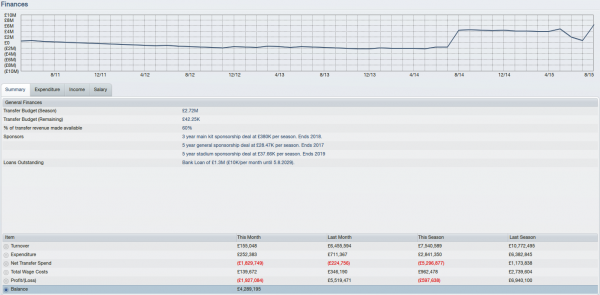 That's all for now my friends, thanks a lot for reading this happy update! But don't go away before sharing your thoughts about our new signings ;)

Subscribe to our Newsletter