Hello folks, I'm very happy to welcome you to a new episode of my Football Manager 2012 story. This update should have come a few days ago but I've had a terrible week which fortunately is over now. So let's move on to what happened in the game, but not before a recap of the situation at the end of 2015: my Viitorul Constanta had a solid first half of the season and were top of the table before the winter break, three points clear of second placed Rapid. The Champions League group stage proved too difficult for us again though but we managed to get our first point in that competition thanks to an away draw at Paris Saint-Germain.
As you might remember our financial situation was pretty good thanks to all that Champions League money but I wasn't expecting any extra transfer funds from my board. Well, they prepared a nice surprise for me before the end of January, they proposed a change of season expectations and I immediately took the chance: I promised them the title for a hefty 4 million pounds in transfer money!

You might remember that I mentioned a young Romanian centre back that I wanted to buy, I had spotted him in the Romanian national Under 19 team last season and tried to buy him ever since. After some negotiations with his club, Universitatea Cluj, we agreed on a price tag of 3.5 million pounds and the youngster joined Viitorul Constanta! Check out his profile, he's  pretty damn good for a 19-year old!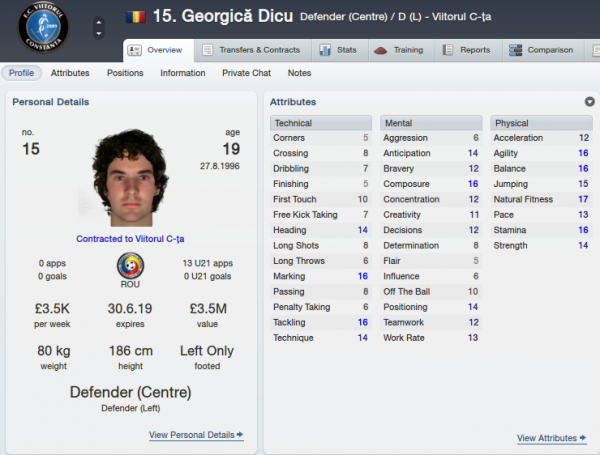 Dicu was the only player that I have bought during the winter break but I'm happy to report that I got back around 1 million pounds from selling two players: Paul Anton and Edward Motha (I had to let him go mostly because he's non-EU).
The winter friendlies went fairly well overall but since we recorded two defeats I have to say that I wasn't very optimistic before the first competitive game of the spring season.
My fears proved unfounded though as my lads demolished 6th placed U Cluj in a game which saw a debut goal from centre back Georgica Dicu. The defence proved leaky though and that was something to worry about.
The next game was going to tell us more about our strengths and weaknesses as we were about to face second placed Rapid away from home. They were just three points behind us at the top of the table so this was a crucial game in the title race.
Rapid vs Viitorul (Liga 1)
Starting Line Up: Octavian Ormenisan – Lubomir Cerny, Juan Belencoso, Georgica Dicu, Danut Gongolea – Milton Mella, Silviu Pana, Nenad Grumic – Rodolfo Oliver, Rastislav Benko, Daniel Mazzoni
The opening minutes saw a superior Viitorul side and we managed to put that on the scoreboard after 15 minutes when a fine counter move saw Benko passing through for Oliver who coolly finished with a low shot. The Argentinian striker could have struck again on 33 minutes after receiving a good pass from Mazzoni but his shot was straight at the goalkeeper. Our domination was quite clear at that point and we finally managed to strike again just before half time when Juan Belencoso bagged a corner kick header.
The second half was quite pleasing to watch for me as my lads kept control of the game through great passing and ball possession. Daniel Mazzoni wrapped things up with another corner kick goal seven minutes from time but unfortunately Rodolfo Oliver picked up an injury that was going to keep him sidelined for two weeks. I wasn't worried though as I had plenty of valid choices upfront.
Match highlights: click here to watch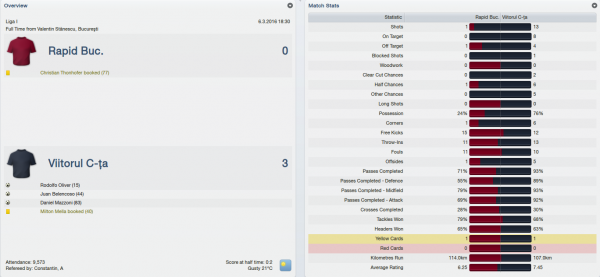 The month of March continued with four more wins, an emphatic one against CSMS Iasi and three less impressive ones against Dinamo, Branesti or Otelul. The team was playing very well though and I have to say that each of these four games was a joy to watch.
The six-game winning streak managed to put some daylight between us and the other title contenders, we had nine points on CFR Cluj and Rapid at the end of March.
The month ended with a sensational Romanian Cup performance against FC Timisoara, we won the first leg of the semi final 4-1 but we could easily have scored a lot more. The winning streak continued in the league mostly thanks to Rodolfo Oliver who returned from injury with an insatiable appetite for goal, we won three games in a row and he was the only one to score in those games. Then we booked our passage to the Romanian Cup Final with a quiet 2-1 second leg win against FC Timisoara.
At that point our lead at the top of the Liga 1 table was extended to 12 points over second placed CFR Cluj with seven games left in the season. We were about to face them at home and I was eager to see my lads in action against one of the best teams in the league.
Viitorul vs CFR Cluj (Liga 1)
Starting Line Up: Octavian Ormenisan – Lubomir Cerny, Juan Belencoso, Georgica Dicu, Danut Gongolea – Martin Lukac, Mihai Onicas, Nenad Grumic – Rodolfo Oliver, Rastislav Benko, Daniel Mazzoni
My boys might have entered the game with a complacent attitude though and CFR came close to breaking the deadlock after seven minutes when we were saved by the crossbar. Then we started pressing forward but our offence was lacking precision and we were justly punished for that on 34 minutes when CFR took the lead thanks to a sensational shot from 25 yards out. We could have restored parity four minutes later when a free kick cross found Georgica Dicu unmarked but his close range header bounced off the crossbar.
We resumed the attacks after the break and we finally broke through on 56 minutes when Rodolfo Oliver was brought down inside the penalty area and Rastislav Benko converted the spot kick. Our attacks became even more intense after the equaliser and we were rewarded for that 12 minutes from time when a great cross from Lubomir Cerny was powered in with a header by Daniel Mazzoni. The decisive win was ours and that meant that CFR were out of the title race while Rapid moved back into second place but with a 14-point deficit.
Match highlights: click here to watch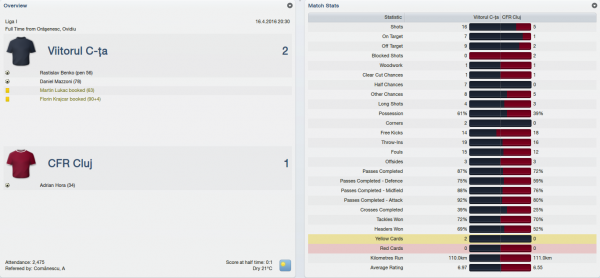 That win also meant that we had broken a record, 12 consecutive wins!
And we also grabbed the 13th by the end of April, a quiet 3-0 at struggling Sportul.
The league table at the end of April was a pleasant sight, we only needed one more point out of the last five games to make sure of our third consecutive title!
There's not much suspense left, I know that you know that we did win that title. But I invite you to the next page to see what happened in the Romanian Cup final and a few interesting facts about our squad and club. So click that little number "2" just above the comments section ;)
Go to the next page to read the rest of the story.

Subscribe to our Newsletter