Hello friends and welcome back to Romanian football in FM 2012. As you remember my team, Viitorul Constanta, was unable to reach the Champions League knockout stages this season, we finished third in the group behind Man United and Porto, but that gave us the chance to advance in the Europa League. Before moving on to our adventure in that competition I have some transfer news to break though.
I decide to sell two first team players: Daniel Mazzoni for 6.5 million (he was unwilling to extend his contract, wanted to move to a bigger club and started playing badly as a result) and Christian Kaufmann for 2.2 million. I also decided to offload four youngsters from the Under 19 squad for a total of 9.8 million pounds.
I had to replace the two first team players and I think I have found two worthy players to that purpose:
– striker Juan Cruz Argenti – 7.75 million pounds from Boca Juniors – a striker that resembles Ibrahimovic, towering presence but good technique as well.
– midfielder Alin Dicher – 4 million from U Cluj – probably one of the best Romanian players of his generation, I just had to take him and maybe help him progress.
And now, the Europa League adventure…
The first round saw us taking on CSKA Moscow and the first leg went quite badly, we lost 1-0 at the end of a game in which both sides displayed poor football. Fortunately we turned things around in the second leg thanks to a Manoel brace, we played really well on the day and could have won more comfortably.

And then we got another Russian team, Zenit, who had just dispatched Fiorentina 5-3 on aggregate. This time there were no problems at all, we won both legs quite comfortably while keeping a clean sheet. However, an unfortunate event happened in the second leg: new signing Julio Cruz Argenti, who had just bagged his first brace for the club, suffered a pretty nasty injury and was going to be out for a couple of months.

And then guess what? We got yet another Russian team in the quarter final: Rubin Kazan! And it was just as easy as it was against Zenit, we won both legs 2-0 but lost another player until the end of the season: Joaozinho – out for three months.

The semi final didn't bring us any other Russian team, there weren't any left :) We got Turkish side Besiktas instead and it was a lot more difficult than expected. We played quite poorly in the home game and then were a bit unlucky away as we wasted two huge chances in the opening 10 minutes. The game went to penalties and we prevailed, quite a nail-biting ending to a tie that was supposed to be a lot easier for us.

And we were into the final for the second time in the club's history and we were about to face… mighty Juventus! They had a much more difficult road to the final than us, knocking out the likes of AC Milan, PSG or Werder en route to the ultimate clash.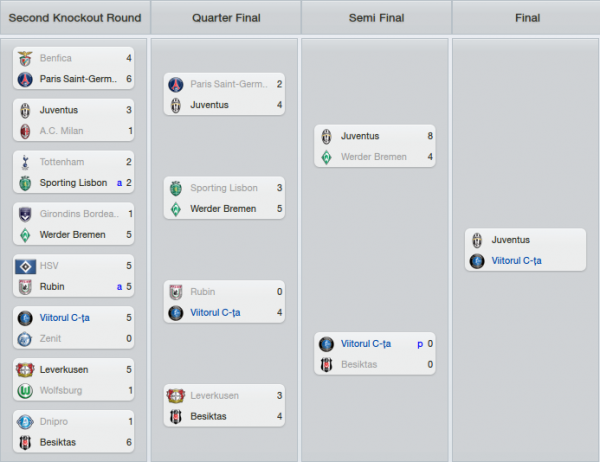 Juventus, three-times Europa League winners, had a solid line-up with two excellent strikers upfront (Nangis and Coulibaly), along with a hard-working central midfield and two fast and talented wingers.
On the other hand, I had three absences: Joaozinho, still injured, Rastislav Benko, injured, and Dramane Sow, suspended. With those problems in attack I had to send in Juan Cruz Argenti who had just recovered from injury.
Our line-up was like this: Tomas Held – Darko Andric, Xavier Dumont, Georgica Dicu, Sebastien Verdier – Yasen Zlatinski, Hector Fernandez, Markus Winkler – Juan Cruz Argenti, Peter Guba, Manoel.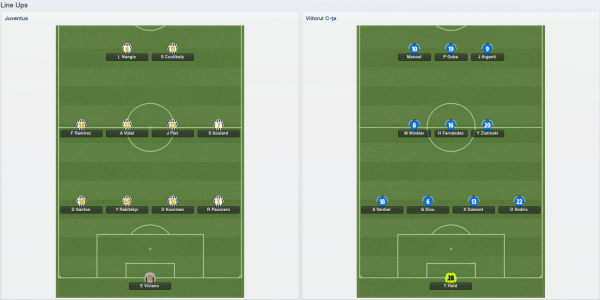 I would have liked to give you a full of suspense story of this final, I even wrote down the most important moments of the game in my notebook. But there was no suspense at all, unfortunately. Juventus totally thrashed us in the first half, with Lenny Nangis playing with our defenders like an experienced cat with a clueless mouse. I guess the half time stats screen shot tells the story better than I could.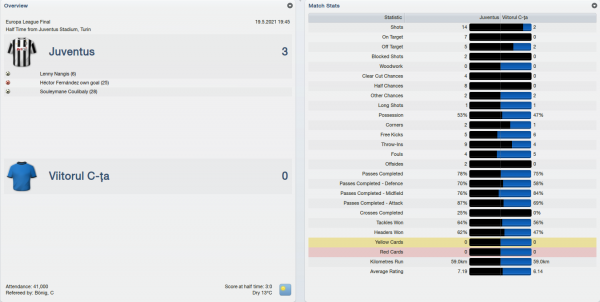 We did a slightly better job after the break but Juventus were still the dominant side. Nangis scored again on 55 minutes, then we replied through substitute Guido van der Meulen but that was what they call a consolation goal. There was no real consolation though, we were totally outplayed and I guess it's a lesson that Juventus taught us. I just hope we'll learn something from it.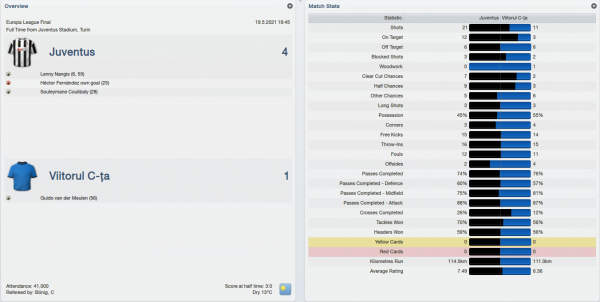 With the European adventure over, it's time to show you how we bulldozed through the domestic scene once again.
Romanian Cup – won it without conceding again, just having fun…

Romanian First Division – We won it again, don't worry, even though we started the second half of the season with a defeat. That was just an accident though and we recovered from it easily.

We won the league by a hefty margin again, even though I'm pleased to say that the likes of Steaua, Rapid and U Cluj seemed to do better than in the previous seasons.

The player statistics for the season see three strikers leading the pack but I am quite disappointed to see Rastislav Benko, our main man for quite a few seasons, down towards the middle of the list. Juan Cruz Argenti was unable to make the impact I know he could have made but that was because of that injury, I hope he will do a lot better next season. Oh, and Xavier Dumont is a solid first team regular now, I preferred him to Juan Belencoso in most of the important games.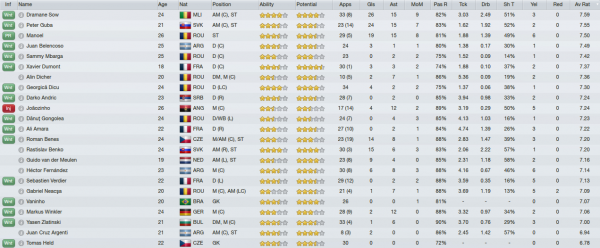 Our finances are looking very good and I think next summer will see at least a couple of big transfers. That is if the board won't decide to pocket the money :)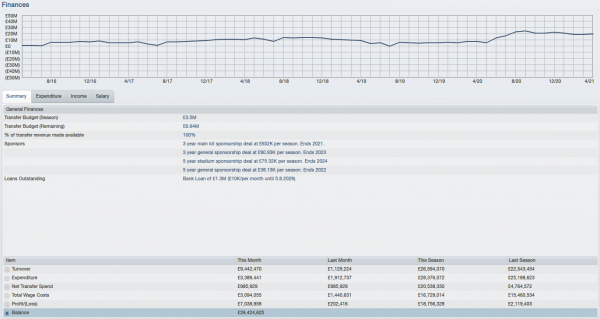 That's about it for now my friends, thanks for reading. I know, it's great that we reached the Europa League final, I am pleased with that, but the way Juventus thrashed us leaves a bitter taste in my mouth. However, reaching the final might further improve our UEFA coefficient and we might be seeded second for the Champions League group draw next season, at least that's what I'm hoping for.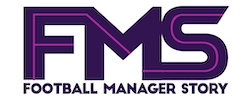 Subscribe to our Newsletter