Hello folks, it's finally time for a new episode of my Football Manager 2012 story! I've been trying to write this episode all week but never really got enough time or peace to do it. But now I do so let's get to it! As you might remember our season started early with the Champions League Second Qualifying Round where we easily knocked out Welsh champions TNS and then clinched our first trophy of the season, the Romanian Super Cup. But that was just the beginning, we had to go through two more rounds to get to the Champions League group stage and the Liga 1 season was about to begin as well.
But before going to the real action I have some good news to share: we'll be getting a new stadium! It won't be a huge one but it is more than two times bigger than our current one and apparently it will be more modern as well. The bad news is that it won't be ready until 2016, that's two whole years from now…

Until then we have to make the most out of what we have. The league started with an easy game for us against relegation candidates Ceahlaul, we won it quite easily and could have scored quite a few more goals.
A much more important game was coming up, the first leg of the Champions League Third Qualifying Round clash with Polish champions Lech Poznan. The bookmakers had Lech as favourites so I was fairly cautious before the game.
Viitorul vs Lech (Champions League)
Starting Line Up: Xaropinho – Ionut Peteleu, Edward Motha, Juan Belencoso, Tshepo Tshabalala – Dejan Danicic, Alexandru Lazar, Nenad Grumic – Liviu Ganea, Denis Alibec, Raul Rusescu
All my concerns were erased quickly though, the lads produced a fine start and Denis Alibec opened the scoring with a wonderful finish just 40 seconds into the game! We kept pressing forward chasing another goal and it finally came on a dead ball situation six minutes before the interval, Dejan Danicic curled it straight into the top corner from 20 yards. Things were looking great at half time, we were 2-0 up but we had to be careful and keep a clean sheet to boost our chances for the second leg.
With that in mind I switched to the counter version of my tactic after the break and it paid off: Lech tried to push forward and we caught them on a counter attack nine minutes after the restart with Raul Rusescu slotting home after Alibec was denied twice by the goalkeeper. Denis Alibec could have made it 4-0 a few minutes later but the goalkeeper denied him yet again while our opponents had their only big chance on 83 minutes but fortunately they squandered it. The game ended 3-0 and it was a perfect result in my view as it gave us a solid advantage for the second leg.
Match highlights: click here to watch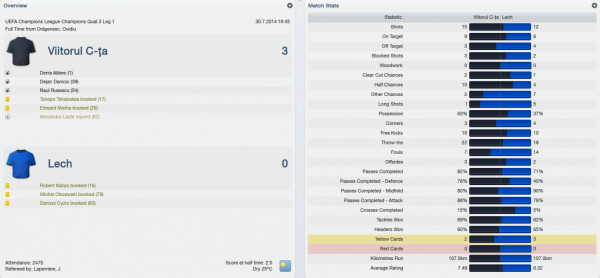 Unfortunately that good game was followed by a dismal performance in the league as we got thrashed by FC Timisoara for 70 minutes. We woke up when the score was 3-0, pulled two goals back but it was just two late to avoid defeat. The poor result was soon forgotten because we had a much more important reason to be sad: midfielder Corado Carstoiu suffered a terrible injury, damaged cruciate ligaments, and his season is already over as he will be out for at least nine months! I had to replace him so I decided to promote young Adrian Butoi from the under 19s team, a talented lad but with lots of things to learn before becoming a good player.
Then, as expected, we got a good result at Lech Poznan after that first leg result, Raul Rusescu was on fire and we won the game 3-2.
Luckily we didn't slip up in the league again after that good European performance, we demolished Otelul 4-0 with two beautiful goals (click here to watch) and the team's confidence was back at its peak. We should have gotten another win against FC Vaslui as my team played very well but our opponents had luck on their side and grabbed a share of the spoils.
We were just one step away from the Champions League group stage after going past Lech and I think we were pretty lucky with the draw for the Play-Off Round as we got Cypriot champions APOEL instead of sides like Rangers for instance. We were the underdogs again though as APOEL have a pretty strong squad (you know that they won their Champions League group this season in real life, don't you?). I was happy to play the first leg away though, I always prefer that.
APOEL vs Viitorul (Champions League)
Starting Line Up: Octavian Ormenisan – Ionut Peteleu, Edward Motha, Juan Belencoso, Tshepo Tshabalala – Mihai Onicas, Alexandru Lazar, Nenad Grumic – Raul Rusescu, Denis Alibec, Liviu Ganea
APOEL have some really fanatic supporters and that's probably why they really took the game to us during the opening quarter hour. But my lads proved strong, we defended well and then gradually started to show ourselves more and more in attack. Raul Rusescu had the first chance for us on 20 minutes but he wasted it and then Denis Alibec showed him how it's done three minutes later when he broke the deadlock with a fantastic solo effort. Unfortunately APOEL pegged us back immediately with a corner kick goal but we were playing really well and that counted on the score board again 10 minutes before half time when Alibec scored another great goal!
The second half was a bit more quiet as we held control of the game but without creating more chances. We should also have learned a lesson on the first goal we had conceded but we didn't and we let in an almost identical corner kick goal 11 minutes from time. We should have won this game to be honest but we still managed to get a good result that gave us the upper hand before the second leg.
Match highlights: click here to watch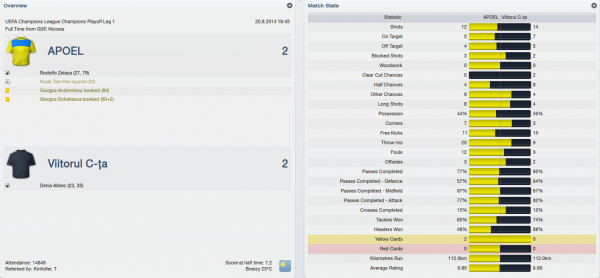 Before that second leg we had a tough league match against last season's title rivals U Cluj but it turned out a lot easier than expected, my boys gave them no chance and we ended the game in style with an exquisite goal from central midfielder Alexandru Lazar. (click here to watch)
It was time for the most important game in the club's history, we were just 90 minutes away from reaching the group stage of the Champions League and all the money that comes with such an achievement.
Viitorul vs APOEL (Champions League)
Starting Line Up: Octavian Ormenisan – Ionut Peteleu, Edward Motha, Juan Belencoso, Tshepo Tshabalala – Mihai Onicas, Alexandru Lazar, Nenad Grumic – Liviu Ganea, Denis Alibec, Raul Rusescu
I urged the players not to get complacent after the first leg result but they didn't seem to listen, we had a poor start to the game and APOEL nearly punished us on 16 minutes when they were denied by the upright. That moment woke up some players, Alibec in particular, and he created a chance for Liviu Ganea on 16 minutes but the striker blasted wide. Denis Alibec took matters into his own hands four minutes later, he blazed one in yet again! Things were going our way and we made sure of that on 34 minutes when Raul Rusescu made a textbook counter attack run before squaring for Nenad Grumic who fired it in low. The players lost their concentration again after that goal and we nearly paid the price during stoppage time when a terrible blunder from goalkeeper Ormenisan went unpunished.
Things cooled off after the break, we managed to dictate a slower tempo and keep possession before Mihai Onicas wrapped things up with one of his trademark bombs from 30 yards out. APOEL scored a consolation goal but that didn't matter at all at that point, we were through to the group stage! The celebrations were less intense than expected though as we had another cruel injury to deal with: left back Tshepo Tshabalala was going to be out for two months.
Match highlights: click here to watch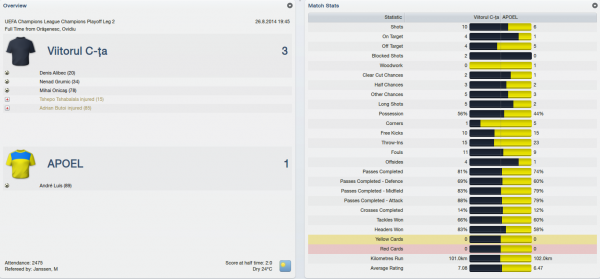 We travelled to Switzerland for the group stage draw with not too many hopes of having an easy group considering that we were seeded fourth. So, we were drawn in group D alongside Chelsea, Schalke and Ajax… I guess it couldn't have gone much better but it surely could have gone much worse (like group C for instance). We will probably finish last in the group, I don't have too many hopes, but I'll do my best to avoid humiliating defeats…

Our goal was to get the money though and we did, the biggest sum we've ever seen coming into the club! Six million pounds, it was an early Christmas!
We had to cut the celebrations short though as we had a very important game before the end of August, a clash with current Liga 1 leaders Rapid Bucharest. They were three points ahead of us and on a five-game unbeaten run, I was quite curious to see my side against the most in-form team in the country.
Rapid vs Viitorul (Liga 1)
Starting Line Up: Octavian Ormenisan – Alvaro Casanova, Edward Motha, Juan Belencoso, Constantin Grecu – Mihai Onicas, Alexandru Lazar, Nenad Grumic – Liviu Ganea, Denis Alibec, Raul Rusescu
We started the game on the wrong foot as we let in a goal after just six minutes, I was quite disappointed with how my players defended on that occasion. Luckily we reacted strongly just nine minutes later when Raul Rusescu was brought down inside the penalty area and centre back Juan Belencoso coolly converted the obvious spot kick. (I have to mention that Belencoso had just been called up for the Spain Under 19 national team even though he's Argentinian with a Spanish passport!). But we just couldn't seem to concentrate in defence and Rapid got ahead thanks to a bizarre corner kick goal: the cross hit one of my players in the back, the goalie was sleeping and we were one goal down again. But we had Alibec… :) Two minutes before the break Belencoso found the striker with a pinpoint long pass, Denis Alibec took it forward with a great first touch, rounded the keeper and levelled the score!
We finally got ahead shortly after the break when Rusescu was tackled illegally once again inside the penalty area and Belencoso slotted home again from the spot. We started to move the ball around nicely after the goal, Rapid were not seeing much of it, and we wrapped things up four minutes from time when Liviu Ganea found Rusescu unmarked at the far post with a good cross and the striker easily headed home. It was a very good game, we came back twice from behind and won it quite convincingly away from home against a very strong side.
Match highlights: click here to watch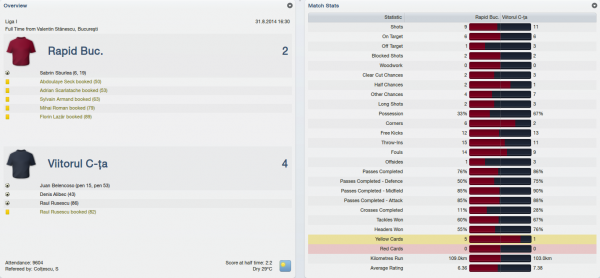 That result pushed us to the top of the table and I can say that I'm quite optimistic regarding our title defence, I really think we can win it again. All we have to do is hang in there until the winter break when we'll most likely finally have some decent money to spend on a few quality players.

As you can see from the player stats Denis Alibec is undoubtedly the best player of the season so far, he scored no less than 7 goals and also contributed six assists. Liviu Ganea and Raul Rusescu complete our lucrative attacking trio while Juan Belencoso is enjoying a very good start to his life in Romania. The last mention goes to Mihai Onicas, our midfield leader, he is both the muscle and the brains in the middle of the pitch and his stunning shots from distance have already brought us four goals.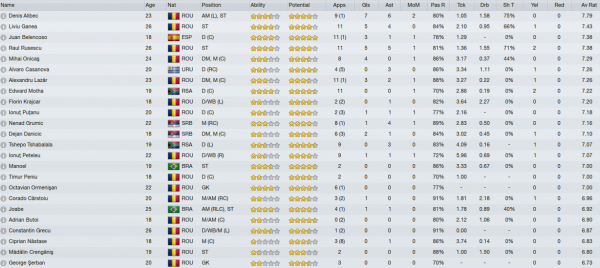 I know you are curious to see how our finances are looking now… Well, the answer is "better than ever" :) We have over 4.5 million pounds in the bank and I hope I'll get around 1 million to play with on the transfer market during the winter break.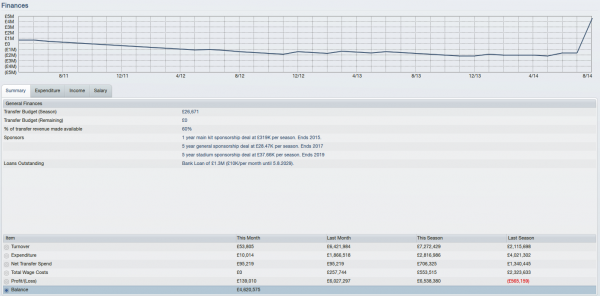 But there's still a lot more to do until then, we have to consolidate our position in the league and do our best in the Champions League. I hope that our illustrious opponents will underestimate us or at least show a bit of mercy… :) Thanks a lot for reading my friends, looking forward to your reactions!

Subscribe to our Newsletter