Hello again my friends and welcome to a new episode of my Football Manager 2012 story, the fairytale that transformed Viitorul Constanta from an anonymous club in the Romanian Second Division into a club that is closely watched by Europe's greatest. You surely remember that we have won the Europa League last season, a highly unlikely achievement, especially after we got thrashed 4-0 by Marseille in the first leg of the semi final. I guess we pulled off a miracle back then but the difficult part is ahead of us as now we have to maintain our status in Europe with a good performance in the Champions League.
There will be quite a few pieces of good news in this post but I'll start with the very best: the sports betting websites decided to stop losing money as they finally consider us as favourites for the Liga 1 title. It took six consecutive titles to get there but it's better late then never :)

I'm also happy to report that the Romanian top flight has moved up quite well in the European Competition Rankings, we have a much better reputation now thanks to our Europa League achievement. The English Premier League remains the best competition in Europe and I doubt I'll ever manage to change that.

We have also moved up in the European club rankings, we have entered the top 50 now and the next target is the top 25.

All those improvements also changed the country's coefficient and that means we will go straight into the Champions League group stage next season! That is if we win the league but I guess we probably will ;)

Last but not least, our stadium will be welcoming more people next spring! Not many more but this is another step in the right direction for the club.

OK, enough is enough, now let's move on to the part you like the most: the transfers! The chairman and his mates were quite generous this time as they set the initial transfer budget at an all-time high: just over 13 million pounds!

I'll present the outgoing names list first, not many sales this summer but we managed to bring 12.5 million quid into the club. As you might notice there are a few names from the first team that have left, three names to be more precise: full backs Mory Kante and Lubomir Cerny got sold because they were unwilling to extend their contracts while Moussa Sane was sold because of a rather nasty conversation with his manager (that's me!).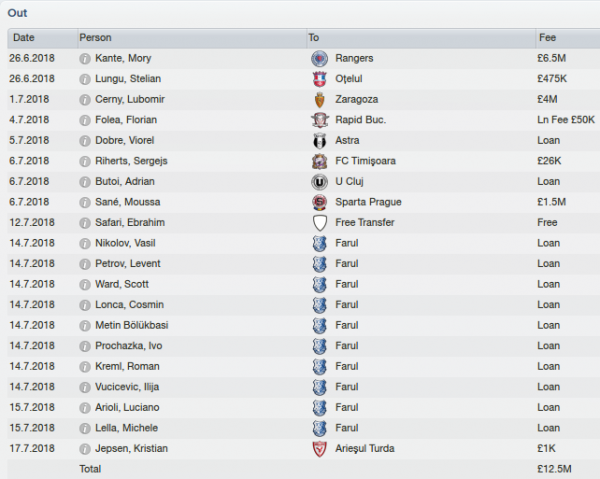 As for the incoming transfers, we spent a total of 18.75 million pounds on quite a few exciting names. However, only a few of them will go straight into the first team and you will be able to see who they are in a few seconds.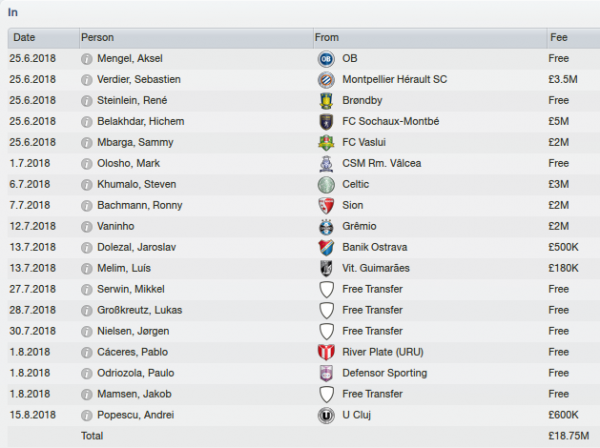 Now let me give you the full image of the 23-man squad that I hope will lead us to more happy moments this season (click the names to see the player profiles):
Goalkeepers
Hernan Prestia, Mihai Manecan – no changes here even though I actively searched for a new goalkeeper. I haven't found the right one though.
Right Backs
Ali Amara, Hichem Belakhdar – Cerny was sold so I had to find a replacement and I guess Belakhdar is a good one, a solid and still young French player.
Left Backs
Danut Gongolea, Sebastien Verdier – I had to find a new lad after selling Kante and I was pleased to get another Frenchman, Verdier, who should become a top full back pretty soon.
Centre Backs
Juan Belencoso, Georgica Dicu, Ionut Putanu, Sammy Mbarga – just one new name here, that's Mbarga, a strong African defender with a very useful Romanian passport.
Central Midfielders
Hector Fernandez, Markus Winkler, Yasen Zlatinski, Joaozinho, Christian Kaufmann, Hernan Arangio, Roman Benes – no changes at all here, I'm very pleased with my midfielders and quite hopeful as well since most of them still have some room for progress.
Strikers
Manoel, Rastislav Benko, Zezinho, Daniel Mazzoni, Ronny Bachmann, Steven Khumalo – there are two new names here, both signed as backup players. However, I felt I needed these two better backups (Bachmann and Khumalo) to keep the star strikers on their toes and also to have viable options in case of an injury crisis like we had last season.
The bottom line is that I didn't sign any star players and that is because I have a lot of faith in my youngsters, most of them were raised at this club from very young ages and I feel that the team spirit is an important asset for this club. Some of them did voice demands of moving to bigger clubs but all of them were very understanding when I promised them that this club will continue to make progress on the road to becoming a household name in Europe. I think we have much better depth now as the backup players are closing in on the first team regulars in terms of quality.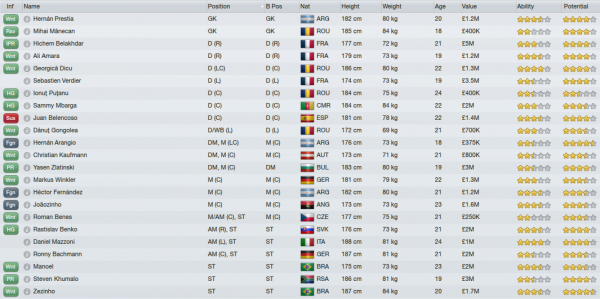 Our pre-season started with a few comfy friendlies, then we won the Romanian Super Cup again before showing our superiority in the league matches. The Champions League qualifying rounds were not very testing but we did have a difficult time in the last round against Polish champions Lech Poznan.

There was only one match I could think about though, the last match in the month of August, and the biggest challenge of the season so far: the UEFA Super Cup against Champions League holders A.C. Milan.
A.C. Milan vs Viitorul (UEFA Super Cup)
Starting Line Up: Hernan Prestia – Ali Amara, Juan Belencoso, Georgica Dicu, Danut Gongolea – Yasen Zlatinski, Hector Fernandez, Markus Winkler – Zezinho, Rastislav Benko, Daniel Mazzoni
As expected, Milan's eleven was quite scary with Pato upfront and a talented trio behind him: Alex Teixeira, Christian Eriksen and Willian. Unfortunately we didn't have much time to enjoy the atmosphere as the Italian giants scored on the very first attack, Teixeira bagged a fine volley just six minutes into the game. We could have restored parity six minutes later when Zezinho did some fine work to set up Winkler inside the penalty area but the midfielder fired wide from a great position. Both teams started playing quite badly after those lively initial moments but, as it often happens, big teams score even when they are not playing well: Milan made it 2-0 on a free kick just two minutes before half time.
We were unable to react after the break and Milan nailed us again seven minutes after the restart thanks to a fine solo effort from Eriksen. I thought it was all over at that point but my lads didn't give up and Mazzoni came close on 68 minutes when his vicious shot slammed against the post. We finally scored one six minutes from time thanks to a deflected shot from Hector Fernandez and then pulled another one back on the stroke of full time through Zezinho. It was too late to matter though. However, if you look at the stats you could say that there wasn't a big difference between the two teams, I think Milan won it only thanks to their superior (and rather cruel) efficiency.
Match Highlights (goals and chances):click here to watch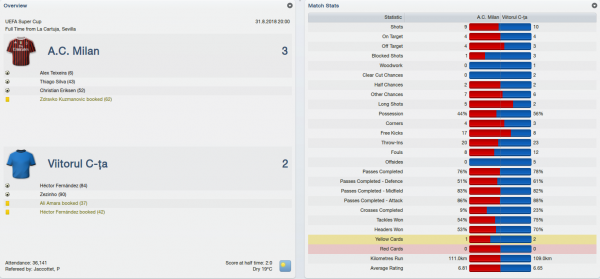 We will have two chances to get revenge pretty soon though as we are bound to face Milan in the Champions League group stage! We were seeded third this time but that didn't do us much good as we got the toughest possible team from the fourth pot, PSV Eindhoven. However, I think we got lucky with the second seed as we got Stuttgart instead of bigger names. So I guess we do have a real chance of finishing second this time but we'll have to play really well in all six matches.
Before wrapping up I'm pleased to report that our finances are still looking very healthy, I guess we might have some more money to spend during the winter break if I'll manage to find the right players.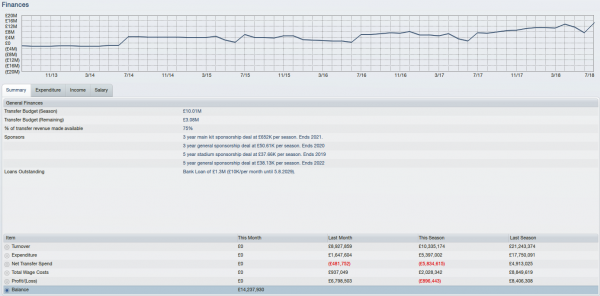 That's about it folks, thanks a lot for reading and for the feedback that you will surely provide in the comments ;)

Subscribe to our Newsletter