Hello boys and girls and welcome to what probably is the most exciting episode of my Football Manager 2012 story! It's exciting for a very simple reason: my tiny club, Viitorul Constanta, was about to embark on a glorious quest for glory in the Champions League group stage against three top European teams: Chelsea, Schalke 04 and Ajax Amsterdam. We also had the domestic league to worry about as our title defence campaign seemed on course at the end of August, but I admit that all my thoughts were going to those big Champions League clashes…
The odds were firmly against us, no surprises there, but that didn't kill our hopes. Dreaming is free ;)

Our first league match in September and first match before the Champions League group stage didn't go too well though as we were held to a goalless draw by 17th placed Petrolul. One word can describe our performance in that match: sloppy. We were careless in attack and threw away good opportunities while we also allowed the opponents to create some danger at the other end.
But everything faded seconds after the final whistle, we were just a few days away from welcoming mighty Schalke to our tiny stadium. (Normally a club is forced to play on a stadium that complies with UEFA Champions League rules but sadly that didn't happen in the game so we played these big games in front of a capacity crowd of just below 2,500 people).
Viitorul vs Schalke (Champions League Group D)
Starting Line Up: Octavian Ormenisan – Alvaro Casanova, Edward Motha, Juan Belencoso, Constantin Grecu – Dejan Danicic, Alexandru Lazar, Nenad Grumic – Raul Rusescu, Denis Alibec, Liviu Ganea
Since we were playing at home I decided to start with the attacking version of my tactic just to see if it would work against such a big team. It seemed to work for about half an hour as the lads were playing with courage and we dominated the game but it was Schalke who created the first clear cut chance on 34 minutes. Luckily they squandered that chance and the numbers were looking good at half time: the score was 0-0, the possession statistic indicated 58-42 in our favour while the shots on target score was 2-0, also in our favour!
Unfortunately I had to make two forced substitutions at half time and I was quite pessimistic since my best two players had to be replaced: Juan Belencoso and Denis Alibec. Substitute Manoel nearly proved me wrong three minutes after the restart as he created a chance for himself by dribbling past a defender but his shot was weak and the goalkeeper saved it easily. Schalke immediately launched a counter attack and they caught us, these big teams always do… That goal took the wind off our sails and Schalke could have scored again on 59 minutes. But we caught a lucky break two minutes after the hour mark when midfielder Nenad Grumic was brought down inside the penalty area! Mihai Onicas stepped up… and converted from the spot! We started pushing forward after that equaliser but my lads were unable to create any big chances until the 90th minute. The referee indicated two minutes of stoppage time, the clock was ticking… but it wasn't ticking fast enough… Schalke banged one in seconds before the final whistle and took the three points… I guess we deserved a draw here but I was quite happy despite the result because my players didn't look like a small team on the pitch.
Match highlights: click here to watch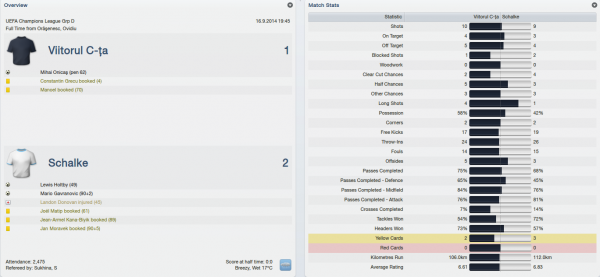 Unfortunately that result seemed to have a bad effect on our domestic performances. First we recorded an unexpected 1-1 draw against last placed Gloria Buzau at the end of a game in which we squandered quite a few chances and conceded on our opponents' only shot on target. Then we played even worse in the Romanian Cup against a Second Division team, the game went to the penalty shoot-out but luckily we managed to win that. Then we finally got back to winning ways against 15th placed FC Brasov thanks to a corner kick header from Juan Belencoso but after we had been denied by the woodwork on two occasions.
But we forgot all about those troubles again as we were travelling to Stamford Bridge to face Chelsea. The Blues were definitely looking for a win especially since they got beaten 1-0 at Ajax in the opening group match.
Chelsea vs Viitorul (Champions League Group D)
Starting Line Up: Octavian Ormenisan – Ionut Peteleu, Edward Motha, Juan Belencoso, Constantin Grecu – Mihai Onicas, Alexandru Lazar, Nenad Grumic – Raul Rusescu, Denis Alibec, Liviu Ganea
Unfortunately the game started in the worst possible way for us as Salomon Kalou made it 1-0 for the home side after just 45 seconds… I was fearing we'd be at the wrong end of an onslaught at that point but my boys held their ground well until half time and Chelsea were unable to create any more chances. However, we were almost invisible in attack.
The second half started in a similar fashion but this time Kalou needed six minutes to score instead of a few seconds. The game ended at that point since we were unable to create dangerous attacks and Chelsea were probably taking a breather before their weekend Premier League match. I guess it was an honourable defeat against a side that proved way too good for us.
Match highlights: click here to watch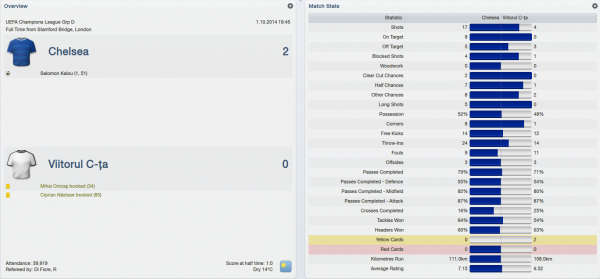 Our poor domestic form continued though and that was more than a reason to worry. We recorded two consecutive defeats after the Chelsea game but the two games were quite different. I can say that we were quite unlucky against Dinamo as we threw away chances again and conceded on their only shot on target while against Pandurii we were unrecognisable and our opponents thoroughly deserved to win. I was thinking about holding a team meeting at that point but it didn't seem necessary as the squad morale was still pretty good. I did have a couple of individual talks with Denis Alibec and Liviu Ganea, their goal draught was really threatening our season.
We had another away match in the Champions League and it seemed the most difficult one yet since Ajax were leading the group after beating Chelsea 1-0 at home and Schalke 3-0 away.
Ajax vs Viitorul (Champions League Group D)
Starting Line Up: Octavian Ormenisan – Ionut Peteleu, Juan Belencoso, Ionut Putanu, Constantin Grecu – Mihai Onicas, Alexandru Lazar, Nenad Grumic – Raul Rusescu, Joabe, Liviu Ganea
This time we had a pretty good start and Raul Rusescu nearly broke the deadlock on 9 minutes but his header was saved. Ajax was dominating the game though and they deservedly scored the opening goal on 16 minutes. They were really looking as the best team in the group and they made it 2-0 on 36 minutes after wasting two chances a few minutes earlier. We could have gotten back into the match on the stroke of half time through a wild shot from distance by Alexandru Lazar but unfortunately the ball hit the upright.
We played a bit better after the break but not nearly good enough to change the result and Ajax struck again 12 minutes from time. It was all over at that point but my lads continued to chase the consolation goal. Joabe was denied by the post on 86 minutes but we finally found the back of the net through young substitute Ciprian Nastase who fired one into the bottom corner from the edge of the penalty area. Chelsea defeated Schalke 1-0 in the other group match so things were pretty clear at the halfway point: Ajax and Chelsea were going to qualify while we had a slim chance of beating Schalke to the third spot.
Match highlights: click here to watch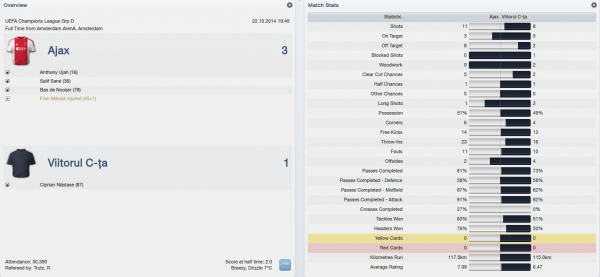 We had to bounce back on the domestic front though since we had dropped into 8th place after the terrible run. Fortunately Denis Alibec ended his 10-hour goal drought against Steaua and he also produced a penalty kick for Juan Belencoso to convert. Then it was Liviu Ganea's turn to end his goal drought and he did that in style with a hat-trick in the Romanian Cup match against Pandurii. On November 1st my third suffering striker found the back of the net again: Raul Rusescu broke the deadlock against 10th placed Gaz Metan after 16 hours and 43 minutes of football without scoring.
Our domestic situation needed a lot of attention at that point but I couldn't stop my mind from flying to the Champions League, we still had a chance of finishing third and I was determined to fight until the very end. Three games to go, check out the next page to find out what happened.
Go to the next page to read the rest of the story.

Subscribe to our Newsletter