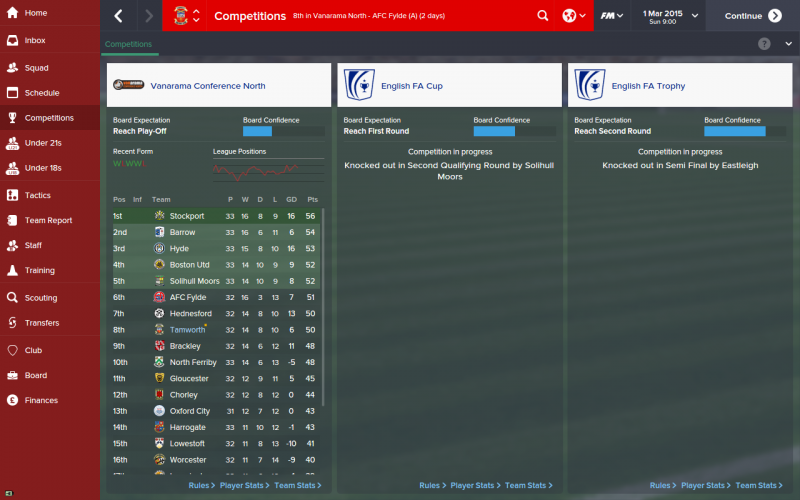 March starts with us sitting in 8th position. It's hardly great viewing, and given the fact the month starts with managerial vacancies at Stirling, Livingston, Kilmarnock, Partick Thistle and West Ham, March was going to be a month where Chairman are scrutinising everything. I'm sure my cup run was appreciated by the board, but realistically, its in the league where we need to pick up.
It would also help if players stopped complaining needlessly. Purdie hasn't realised that constantly whinging isn't going to endear himself to me, so I decide he's going to be spending the rest of the season (and ultimately, his contract) on loan at Rushall in the Northern Premier.
We start the month away to AFC Flyde. They're sitting slightly above us in 6th. We're 8th. The board (and maybe some of the fans) seem to think I should be doing slightly better. I can feel the pressure mounting a little more after 11mins when we concede another goal from a corner. Hankin floats it in and Potts tucks it away. We fight back, and almost equalise on 24mins when Mettham hits the bar. We do pull level 5 mins later though. Mettham picks up a pass from Thornton to equalise. We're only on level terms for 2 minutes. On the half hour, Hankin sends a ball to the back post, which finds Allen, who slots home for his 28th of the season. I remind the players that they can still win today. It does nothing. On 78mins Allen put away his 29th of the season despite appeals for offside. The fans are starting to turn, and the players are booed off the pitch again.
I thought that a 3-1 defeat was a bad result, but I wasn't expecting to be called to an emergency board meeting!
They're not happy at our current position in the league. They don't seem to agree that injuries to key players is a valid excuse for our fortunes. I ask what they want from me? 9 points from the next 5 games, apparently. It's gonna be a tall order, but if that's what they want, then that's what I need to work towards.
At training the follow day, I lock the players in the dressing room and tell them to improve. Everyone is motivated bar Thornton who looks a bit stressed unfortunately.
I'm not sure this was the best day for the club receive an intake of youth candidates. The first thing they see is me shouting and balling at the lads who aren't pulling their weight. I'm usually quite calm. They'll come to like me over time. One lad seems to stand out more than others. He might end up being thrown into first team action due to poor performances from my current squad.
Due to the rules of lower league clubs being able to sign free transfers outside of the transfer window, I decide to bring in my first signing. Lawrie, a Northern Irish lad who I had on trial. He seems quite versatile, being able to play in the centre of midfield or just behind the strikers. The staff seem to rate him. I'm happy. He signs a short-term deal til the end of the season.
7th March we welcome 21st placed Bradford PA to our ground. They're out of form and my lads have been told they must improve. There couldn't be a much better team to play given the recent circumstances. Unfortunately, there must've been a bit of tension in my lads. The first half passes with barely any chances for either side. We're in danger of a bore draw, until on 61mins, when Thornton fed Jackson, who layed it back to Mettham who struck it into the net for his 16th goal of the season. You could feel the tension being released throughout the ground. On 72mins, Thornton fired a free kick into the top corner from the edge of the box to double our lead and surely give us the three points. Bradford PA clear a ball off the line on 79mins to deny us a third. With 5 minutes to go, Marshall sees his strike ruled offside. The final whistle goes and we celebrate a well-earned 2-0 victory. That result moves us up to 6th.
We also get news that Mettham will be out for 4 weeks with a gashed leg. Clarke keeps on whinging, so he gets told to find a new club
Nigel Adkins takes over the vacant managers role at West Ham. In a bizarre 'art imitating life' style moment, Tony Pulis is named the new West Brom manager. Roy Keane is still caretaker at Villa, but it's not going well for him.
With Taylor, Green, and now Mettham out, a trip to 20th placed Colwyn Bay brought a few challenges. On paper, we should win comfortably though. As with the Bradford PA game, the first half was some of the most forgettable football I've ever seen. The home crowd were sparked into life on the hour mark though, when Haywood's corner was turned in by Williams to put Colwyn Bay one up. Another goal from a corner! We get our own back though right at the death. In the 90th min, Thornton's corner is nodded back by Watson and turned in by Preston in order for us to salvage a point.
The visit of 2nd placed Hednesford was always going to be a difficult task. They're unbeaten in 4, and I'm needing 5 more points from the next 3 games to seemingly save my job. We actually give our visitors a bit of a fright on14mins, when a throw in finds Vidal. Vidal then lays it off to Jackson who beats keeper at his near post. Our joy only lasts for 15 minutes though, when Love crosses for Diggin to equalise. Just before the break Thornton hits the bar with a free kick. We go in half time level, but confident. On 61mins Jackson goes down the right hand side, drills the ball into the box, and up pops Lawrie to pounce and gets his first goal for the club. The fans are understandably ecstatic.However, with 15 minutes to go, we undo all our good work with another goal conceded from a corner. Diggin nods in to claim his 15th of the season. In normal circumstances a point in this fixture would be seen as a good result, but the pressure keeps mounting on me and the players.
Our final game of the month sees us travel to Chorley who are sitting in 10th. We receive a bit of a boost as Mettham returns from injury. With half an hour played, I'm not sure if we can class it as a goal from a corner, as it's not 'directly scored from the corner', but it's another goal from a corner. We clear it, it's played back in. There's a bit of head tennis, but it's eventually put in by James Dean to put us one down. 16-year-old Daniels comes on as a sub on 60 mins, and with almost his first touch, pounces on a rebound from Thorntons' shot from the edge of the box to make it 1-1. We then take the lead 8 minutes later. Thornton floats in a corner which Green heads into the net. Surely we can hold out? Nope. On 78mins, Hine unleashes a shot from 25 yards and picks up his 10th of the season.
Another draw. We finish the month in 6th, 5 points off the final playoff spot. Eastleigh beat Gateshead in the FA Trophy Final. My job security is becoming increasingly precarious.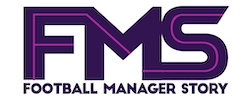 Subscribe to our Newsletter