Hello my friends, the most important month of my second season at the helm of Notts County was about to begin. We qualified for the final of the Carling Cup after beating Preston in the semi final last month, our fans were eager to see us at Wembley Stadium against Everton.
But there still were a lot of games to be played until then, we had to keep a good pace in League One and gain promotion to Championship as soon as possible. The first game of the month was away at 14th placed Norwich, we defeated them 2-0 at Meadow Lane in September. Things went very well again, centre backs Muniesa and De Laet made it 2-0 with powerful headers from corner kicks and winger Pedro Botelho scored a goal on his debut with a superb left footed drive from the edge of the area. Sburlea came in for injured Pekhart and scored a double for us in the second half, quite pleasing :)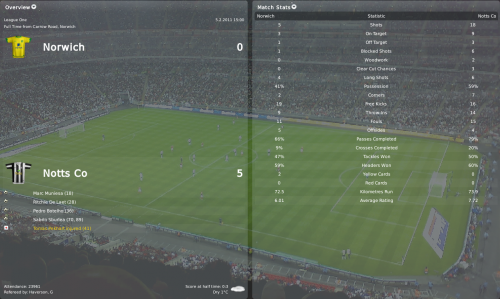 The next game was at home with 6th placed Charlton, a team that held us to a 2-2 draw in September. It was an important game against a promotion contender, we had to do our best to win it. Left back Charlie Mulgrew gave us the lead with another great shot from a free kick and then Sburlea and Gasmi dominated Charlton's defense with their great skills. A good win both for the morale and for the league table.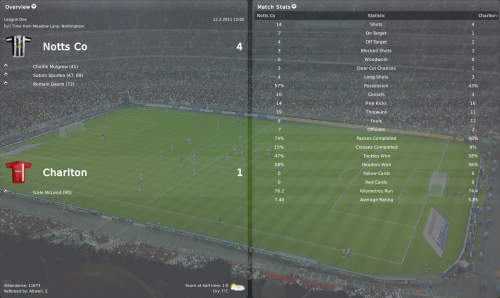 Next up, the second leg of the Johnstone's Paint Trophy North final. The first leg was played at Meadow Lane and despite dominating the whole game we were not able to gain more than a 0-0 draw last month, now we had to stand firm and win the tie away from home. Blackpool were lucky to score am early counter attack goal and despite having quite a few chances in the first half we couldn't get it past their keeper, he pulled off some spectacular saves. We did it after the break though, first left winger Pedro Botelho headed in a far post cross from right back Gergely Varga and then Tomas Pekhart placed it in after a great run and assist from Romain Gasmi. We were through to the final but there were bad news after the game, Pedro Botelho had a few broken ribs and he was going to be out for around 7 weeks!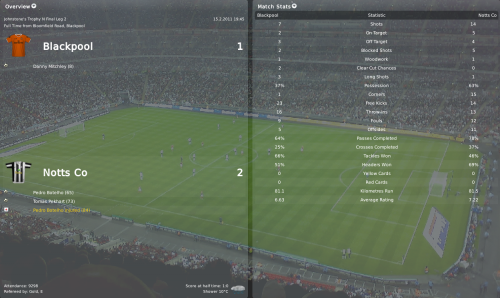 We had another tough league game coming up, away at 4th placed Coventry. We won the home game 5-0 back in October but I wasn't expecting an easy game. Pekhart wanted to prove me wrong and buried it twice in the first half, he was unstoppable. Coventry looked better in the second half, more offensive, but we ruined everything in only three minutes! It was a shock and my team was not able to react after that, Coventry were more aggresiive and even had the chance to win the game.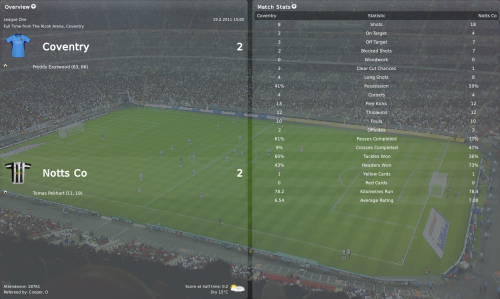 There was one more game to be played before the Carling Cup final, at home with 3rd placed Blackpool, the team that we just defeated in the Johnstone's Paint Trophy. We were not very convincing this time but the best player was their keeper again, Paul Rachubka, he saved some unbelievable chances. We should have won it though…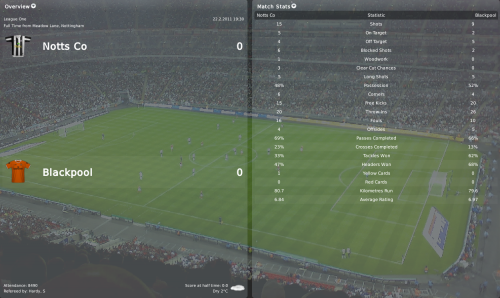 Go to the next page to read the rest of the story.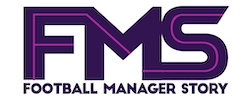 Subscribe to our Newsletter