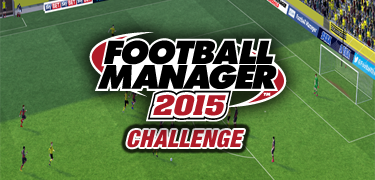 This FM 2015 challenge is in most cases very tough. The goal is to take a team that has never won the World Cup and in most cases not any international trophy and make them winners in the World Cup. They often also include a team that plays in a league in another country.
The most common example is San Marino. They are a country on the Italian mainland and are bordering Italy on all sides. They have a football team in the Italian Football 3rd tier. In that case you take over the San Marino team and have them promoted all the way to Serie A. Then take control of the national team when that job is available. Then make the national team competitive in the World Cup. It's a very hard if not impossible task. There is other variants though.
The national team should have an underdog status. Even though Portugal has never won the World Cup or the European Championship I would not consider them underdogs as they have had a few semi-final appearances in the European Championship and World Cup. But maybe Ukraine or Romania can be alternatives.
Some examples
San Marino in the Italian Serie C1 with the San Marino national team.
Swansea, Wrexham, Cardiff, Newport County, Calwyn Bay who plays in England with Welsh national team.
FC Vaduz in Switzerland and the Lichtenstein National Team.
Note: The Welsh variant is called the Gary Speed Challenge.
Rules and Goals
The youth academy must be able to produce youngsters for the national team.
Your team consist of players from the same nationality.
Manage the national team (can apply later on in the game).
Control every team of the national team that competes in international tournaments (Main Squad, U23, U21, U19 most often).
Extra: The team is playing in a league of another nationality.
The strategy is very similar to the Youth Academy Challenges. Playing for the long term is key. Training youngsters with the right nationality. Something to consider is if a player has multiple nationalities is that you have to play him in a game as soon as possible is crucial. You can tie him to your national team and he can not change his mind later. If I remember correctly, U21 games count to this as well.
But unlike the Youth Academy Challenges you don't have to keep your players (as the national team is your focus). If they are good enough to play at other teams you can sell them but keep a watch so they get playing time. A buy back clause can be a good choice here. Selling you players give you the possibility to create a stronger team to compete in the Champions League which means more money to train youngsters. But as I said only if they are good enough. The team they go to must be of good quality to. At least upper table quality.
Conclusion
This is a very long term type game and takes good planning before you get to the right spot to go for your goals. But very rewarding when you get there.

Subscribe to our Newsletter