The Champions League final is here! The match starts at 6 p.m. London time and I will keep you up to date minute by minute with what happens on the pitch. Until then, let's see where it will be played and who will play it.
The match will be played in Athens, on the Oaka Spyros Louis Stadium, also known as the Olympic Stadium.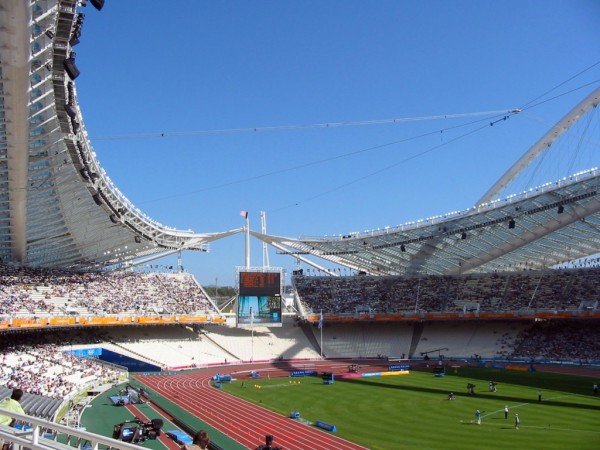 And now, the line ups (click on the names to view the player profiles):
Viitorul Constanta: (4-3-3 counter) Nicolas Salva – Michiel Aarts, Xavier Dumont, Georgica Dicu, Sebastien Verdier – Yasen Zlatinski, Mike Broadhead, Alin Dicher – Rastislav Benko, Jerome Vrignaud, Dramane Sow
Reserves: Vaninho, Fabian Caporale, Danut Gongolea, Hector Fernandez, Roman Benes, Guido van der Meulen, Juan Cruz Argenti
Real Madrid: (4-2-3-1) Joaquin – A. Chacon, A. Viqueira, D. Boyata, W. Santillan – V. Andreani, H. Mkhitaryan – D. Martinez, O. Luz, F. Ghiglia – R. Sanchez
I have to admit that Real Madrid's line up looks quite scary… Anyway…
The live text broadcast will be shown below, the updates will appear automatically, no need to refresh the page.
The match will be played in extended highlights mode. 
LIVE BLOG – CHAMPIONS LEAGUE FINAL 2023
21.12
Tracksuit manager will be part of the coaching staff as well.
21.10
Three new coaching styles for staff: technical, tactical, mental.
21.10
New in training: can specify both role and mentality for a player's training.
21.09
More detailed and varied job interviews.
21.08
More manager profile options.
21.08
Improved manager history, featuring manager timeline.
21.07
Revamped club history screen.
21.06
Improved board intelligence, next season wage budget announced earlier.
21.05
Updated with latest Financial Fair Play regulations.
21.03
Training ground interviews introduced as well.
21.03
Tunnel interviews introduced.
21.03
Improved press conference questions.
21.02
Improved media interaction, with tabloid journalists and broadsheet journalists.
21.01
Players can turn against unhappy team-mates to support their manager.
21.00
Talk to a group of players that have the same concerns.
20.59
Improved player interaction.
20.59
Can search for unhappy or home-grown players.
20.59
New home screen search bar, similar to the web browser.
20.58
Improved scout report screen, with pros and cons and a lot more detailed data about players.
20.58
Can scout a player for up to 3 months.
20.57
Improved interaction with club scouts.
20.57
Attribute ranges instead of blanks for unscouted players.
20.56
New way to set up scouting assignments.
20.55
New player preferred moves.
20.55
Four new player roles: roaming playmaker (DM and CM), raumdeuter (AMRL), inverted wing back (WBRL), wide playmaker (MRL).
20.53
New default tactics available.
20.52
New stadium models.
20.52
Improved touchline shouts.
20.52
Improved player AI.
20.52
Improved ball physics.
20.51
New match engine lighting model.
20.50
Improved goalkeeper animations.
20.50
New 3D match engine animations that replicate real-live movement of football players. For instance, players will be able to play passes with the outside of the foot.
20.49
Biggest match engine face-lift since the 3D engine was first introduced.
20.48
You will get coaching badges in the game.
20.47
Select the type of manager you want to be: Tracsuit Manager or Tactical Manager, or a combination of the both.
20.46
New user interface features a sidebar, which allows easier navigation.
20.45
Re-designed user interface.
20.41
New FM 2015 features coming soon!
18.41
The LIVE BLOG is now closed, thanks again for your fantastic support.
18.40
You have to refresh the page in order to watch the video. Or better, click the link on top of the video and watch it directly on YouTube.
18.37
Here are the two goals:
18.36
The goals will be up in a couple of minutes, then I will close the live coverage and meet you in the comments section.
18.35
Thanks a lot to all of those who followed the live blog, your support means a whole lot to me.
18.33
We received 7.82 million pounds for winning it ;)
18.33
I'll upload the goals shortly and then start to check and answer your comments ;)
18.32
Guess who was the man of the match? No, not Sow. It was Real's goalkeeper!
18.31
Somebody pinch me, I can't believe it!
18.31
It's all over!!!!!!!!!!!
18.31
3 minutes of injury time…
18.30
His 20th goal of the season ;)
18.30
Sow does it again with 4 minutes left! Another great pass from Vrignaud and another cool low finish!
18.29
GOOOOOOOOOOOOOOAAAAAAAAAALLLLLLLLLLLLLLLLLLLL!!!!!!!!!!!
18.28
84th minute: decent chance for Argenti after a nice cross from Verdier but the striker headed over from 6 yards out.
18.27
Another yellow card for Real, Andreani gets booked.
18.26
Last substitution: Argenti for Benko.
18.25
77th minute: chance for Real on a corner kick, the goalie did well to tip the header over the bar.
18.24
Just 20 minutes left!
18.23
67th minute: an unlikely chance for left back Verdier! He got into the penalty area but his right-footed shot was saved. We have a corner kick though.
18.22
Real Madrid have a 4-1-3-1 formation now ;)
18.21
65th minute: second yellow for Viqueira! He's off!
18.21
64th minute: good counter chance for us, Sow was clean through but the goalie pulled off a great  save.
18.19
Real Madrid sent in Gonzalo Higuain.
18.19
55th minute: yellow card for Real's centre back Viqueira. I'm sending in Roman Benes for Fernandez.
18.18
Real Madrid are making some changes, they switched to a 4-3-1-2 formation.
18.17
Great goal with his left foot! Now we'll have to be careful at the back…
18.16
52nd minute: Sow receives a pass from Vrignaud, enters the penalty area and fires it low at the near post! GET IN!
18.16
GOOOOOOOOOOOOOOOOOOAAAAAAAAAALLLLLLLLLLLLLL!
18.15
49th minute: Fernandez fires one from the edge of the area, well over unfortunately.
18.15
Off topic: Roger Federer won the Wimbledon final.
18.14
No changes at the break, second half coming up!
18.14
Hector Fernandez has picked up a slight injury, I will keep him on the pitch for a while longer though.
18.13
We should have converted one of those clear cut chances…
18.11
Half time: 0-0. Half time stats coming up.
18.11
Good chance for Real 40 seconds before half time, another good save by Salva.
18.10
Sow squanders a chance in the first minute of injury time, fired well wide from inside the box.
18.09
2 minutes of added time
18.08
Hector Fernandez in for injured Zlatinski.
18.08
39th minute: Zlatinski got injured, I have to replace him.
18.07
26th minute: good counter attack chance for Real, stopped by a good save from goalkeeper Salva.
18.06
19th minute: free kick header wide for Real Madrid.
18.06
The situation after 15 minutes:
Score: 0-0
Shots on target: 2-1
Clear cut chances: 2-0
Possession: 57% to 43%
18.05
15th minute: first shot for Real Madrid, from the edge of the area, held by my goalie.
18.04
12th minute: Benko scores but he was offside…
18.02
Two clear cut chances wasted inside the first minute of play!
18.02
Great chance for Benko after 50 seconds, clean through inside the penalty area but denied by the keeper!
18.01
First shot on target after 30 seconds: Sow fired straight at the goalie from just inside the penalty area.
18.00
Team talk: For the fans!
17.59
Real Madrid are 4/6 favourites according to the bookies.
17.58
By the way, I forgot to tell you that the real-life Viitorul Constanta got promoted last season so they will play in the Romanian top flight this year.
17.56
And, as you all know, it's the first ever Champions League final for Viitorul Constanta, a club that was founded in 2009.
17.55
It's the third final in the last four seasons for Real Madrid. They lost to Inter in 2020, then won against Chelsea in 2022 and now they face the mighty Viitorul!
17.52
Off topic: it looks like Murray is losing the Wimbledon final.
17.50
10 minutes remaining… I'm here, counting the seconds :D
17.24
By the way, Jose Mourinho is still managing Real Madrid in 2023!
11.36
A bit more than six hours left…

Subscribe to our Newsletter