If you want to achieve success in Football Manager 2012 you need good players, that's the first thing. But having good players is not enough because those players have to train properly  in order to perform well on the pitch and that's where coaches come in. A winning team needs good coaches and I'm going to help you understand how you can find the best coaches in Football Manager 2012. This is a simple step by step guide that can be very useful even for beginners.
Step 1 – Search
The first thing that you have to do is go to the staff search screen. That's easy: just click on your name in the top navigation bar, then move your mouse cursor over "Search" in the drop-down menu and then click on "Staff"  in the new menu that pops up.
Step 2 – Filters
Once you reach the staff search screen you will have to filter the available staff to narrow down your search. First make sure that you check the box that allows your assistant to filter out the unrealistic target and then add the following attribute filters: Determination, Level of Discipline and Motivating. These three mental attributes are essential for any good coach and my recommendation is to sign coaches with at least 10 for each of these attributes and even more if you manage a top team.
Step 3 – Specialists
My recommendation is to have at least 5 coaches, 2 fitness coaches and 2 goalkeeping coaches and assign them according to their attributes in your training screen by clicking on the "coaches" tab. The goal is to have as many stars as possible for each training category.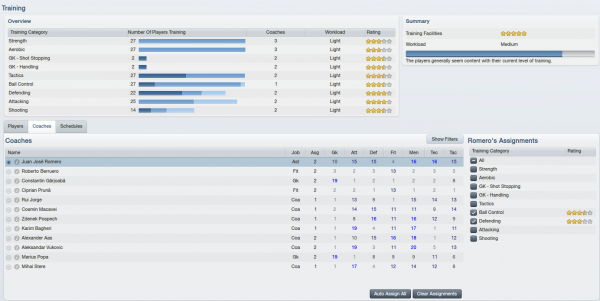 Last but not least, here are the coaching attributes that are important for each training category:
Aerobic – Fitness
Strength – Fitness
Shot Stopping – Goalkeepers
Handling – Goalkeepers
Tactics – Tactical
Ball control – Technical (primary) + Mental
Attacking – Attacking (primary) + Tactical
Defending – Defending (primary) + Tactical
Shooting – Technical (primary) + Attacking
That's how it's done, let me know if you have any questions or if you need more details.
P.S.: This is just the first post of a series of "how to" FM 2012 posts that I want to publish and I am looking forward to any suggestions of topics that you would want me to cover.

Subscribe to our Newsletter