Head of Youth Development Guide

Introduction:
After a brilliant season winning it all, you'll be under a heavy rain of offers for your players. But wait, what's that? You are offering me a few bucks for last season's top scorer and best player… mmm… let's see… how much will it cost to bring another striker within the same level?… WHAT!? That's twice the money I get for my player!
If that ever happened to you in Football Manager Saga, which I'm sure it did, you want to search your youth squad for new backup players. And what if you don't have any good prospects? Well, get ready to use your wallet and spend a lot… or not. Instead of purchasing players and getting robbed by other clubs, you can invest on youth development and getting wonderkids to become World Class players.
Ok. What do we need to do this? Well, great training and youth facilities are as important as great coaching and backroom staff. These will be essential tools to work with youngsters, as they will develop faster and better if you guide them right. But you can't take random players and make them Ballon d'Or candidates, the raw materials shall be of the greatest quality. This is where the Head of Youth Development makes its magic.
What does a Head of Youth Development do?
Its key job is to recruit new players for the club and mentor they development into right players for the main squad. It also should be in charge of renewing and offering contracts for these young players, as well advising you about personal training and who's ready to take the big step and join the starter 11 for the first time.
What makes a great Head of Youth Development?
For this tasks it obviously will need to exceed the average in 3 attributes: Judging player ability, judging player potential and working with youngsters. As they explain themselves by their names, let's check some other attributes or characteristics that may be very important.
The better the scouting knowledge is, the better job it can do. Get your scouts into work and build knowledge to get the best youngsters worldwide. It's not the same fishing in a fishbowl than fishing in the sea, so you'll statistically get better players if your scouting is wide and depth.
It will only get players who match its own personality. This is key to success, choose the right personality and get professional players, or choose the wrong ones and watch talented players struggle. The most positive personalities you could find are Model Professional, Professional, Resolute and Determined.
Its tactical preferences should match yours, or at least use some of the same key positions. As it chooses players who fit its tactics, you may end up with no youngsters to play in yours. Of course, you can train them in a different position later, but why would you lose training in that. With the same reasoning, the playing mentality and passing style of the players should be on the same page as the manager's to fit in easier.
A manager for the young
Taking care of the contracts, loans and transfers in the youth team are some of the responsibilities available for the position. You can handle some stuff personally in there, but mainly the HoYD will be the one finding young players, offering them contracts to join or renew and find clubs for loans and transfers.
The general experience commented by managers in forums is that the HoYD doesn't usually make the right choices, or at least not the same that an experienced manager would do. It's up to you to delegate those responsibilities or not.
Judging both current ability and potential are key to success here, but also Man Management, as it will be leading contract negotiations.
Good reputation makes the job easier, as it could get players who are deciding where they are going to land. 
Other stuff like the tactical preferences can affect indirectly in this area, as different players will get contracted or sent to different clubs from the instructions in the development list.
And also a coach!?
Yes, it's also a part of the youth coaching staff, helping to distribute the workload. And as a part of this area it can share responsibilities with youth's manager.
Getting a HoYD who knows its way around the tactics is an excellent bonus. After working with the kids and knowing them more than anyone else, who would be better prepared to train them? It can set up the general, individual and match training or split it with the manager.
For this coaching side of the position the tactical knowledge will be important again, and the same goes to coaching attributes and working with youngsters.
Deciding on the new HoYD
First of all, I need to remind you that the HoYD won't change the current or potential ability on the youngsters besides training. Its job is to bring the better ones it can find. Also, you won't notice its work until the first youth intake day, where you'll meet your new players.
With that being said, get this position filled within your first days at the new club. Using the staff searching tool is the best way to do it, filtering unrealistic targets and people in other jobs.
As I said above, my main filters would be personality and judging player potential. After that, if you can't narrow the list to a few candidates, I would add the preferred formation filter, but in a combination of ways. All I need is something like my scheme, but not necessarily the same as I move a few pieces every now and then.
Another approach which is simpler and won't get you to overthink is what I call the Pirulo's approach. Steal Get the HoYD from another big club. Of course, you'll need money and reputation, but it's a fair chance.
Best FM 2019 Head of Youth Development
Stefano Braghini HOYD Juventus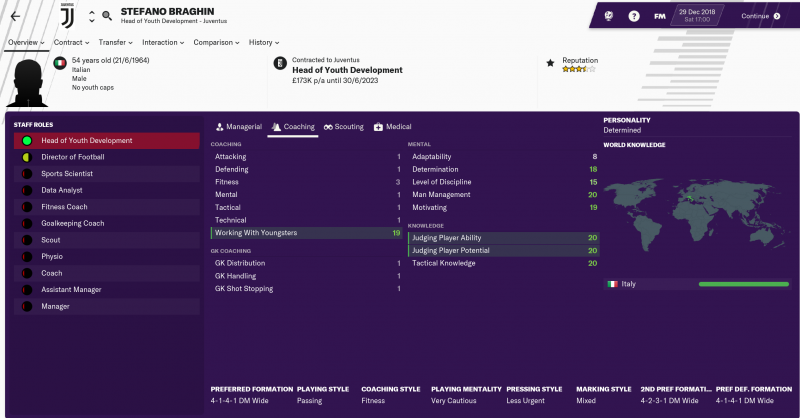 Roberto Samaden HOYD Inter

Bryan Klug HOYD Ipswich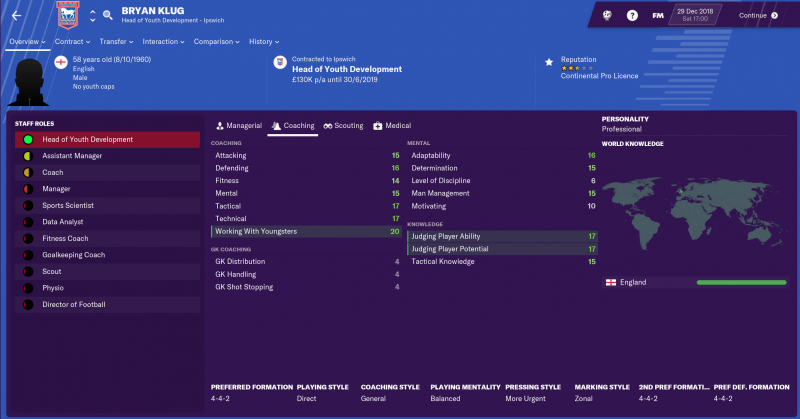 Phil Cannon HOYD Sheff Wed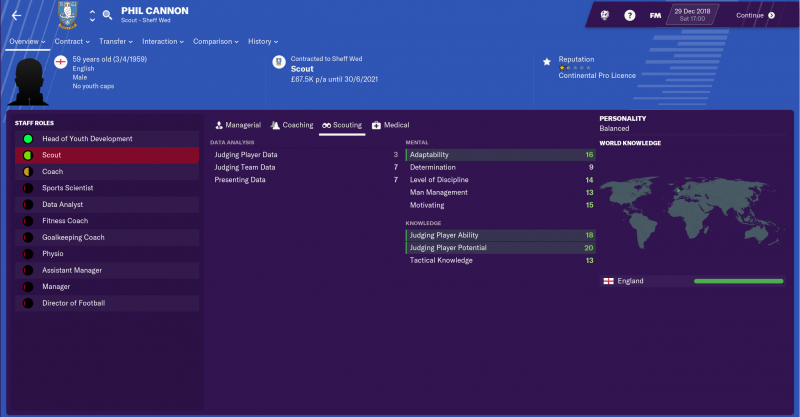 Subscribe to our Newsletter