Hello friends! I hope I haven't kept you all waiting too long. College has kept me quite busy so I haven't had too much time to type up the latest post in my German adventure. So without further ado, here is the third season, 2015 – 16!
Pre-Season
So the post-season awards have come out: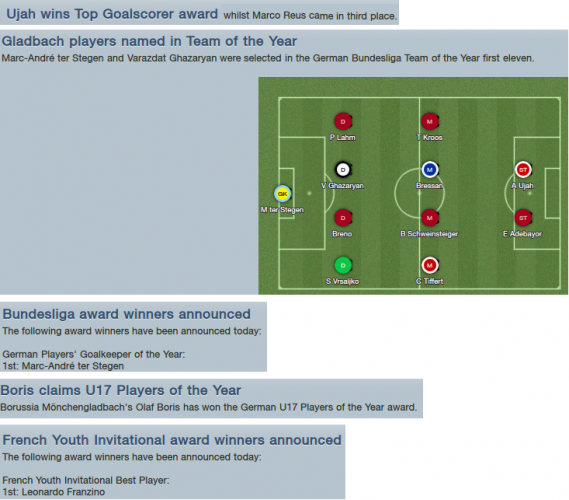 Not included up there is that Allagui was rated the third best striker in the Bundesliga and
And here is the budget I've been given:

I would say that's not too shabby :P I'm just kidding. I am very pleased to see a number that big but I didn't really use it . . .


So I don't really know what happened . . . I had received 2 mammoth offers for Ghazaryan and Franzino that I could not say no to. In my opinion, Ghazaryan is going to become one of the best central defenders in the game, but this was money I couldn't turn down. In terms of transfers that I brought in . . . There were no real stellar names. There are certain targets that I have who I wasn't able to get, so I decided to dip into the loan market for the first time. The big loanee was Christian Benitez. He was very expensive, I know I got ripped off, but I didn't want to settle for buying a striker who I didn't really want. The other crazy thing I did was signing two Indians! I am of Indian heritage and on a whim last season I had sent a scout who wasn't doing much to India. He found a handful of decent players! I don't know how well they can/will do on this stage but I decided to sign them anyway. It will be the first time that players from my home country will be showcasing their skills on a large scale like this since the Olympics of the 50's! You will notice Dennis Wiesner up there, but I will not be discussing him until January, when I bought him.
Here is my squad for the first half of the season:
GK: ter Stegen and David Schalle
ter Stegen has been so solid between the posts. Schalle is a youngster I got for basically free. He supposedly has a lot of potential. I know at 15 it's a little hard to see, but as my back-up he will probably never be called upon.
DC: Ghazaryan, Horn, Bamba, and Obih
So no changes from last year. I really saw little reason because they were all playing so well. Ghazaryan and Bamba/Obih make a great team and Horn stepped in with great ability. Oh, a point of clarification, Ghazaryan did not leave until January.
DR: Echevarne and Vandam
No changes here as well. Echevarne has really matured, like I expected him to. I am so proud of him. I think he will be my first choice for this season!
DL: Boris and Jiri Kocian
So Wendt who previously served as my first choice left and Carpentieri left even before he did. I promoted Boris to the first team in the middle of last season and the few outings he had, he performed adequately. Unfortunately, I could not find an acceptable left-back, not even loan so I had to settle for Kocian. Quality left-backs are so rare and expensive! I think Boris is better at the moment despite being 2 years younger. I am bothered by the current lack of quality — I know Boris will be great but he is still too inexperienced.
CM: Di Stefano, Mustafizur Rahman Hossain, Stevanovic, Abdulrahman, Soylemez, and Garvan
So Hossain is one of the two Indian players that I am very excited about. He is young and I think he has the potential to be a solid if unspectacular player. In any case, I have a solid midfield. Abdulrahman was my Xavi and while not as skilled he was a great distributor who had an eye for the goal-winning pass. Garvan is dependable and Soylemez will be joining the aforementioned two as a starter. He and Franzino really grew last season and are more than capable of challenging for the first team, which is why I had so much trouble letting Franzino go. Stevanovic progressed well as well and I think I can now rely on him to serve as a regular back-up; perhaps in the future he will earn a first team spot. Di Stefano has been a disappointment. I was expecting so much more from him. Don't get me wrong, he is a fine player, but he is not fulfilling the potential I thought he had. He will probably leave soon, but for now he will have to deal with losing his first-team spot to Soylemez.
ST: Christian Benitez, Reus, Herrmann, Allagui, Vishal Kumar Prakash, Juhasz
So for Benitez I dropped a crazy £2.2mil, although I only have to pay 40% of his salary. I am sure he will be great alongside Reus and Allagui, who were phenomenal last season. Herrmann is a great back-up, but I am sorry for relegating him to the bench. Juhasz is part of that class of Soylemez and Franzino and he has developed accordingly, which is quite exciting. Sadly for him, I have the brilliant Allagui, Reus and possibly Benitez, so he will not have many chances to show-off. Lastly, but certainly not least, is my second Indian signing. He is better of the two and he has some decent stats. At the moment he will be at the bottom of the striker pecking order but I will definitely look to develop him. In addition, he can play anywhere on the right and the central midfield, while his fellow Indian, Hossian can similarly play all over the left. These two utility players give me some extra depth when I decide to play the Arsenal tactic up on the site.
So there is my team. Very similar to last season but so much better! And here is what the press think they are capable of:

OK, so at least we're acknowledged at having some shot at the Bundesliga. And my Champions League predictions are at least not as bleak as Johnny's ;)
July
We played easy teams and got the appropriate results, sadly we have a lost Allagui, Abdulrahman, and Juhasz for about a month each to injuries :(
Go to the next page to check out how the first half of our campaign fared!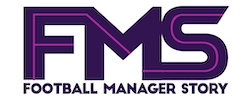 Subscribe to our Newsletter