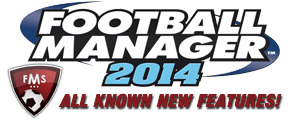 Since the official statement announcing Football Manager 2014 and it's usual "before Christmas" release date Miles Jacobson and SI Games have revealed a few more small new features in FM 2014, in fact they reveal a few every day on Twitter. That's why I have decided to put all the Football Manager 2014 new features in one place and update this post as soon as something new comes out. Since then the release date has also been announced, it's October 31st at 00.01 GMT! Pre-order now to play the beta version two weeks before that!
FM 2014 New Features
– updated October 28, 11:24 GMT – (scroll down towards the end of the post to see the latest additions)
The game will be available to play on Linux (Ubuntu) for the first time. You can check out the FM 2014 system requirements here.
Improved 3D match engine with enhanced AI, more realistic player reactions, individual player character and kit models. You can watch match engine videos here.
Includes "cloud-save" technology which means that you can now have access to a single career from any computer, anywhere in the world.
Tactical overhaul, player roles and team strategies become more important. There will be definable roles for players for multiple positions, new player roles and instructions. (see screen shots below)
Watch FM 2014 video showing the new tactics module and match day experience:
Revamped
transfer module
, more realistic and including the option to loan a player back to the club he's just been bought from, along with a few more real-life clauses. You can also offer a combination of cash and loan players to buy a player. Last but not least there will be a "live" negotiating system when trying to buy a player, similar to what we knew in contract offers. (see screen shots below and the video which presents the improvements to transfers and contracts in FM 2014)
Better and deeper interaction with the board, you can discuss visions and also ask for more money for transfers and wages as a reward for being loyal to the club.
Staff will offer feedback on how reserve and youth team players are performing.
Managers can ask key players to have a chat with unhappy squad members.
End-of-season meeting which allows the manager to let the squad know how they have performed and set targets for the coming season.
News system is overhauled, making it easier to use and a bit more appealing. (see screen shots and video below)
Training overview
page and
transfer centre
were redesigned. (see screen shots below)
More playable nations in FM Classic, along with a new match plan wizard and more unlockables. Check out all the improvements to FM Classic in the video below:
When picking a new team to manage you will be shown a
league position history chart
. (see screen shot below)

Pre-season tours abroad will improve shirt sales.
Team captains can now be asked to tell you what the dressing room mood is, will be handy in deciding when to hold a team meeting.
Captains or vice-captains can be asked to help a teammate that is having personal problems.
Captains can be asked to resolve conflicts between two team mates.
The Director of Football will suggest a lower asking price if a player you place on the unwanted list can't be sold for the initial value.
You can apply for work permits for your players without offering them a new contract.
Testimonials – your star players can now have a testimonial if they have been at the club for a very long period of time or when they announce their retirement.
More realistic TV money distribution among teams.
Official Real-Time Editor available as a paid add-on for the simulation mode. Miles has announced this following a poll on the official forum. Apparently the unofficial real time editors were causing lots of technical problems.
You will be able to ask a player to sack his agent, will surely be useful if that agent is the greedy type. (see screen shot below)

You can schedule to play an European match at a bigger stadium if your own stadium is to small for such an event.
One of the most famous youth football tournaments in the world, the Viareggio Club World Football Tourament Coppa Carnevale, will be featured in the game.
You will be able to check contract details for players you've agreed future transfers for. That should be useful when you can't remember what you have offered a player that has already agreed to join your team in the next transfer window.
MLS Waiver Draft in November was added to the game.
Difficulty rating for FM Classic Challenges depending on what team you manage.
Captains can be reprimanded after poor behaviour, reminding them that they should be role models for the other players.
Fixtures list will include potential opponents in next round of a cup competition.
Competition tables can now be sorted (probably by goals for, goals against, goal difference and any other parameter).
Team records news item available at club welcome meeting.
Improved scouting assignments generating more reports.
You will be able to define your favourite formation when adding your profile at the start of the game or when adding a new manager to the game. (see screen shot below)

'Where Are They Now' button will be available on transfer history screen, it was available only in the overall best eleven screen in FM 2013.
Hyperlinked division names in season summary screen.
In FM 2014 you can make players available for both youth squads and reserves. (see screen shot below)

If you want to replace your captain you can have a conversation with him and explain your reasons.
Leak interest in vacant position to press.
Transfer budget takes all clauses and bonuses into account.
Improved explanation of how Director of Football works in both FM simulation mode and FM Classic.
A player that is on loan at your club can now be made team captain.
New FM 2014 video now available, showing the new interface in Football Manager 2014. Watch it below:
The most important changes to the user interface, in my view, are these:
– Stacked player status icons, click the top of the stack and you will see all the status icons relevant to that player.
– Player individual report for recent matches.
– Separate menus for club and country in case you also manage a nation along with a club.
– World map in the scouting assignments screen.
In FM 2014 you can train players to develop as leaders.
PIK (payment in kind) loans added in FM 2014. According to Wikipedia, PIK loan a  is a type of loan which typically does not provide for any cash flows from borrower to lender between the drawdown date and the maturity or refinancing date, not even interest.
In FM 2014 referees will retire, just like players do, and new ones will appear (regen referees).
Split 1st and 2nd half shot analysis (probably in the match stats screen).
Marker in financial projection graph to indicate where the club are in relation to the approved budget.
Major League Soccer transfer  revamp.
In FM 2014 you can congratulate a player on winning 1st cap or scoring 1st international goal. (see screen shot below)

Regional referees for regional competitions, such as Conference North for instance.
New press conference question in FM 2014 if stadium improvements or new stadium request is granted or rejected by chairman.
Streamlined first level "Add to Shortlist" menu option on Player Screen.
Player set-piece taking suitability delivered in one report in Backroom Advice screen. (see screen shot below)

More information displayed on Manager and Staff screen in FM Classic.
Relevant press conference questions when joining a struggling side in the middle of the season.
Increased attendances for friendly matches played at new stadiums.
More realistic fan reaction to defeats against superior opposition.
One news story generated if multiple players withdraw from international squad.
Improved implementation of referee categories, ensuring that the right level of referee is refereeing the correct matches.
Major League Soccer (MLS) first round draft picks ask for either a Senior contract or a SEL contract. (see screen shot below)

Press conference question on chairman's ambitions for the club, if any of your board requests are rejected.
Full access to shortlists regardless of the team managed or if unemployed.
Streamlined Continental Qualification seeding news stories.
In FM 2014 you will be able to request fixture rearrange or postponement if multiple players are called up for international duty.
Conditional loan repayments such as  "repayable on Promotion to top division".
Preview news item on next round of league fixtures.
In the FM 2014 training calendar you will have the ability to split days into Rest and Match Preparation.  (see screen shot below)

Your team is already picked for you when taking over a club in FM Classic mode.
Training camp will be shown on training calendar screen.
Press conference question about new chairman after a takeover.
There will be no less than 8 new player roles in FM 2014: half back, target flank man, limited full back, complete wing back, enganche, regista, false nine, shadow striker.
FM 2014 will support multiple contract end dates.
Major League Soccer (MLS) reserve league update.
Agent fees and pro-rated loyalty bonuses come out of your transfer budget.  Contract bonuses will be deducted from your wage budget.
Revamp to conversation with players over their asking price.
Player position labels link to position section.
"Ungentlemanly Conduct" renamed "Unsporting Behaviour". (see screen shot below)

"Recommend player" button added in news items for new staff signings.
Save custom database set-ups.
Press conference question on chairman's future when looking to sell the club.
Where appropriate, supporter owned clubs won't sell to businessmen.
In FM 2014 you can ask your Director of Football to find a player to play in a specific role or position.
Separate staff budget.
News item explaining league contract rules when joining MLS or A-League team. (see screen shot below)

Press can suggest a specific player in your squad is not your team's best player and is overrated.
Levy on all transfer spending by Football League clubs invested into youth development.
Hyperlinked club badges on the Next Match panel of the Manager profile.
Newgen staff get non-player traits (the staff equivalent of player preferred moves).
Multiple news stories combined when players are injured, withdrawn or used as replacements.
Multi-select players on transfer panels. (see screen shot below)

Expand Monthly Board Confidence update to include financial fair play.
French clubs receive indemnity for international call ups.
MLS Trade screen update.
Updated MLS disciplinary system.
Ability to select/deselect all subscriptions on a per category basis.
Net transfer income appreciated by board.
Improved team report summary (see screen shot below).

Use of Bonuses/Clauses should lower and raise the overall transfer budget.
Change Transfer Type for players on the Unwanted List and Transfer Targets list.
Presidential elections for clubs who have an election-based system to elect a "chairman". (Barcelona is an example).
There's a wide range of changes in there but by far the most important is that there won't be any sliders in the tactics module, all the tweaking to your tactic will be done through roles and instructions.
The video also revealed the descriptions of the eight new player roles, here they are:
Limited Full Back – knows his strengths and weaknesses and focuses predominantly on his defensive duties, scarcely going forward into a more attacking role.
Complete Wing Back – loves to attack, and whilst he is capable of occupying his defensive duties, his natural inclination is to affect the game in the opposition's defensive third.
Half Back – looks to serve a role somewhere between that of an aggressive sweeper and a defensive midfielder. With a half back, the central defenders themselves will push higher up the pitch while the half back drops deeper than a standard defensive midfielder and, in addition to his defensive duties, looks to offer an outlet for quickly recycling possession when the team's attacking play breaks down.
Regista – a more aggressive version of the deep-lying playmaker suitable for possession-orientated systems that press high up the pitch. Given complete freedom to dictate play from deep positions, the regista offers a dynamic and unpredictable creative outlet from behind the attack who seeks to maintain intense pressure by constantly looking for new chances as his more advanced teammates get into goal scoring positions.
Enganche – the side's prime creator, a hook that joins midfield and attack and operates behind the strikers and a playmaker who sticks to his position and becomes a pivot to his team as they move around him. It differs to the trequartista, who likes to roam from his position, drifting around and looking for space between the lines.
Flank Forward – (Wide Target Man) will be the main outlet for clearances and long balls from the back. Ideally positioned against a smaller and weaker full-back, he will be asked to get hold of the ball and keep it before recycling it to a team-mate.
Shadow Striker – operates as the team's main goalscoring threat. Usually coupled with a deep-lying forward, the shadow striker aggressively pushes forward into goalscoring positions as the ball moves into the final third and looks to close down opposing defenders when out of possession.
False Nine – similar to a more advanced attacking midfielder/playmaker role, is an unconventional lone striker or centre-forward who drops deep into midfield. The purpose of this is that it creates a problem for opposing central defenders who can either follow him, leaving space behind them for onrushing midfielders, forwards or wingers to exploit, or leave him to have time and space to dribble or pick out a pass.
Players open to signing for rivals, unless they dislike the club bidding.
Kit sponsorship revamp.
Improved player recommendations for potential signings.
Transfer to and start date information when hovering over 'TRN' icon. (see screen shot below)

Option for clubs to auto-extend contracts by up to 3 years in contract negotiations.
Update to Norwegian domestic home grown rule.
Choose own realistic Feeder Club.
When conducting 'Trial days' teams play using First Team's formation.
View Job Advert button on club screen. (see screen shot below)

More realistic season expectations.
Guaranteed contract buyout in MLS.
Transfer clauses to state the amount of total appearances overall to meet the clause.
Expand Transfer Embargo News.
Danish work permit revamp.
Updated Australian maximum transfer fees.
Training overview includes how many weeks training has taken place in certain areas. (see screen shot below)

Added Financial Fair Play tab on the finances screen.
Turkish young player contracts more realistic, with no youth contracts.
Higher attendances after league title win despite playing lower reputation teams.
Select game start date in FM Classic.
Press conference question if new contract request is rejected by chairman.
AI teams quick shortlist replacement players when selling a key player.
Assistant manager automatically handles post match press conference if you're serving a touchline ban.
Expand Contract Offer screen to include Financial Fair Play.
Kill job speculation. (see screen shot below)

Affiliate clubs now send you a list of players that you can loan from them.
Agents and investors can now make offers to co-own percentages of players in leagues that allow third party ownership.
Enjoy the latest FM 2014 video, showcasing the technological improvements in the game. It also reveals the release date, October 31st!
Press conference question
on whether the board's expectations are acceptable and realistic.
Wages Expenditure Account Split . (don't ask me what that means, I have no idea)
Belgian cup updates.
Promise to offer a player a new contract at the end of the season.
German clubs are now 51% supporter owned, with the chairman voted for by the supporters. Any takeover is for the remaining 49% of the club.
Players able to opt out of the MLS re-entry draft.
Fans react more to manager fielding youngsters.
There will be a warning message when you bid for a player who will be ineligible.
Player Wage Projection if team is promoted.
Three-year projected transfer budget on the finance screen.
Press conference question about a player breaking a record. (see screen shot below)

Rule update on free agents signing outside of MLS transfer window.
Newgens are now created in non-MLS clubs in the Academy division.
Added detail to highest average distance analysis.
All games in versus mode take place at a neutral stadium.
New player and staff retirements.
Talk to players who are out on loan. (see screen shot below)

Improvements to change of Squad Status advice.
Training facilities grading revamp.
Ability to select/unselect all subscriptions on a per category basis.
Request that Reserves or Under 18 manager plays a player in certain position.
Merchandise sales boost for high-reputation clubs touring abroad.
In FM 2014 players can have Head of Youth Development and Director of Football as desired careers when retired.
1368×768 windowed mode now supported in-game.
Breakdown "Total Cost of Transfer" to "Total Cost of Transfer Per Year" to help with Financial Fair Play when buying players.
On Player Coach report, clicking on position in player's Position Panel updates the Position Rating.
Press conference question asking about ambitions for next season after promotion. (see screen shot below)

Naughty newgens going onto social media to complain about various club issues.
U21 information appears on Player Information screen.
Watch list/shortlist tab on MLS draft screen.
Honours panel added to Club/Nation information screen in FM Classic.
Shorter contracts for players owned by third parties where appropriate to better model South American transfers.
New press conference questions based on goal analysis data.
Host server rules available when joining an online game.
International managers can respond to player refusing international call up.
Player status panel shows all unavailability statuses. (see screen shot below)

Prompt to set Staff Responsibilities in initial meeting with chairman.
Updated Greek FA penalties.
Improved MLS transfer AI.
New training overview panel. (screen shot below)
Admire and declare interest specifically for players you have on loan.
"Out in the cold" news item mentions the last international game a player featured in.
New pop up when adding a player to Development List.
Press conference question if increased transfer funds request is granted or rejected by chairman.
Contract length calculation now calculated also in weeks.
Make a positive or negative comment to the press about a player if you've sold them or left the club.
Swedish "artist tax" implemented.
Turkish league fair play awards (screen shot below).

Tooltips on Finance screen explaining various financial terms.
Player Report immediately available for player that Director of Football has made a bid for.
Full ineligibility information when hovering over 'INE' icon (see screen shot below).

Improved stadium sponsorship scaling.
New press conference questions based on style of play data.
Revamped handling of club debt.
Brazilian Paraná State Championship final goes to penalties if points are level after both legs.
Managers can advertise for jobs even when at maximum staff limit.
Reserve teams can now have their own assistant manager and coaches – 10 new reserve team staff roles.
Playoff specific team meetings.
Various improvements in the interaction (with players, board, press, other managers) have been announced, now you can see more details about all that in the following video:
Assign player role and duty when making a
Quick Sub
.
Insert value pop up when adding a player to "Transfer Targets".
Competition panel for each continent split into two lists – domestic and other.
"Player Wage Totals" as header for set of conditions in Finance Projection.
Expand Transfer Offer screen to include Financial Fair Play information.
Player related data relocated from "Information" subpanel to "Player" subpanel.
Can now choose staff responsibilities for either transfer negotiation or contract negotiation, rather than them being combined.
Draft dates section added to MLS rules screen.
Additional foreigner limit for Turkic nations (Azerbaijan, Kazakhstan, Kyrgyzstan, Turkey, Turkmenistan, Uzbekistan).
During a match, clicking Team Name takes you to Squad page.
Expanded information on contract expiry panel.
Can now talk to the press about players who are free agents, not just those at clubs.
Player Wage Projection added to 'Salary Projection' tab on Finance screen if team is relegated.
New press conference question if increased wage budget request is granted or rejected by Chairman.
Train a player's weaker foot.
Improved set up of pre-season tours. (screen shot below)

Set wage amounts for Director of Football transfer targets.
Link to Leaderboards on Start Screen.
Specific 'Last match' conversations for goalkeepers.
Option to have overall transfer control for B & C teams.
Updated rules for over age players between 21 and 23 in Scottish U20 leagues.
Expand ex-player's pre-match comments for derby/rival matches. (screen shot below)

More clubs recognised as having 'Worldwide' reputation.
B team match reports.
English Under 21 league now in game.
Flashing Continue button in Network games.
Further detail added to the season summary report.
Expand ex-player's pre-match comments praising the manager for a good run of form.
News items bias more towards form, rather than reputation.
Affiliate clubs screen revamp.
Add a new manager's city/town of birth.
Honours panel added to Club/Nation information screen in FM Classic.
Filter player search results by overall recommendation (screen shot below).

"Try Different Nation/Region" button added to Scout Assignment Update News.
Non-contract contract offers now more intelligently implemented.
The Liechtenstein Cup added to the game in the Swiss football calendar.
Can complain to international manager about a player's treatment whilst on national team duty.
Updated rules for over age players in English and Scottish Under 21 leagues.
Additions to recent form player conversations (screen shot below).
Update to Spanish and Serbian emergency loan signings rule.
Game speed information added to League selection screen in FM Classic.
Team names now included in autosaves.
Press conference question if training facility improvements request is granted or rejected by chairman.
Further player contract details available in Contracts sub-panel on player's profile screen.
Updated salary caps for MLS and A-League.
Interaction 'hooks'.
Ability to specify a position to play a player in when sending to an affiliate club.
Tactical preparation progress bars (screen shot below).

Improved match reporting on aggregate-related victories.
Pop up explaining why a player is unable to be loaned to an affiliate club.
World and search menus merged on career mode.
Trade up or down in MLS draft, as it's happening.
Privately congratulate player on winning a personal award (screen shot below).

Automatic scouting assignments in FM Classic.
Ability to choose non-playable club as your favourite club.
Second match engine video below:
Further
detailed breakdown
to see where club
revenue
is coming from.
Extra stats for Cup and Continental appearances in the player overview stats panel.
AI to make use of affiliate clubs in loaning out players.
Official licensing information for FM 2014 here.
Press conference question if youth facility improvements request is granted or rejected by chairman.
Non playable teams more active in the transfer market, particularly when likely to be promoted.
Club honours screen updated in FM Classic (screen shot below).

Versus mode User Interface cleanup.
Expand ex-player's pre-match comments criticising the manager for a poor run of form.
"If Team is in Current Division" added to projections tab in Player Wage Totals.
Transfer Deadline day question from media asking about weakness in certain positions (screen shot below).

More details added to finance screen in FM Classic.
First Knockout Round cup stage added to subscriptions.
Manager informed if the club is banned from European competition.
Expand ex-player's pre-match comments looking forward to seeing a player play.
Official license from the Gibraltar national team.
MLS Allocation Process for returning US National Team players.
Scout report on player profiles now displays Current Ability and Potential Ability.
YDP contracts implemented in MLS.
Weekend newspapers no longer attend midweek press conferences.
Squad status conversations with players.
Danish club taxes update.
Multiple user attention boxes in Tutorials when needing to highlight more than one widget
Press conference and interaction tones condensed.
Press conference question asking about stadium development after promotion.
Club owner added as staff role.
Assign scout pop up revamp in FM Classic.
Sort scout reports by name of scout, name of assignment and status.
"Salary Cap Impact" and "Guaranteed Contract" columns added to default MLS Registration panel.
Clubs reputation rating update.
Improved press conference questions regarding violent conduct.
MLS "Developmental" and "Academy Apprentice" contracts merged into "Reserve" contract.
Media source profiles.
More realistic aerial ability stats for goalkeepers.
First level "Assign Scout" menu option streamlined.
Ability to set squad morale ahead of versus mode matches.
Italian Serie C Cup matches rearranged if team plays Monday the same week
Italian Serie A final round matches played at different times.
Transfer to and between South Korean clubs no longer include loyalty bonuses and agent fees.
Support display of international caps for more than one nation.
Expand ex-player's pre-match comments criticising a current player.
Managers taken to appropriate Leaderboard at the end of a season to see how they're doing.
Remember that you can have access to a beta version of the game two weeks before the official release date, all you have to do is pre-order now!

Subscribe to our Newsletter