It is probably the most used position in Football Manager 22, but when picking an Advanced Forward, what do you look for? We are here to help you find your goal-scoring superstar, with our Advanced Forward: Guide to Attributes.
How to cut through the noise, go beyond the numbers and pick out the key attributes needed to find success in FM22
FM22 Advanced Forward: Guide to Attributes
Although there are plenty of different factors to look at when picking out a forward in Football Manager, when it comes to the Advanced Forward, speed kills.

'The Advanced Forward's main role is to lead the line and look to spearhead attacking moves.'
Usually, the eye is instantly draw to the 'Holy Trinity' – Dribbling, Finishing, First Touch – but as important as they are, you need more. For the true elite AFs, you need Off The Ball, Acceleration, Pace and Anticipation.
The last one may come as a slight surprise, but the description reveals how it would be key.
'Reflects the player's ability to predict and react to events going on around them.'
You can be the fastest, have the dribbling skills of Lionel Messi and the finishing of Erling Haaland, but if you are slow to react to through balls or clearances, you won't be able to get into the right position before the defence can recover.
'His secondary role is to chase down misplaced through balls or clearances from deep, win possession and lay off passes or crosses to his teammates.'
Off The Ball and Anticipation together is what will help the AF time his runs to perfection. Then it will be the speed which gets him clear and into the position to then use the Holy Trinity and Composure to find the back of the net.
---
Every year we test countless tactics and review the very best. For FM22 these systems will be ranked and listed within our tactics index linked below.

---
Finishing is not the only attribute which matters. Your striker can score goal after goal without it being over 15, especially if the others are high.
It is easy in the game to be skewed by actual knowledge, so we will use a random newgen from the year 2031 in an offline save.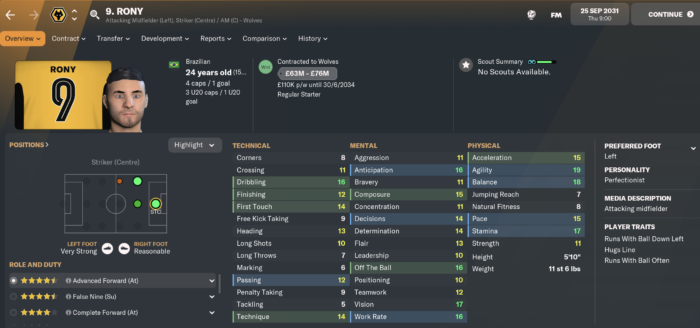 Rony is a 24-year-old Brazilian Advanced Forward playing for Wolves. After five Premier League games he has four goals and all achieved with a Finishing of 12.
Mental Attributes
What makes him special is the Anticipation of 16, Composure 15 and 16 Off The Ball. It helps his Pace and Acceleration is at 15 and he has great Balance and Agility. Not to mention the 16 Dribbling. Technique will be as important at putting the ball in the net as the Finishing, especially when under pressure.
The international forward signed for £24m and looks set to have an amazing career. He is a clear example of not being swayed just by Finishing. Combined a decent number with excellent attributes around it and you could find some amazing players.
Ranking – Advanced Forward: Guide to Attributes
Tier 1
Off The Ball
Composure
Acceleration
Pace
Tier 2
Dribbling
Anticipation
First Touch
Tier 3
Finishing
Agility
Technique
If you can find a striker with everything, you have something special, but if Tier 1 and 2 are higher, you might give players a chance you wouldn't normally.
Trying finding a forward with 15 and above for Tier 1 and around 10s for Tier 3 and we guarantee he'll still score a lot of goals.
Don't be blinded by Finishing. On it's own it means nothing, it's how they all work together which will created the ideal forward.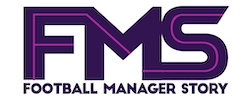 Subscribe to our Newsletter