Hey Everyone!
I've finally managed to complete my first season as Tenerife manager. So let me waste no more time and bring you my first 12 months at the helm of Los Chicharreros.

So hopefully in the next couple of years I will be able to improve their history and fingers-crossed win a few trophies.

As you'll see I have a tough task as Tenerife are already over there wage budget and also the Tenerife Board expect an instant bounce back to the Liga Adelante…No pressure then lol.
Transfers
OUT

So in order to mount a challenge, I had to stamp my mark on the team and I believed these players were too overpaid for their ability and had to go. I managed to raise a decent amount to spend on wages…so let me show you the players coming in to Tenerife.
IN

I strongly believed that the midfield needed strengthening and in came Renato, Leandro and Rafael. The next step was to strengthen the defence, so in came Enakarhire, Loran and Boakye. Diane and Zezinho were too good to overlook and Rubbo comes in as backup. (Click on the Blue names for the screenshots)
So with the transfers done what did the media rate our chances of promotion?

I had a feeling that we'd be favourites to win so again….No pressure!
Second Division B1 Fixtures (First 19 games)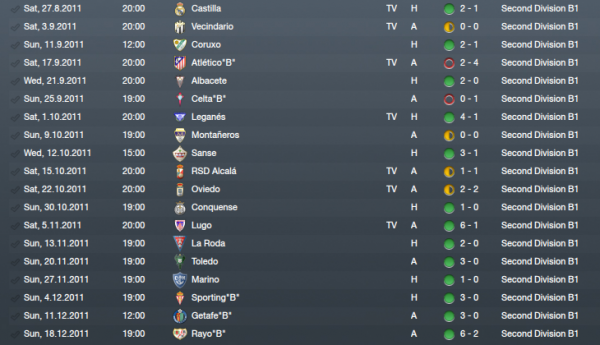 So as you can so we didn't make the best start to the season and I believe that this was down to the players needing time to settle into the team but we ended the halfway stage with a massive 8 win streak.
League Table (After 20 games)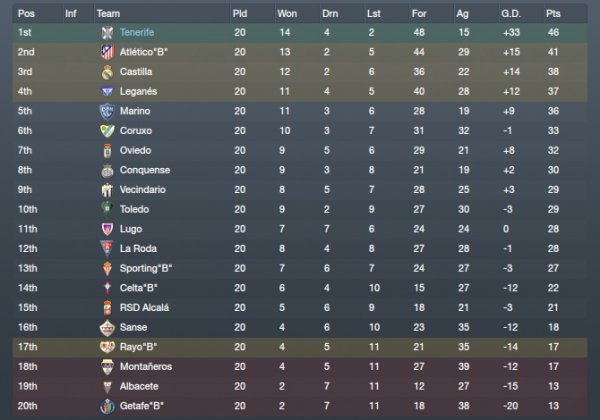 I had a feeling that this league would be similar to the Russian League on my previous save, teams all taking points off each other and if you managed a bit on a winning streak you'd go clear of the chasing pack and that's what we'd managed to do. It was a nice healthy 5 point lead after a terrible first couple of months and we were well on our way to a return to the Liga Adelante.
Mid-Season Transfers
OUT

These players were constantly moaning about not being played and that true because I'd found a starting 11 that was winning I really didn't want to upset our winning formula…who would, so it was time for them to move on.
IN

I managed to spend the available wage budget very wisely and in came some Spanish players. Rafa Jorda came into the team as to my total suprise Diane was called up to the Ivory Coast squad for the African Nations Cup and Carmelo was brought due to my midfielders enjoyment of getting yellow cards and I didn't want to be short. (Click on the Blue names for the screenshots)
Second Division B1 Fixtures (Remaining 19 games)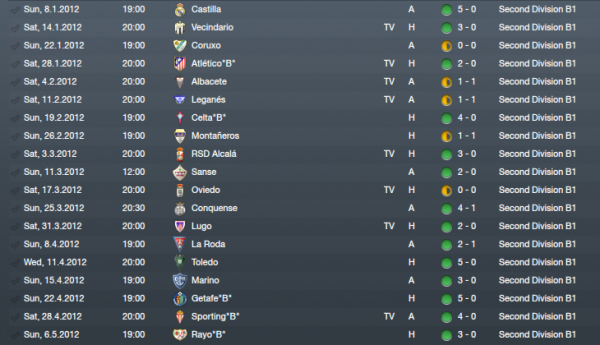 We picked up from where we left off in the first half and managed an amazing undefeated streak of 19+ games. The only dip was probably when Arama Diane went on African Cup duty.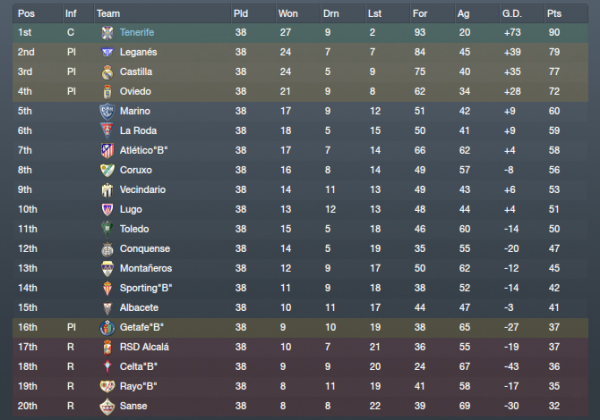 So from the results you'd have probably guessed that we'd won the league and become champions and you'd be right, our undefeated streak had helped us to a 11 point victory but oh no that's not the end…I was gobsmacked to find out that this was only good enough for the play-offs.
Second Division B 1st Phase Playoff Semi Final Leg 1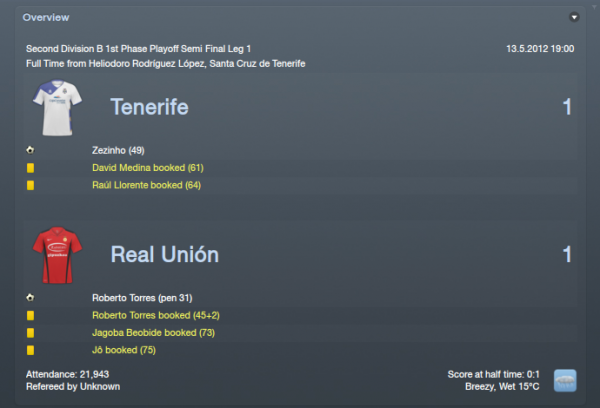 So we didn't make the best of starts in the play-off and with home advantage was was really expecting a nice victory and I was now very nervous for the result leg and was hoping I didn't have Ana's bad luck lol.
Second Division B 1st Phase Playoff Semi Final Leg 2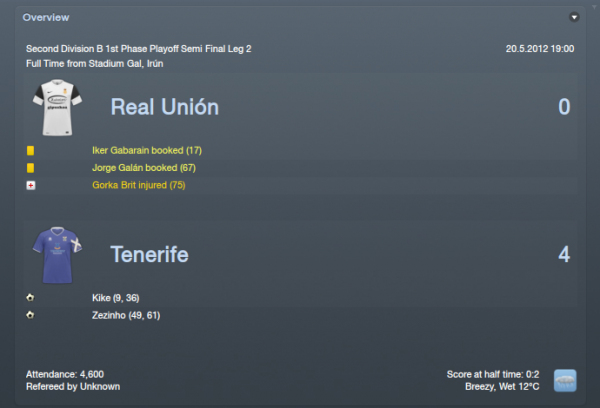 It was the opposite infact and we'd booked our place in the final which I then found out was over 2 legs…how crazy is the Spanish League?
Second Division B 1st Phase Playoff Final Leg 1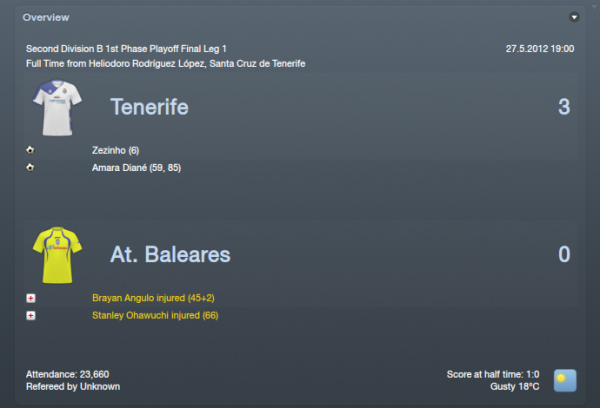 We definitely made home advantage count in the Final and I believed we'd pretty much booked our place in Liga Adelante next season.
Second Division B 1st Phase Playoff Final Leg 2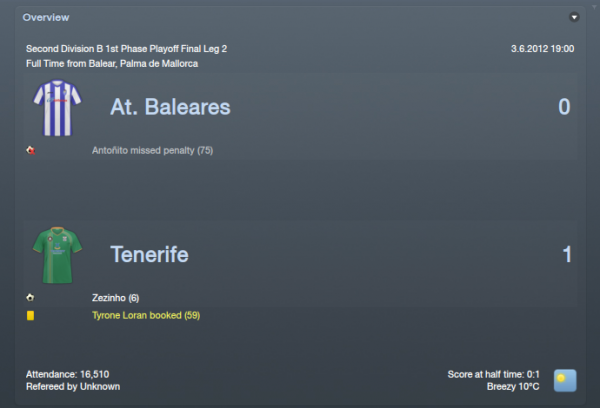 We'd done it win another win in the second leg, we'd definitely be one league away from the La Liga next season and I believed this was where the hard work started.
Spanish Cup Results
Now this Cup is very irrelavant at the moment due to the fact that we don't stand any chance what so ever of winning and when you get Real Madrid in it at round 4…you play your reserves so you don't lose morale lol, just thought I'd share them with you.

Player Ratings
Now this will be the first time I shared my players end of season stats…mainly because it's a screenshot I forget to take but here it is.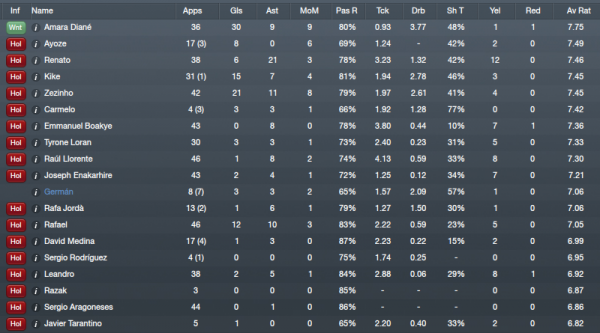 As you can see Amara Diane's performancea has made him a wanted man and I'm probably going to struggle to keep him in the summer but fingers-crossed I can.
Finances

Now this is where my FM skills fail…I'm terrible when it comes down to keeping a team away from the red, this may look as though I've done well but the true story is…

Yes just before the end of the league stage the board was forced to dig deep and bail out the team. Mainly due to me needing to free up some wage budget and releasing players on a free. Its worked though…were in the Liga Adelante next season lol, but I'm going to have to try and address this problem I have sooner rather than later.
So that's it for this post. I promise the next report will be quicker…now that the english weather has turned back to rain I should have more inside time and hopefully I'll managed to post before Euro 2012 starts.
Thank you for reading and please feel free to comment below :)
Regards
Martin Pickard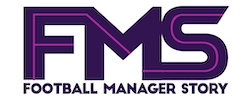 Subscribe to our Newsletter