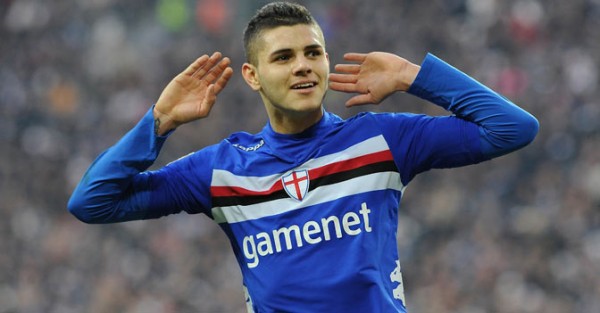 Mauro Icardi
 Club: Inter Milan (Serie A, Italy)
Position: ST
Age: 20
Nationality: Argentina
Clubs to show interest: Inter Milan, Liverpool
Mauro Icardi is the next generation of Argentina's amazing strikers. Despite being born in Argentina, his footballing career started in Spain. In all youth Categories, Icardi scored over 500 goals for Vecindario. He was the subject of a rather long and drawn out transfer saga between Madrid and Barcelona as well as being coveted by teams like Arsenal and Valencia at just 15. Barca would win the race and he spent 3 years in Barca's youth teams before moving on loan to Sampdoria.
2012/13 would be the season Icardi made a name for himself after signing on permantly with Sampdoria. So much so that just a matter of weeks ago he completed a move to Inter, despite links and rumours of a move to Liverpool.
Icardi's playing style is a little different to what Argentina currently have. He plays on the shoulder of the defence rather than coming deep like Tevez and Aguero. His playing style could be attributed to a Javier Hernandez, with deadly acceleration, a poachers instinct and good finishing. He is sure to be one of the top FM14 Wonderkids up front but his recent move to Inter Milan may cause a few problems if you need a striker right away, there is no doubting that Mauro Icardi will be a gem for FM 2014 !
Serie A stats for 2012/13
league apps: 31
Goals scored: 10
Assists: 2
Argentina u20 stats
Appearances: 5
Goals: 3
Assists: 1
What should we expect from this Football Manager 2014 wonderkid ? I expect to have a top class striker on our hands, but one that may be very tough to get a hold of given Inter Milan's poor strike force, they may rely upon him. His finishing, pace, acceleration, and anticipation are sure to be a couple of his best attributes, and ones that scream out poacher, expect goals from this lad !

Subscribe to our Newsletter