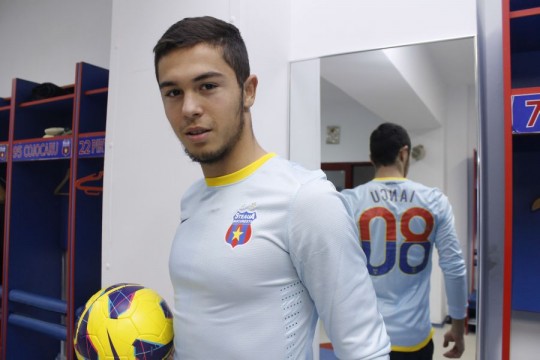 Gabriel Iancu

Club: Steaua
Position: AMC/AMRL/ST
Age: 19
Nationality: Romanian
Clubs to show interest: Ajax, Galatasaray
Compared to: Raul Gonzalez
Gabriel Iancu is probably the best youngster Romanian football has seen in years. He joined Gheorghe Hagi's football academy back in 2009 after starting to play football as a kid at Steaua Bucharest. He was one of the main assets in the academy team, Viitorul Constanta, that gained promotion to the Romanian top flight last summer and then played a very good first half of the season against the best teams in the nation. That good spell attracted interest from various clubs, including Ajax Amsterdam and Galatasaray Istanbul, but Steaua were the quickest to act so they signed him for around 500,000 euro in December 2012.
This potential Football Manager 2014 wonderkid was compared to legendary Spanish striker Raul Gonzalez, and the comparison was made by none other than Gheorghe Hagi. Truth is the kid has an obvious killer instinct, plays very well off the ball, he's reasonably quick, has good flair and creativity, great passing and excellent technique as well. He plays mainly as a central attacking midfielder but he also does well on both wings or as a trequartista/defensive striker. Reportedly his contract with Steaua includes a 25 million euro buyout clause.
A few days ago he played probably the best match of his career, coming in as a substitute and scoring two goals in the Champions League qualifying match at Dinamo Tbilisi.
Check out the video below to see some of the skills that he has demonstrated last season:
Gabriel Iancu stats
Viitorul Constanta > Appearances: 30 / Goals: 11
Steaua Bucharest > Appearances: 11 / Goals: 2
Romania Under 17 > Appearances: 4 / Goals: 2
Romania Under 19 > Appearances: 3 / Goals: 0
Romania Under 21 > Appearances: 4 / Goals: 1
What should we expect from this Football Manager 2014 wonderkid? What I know is that he has surely shown a great deal of quality in real life and he seems ready to step up his game at Steaua Bucharest and hopefully become a real class act. I just hope his talent will be translated into good enough attributes in FM 14 (he already had 18 for technique in FM 13 if I remember correctly).

Subscribe to our Newsletter