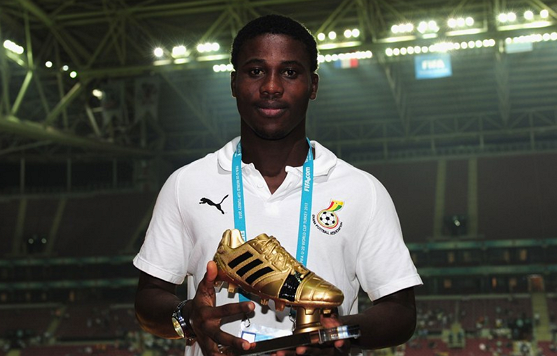 Ebenezer Assifuah

Club: Liberty Professionals Accra, Premier League (Ghana)
Position: ST
Age: 20
Nationality: Ghanian
Clubs to show interest: Arsenal & other top clubs in Europe
This potential FM14 wonderkid made his name during the Summers U20 World Cup for Ghana. 6 goals from 7 games saw the striker labelled the tournaments 'adidas Golden Boot' winner. As a result of this success the likes of Arsenal and several other top European clubs have shown an interest.
We're unlikely to see large amounts of FM14 Wonderkids stem from Ghana's top flight, but this kid should be one of few. Assifuah plays for Liberty Professionals, but his career only kicked off a couple of years ago after impressing for his School! This led to an agreement with Second Division side, Proud United, then a loan deal and shortly after his move to the top flight of Ghana. This steady rise hit its peak during July as Ghana won Bronze in the FIFA U20 World Cup. Assifuah played a huge role finishing as the tournaments top scorer.
Such a fast rise through the Footballing pyramid and it doesn't look like slowing down anytime soon with many suitors scouting this new talent, check out Assifuah's goals from the U20 World Cup below.
U20's World Cup stats for Ghana in 2013
apps: 7
Goals scored: 6
Awards: Adidas Golden Boot
What should we expect from this Football Manager 2014 wonderkid? Well quotes from former coaches indicate this kid has an incredible attitude with determination and work rate at its core. He obviously has deadly finishing abilities, seems fairly light on his feet and strong. So for me work rate, determination, acceleration, pace, finishing and composure would be among his best attributes.

Subscribe to our Newsletter