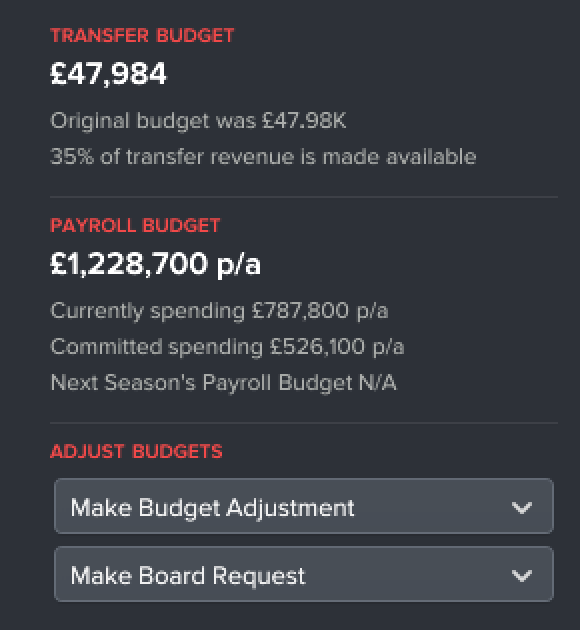 This FM Guide will help you make better decisions the next time you want to sign a player in Football Manager
Before you make any signing on Football Manager, whether it be a star signing for an elite club or a free transfer for your fifth-tier minnows, there are a number of things to take into consideration. You will often just send a scout off to have a look, then make a judgement based on the amount of stars they get. However, there are several other factors that you may need to take into consideration before splashing the cash and having the deal finalized.
Attributes and Traits:
The best indicator of how good a player is on Football Manager is his attributes. There are some players, who may have great technical attributes, but their mental and physical attributes let them down, making them not worthwhile signings. Which attributes matter obviously varies from position to position and the game allows you to highlight the attributes that are vital to each role. An example of a player who has attributes that let him down is Michael Essien (below).

As you can see, Essien has some fantastic mental attributes, with 17 teamwork, 16 positioning and 16 composure. He also has some fairly decent technical attributes, with 14 first touch, 14 marking and 14 tackling. However, Essien's physical attributes are awful, with exception of his balance and strength: which are average at best. With just 4 pace, 4 stamina and 4 agility, Essien is no longer a good signing, really unable to perform in matches.

Mario Balotelli (above) is another player who boasts some great strengths, but may not be a great signing due to certain attributes. If you play a fluid tactic with pressing Balotelli is really not worth signing. this is because he has 2 teamwork, 5 positioning and 4 work rate. This, therefore, will not fit in with your play style at all and I would recommend that you avoid signing him. It is sometimes easy to overlook poor attributes if a player has some really strong attributes, yet it is something that should always be taken into consideration.

Nationality, languages spoken, versatility:
Another important thing to consider is the nationality and spoken languages of a player. It is all well and good spending big on a quality player but if he cannot speak the same language as the rest of your team, he will struggle to settle. On the other hand, if you sign a player who has lots of compatriots in your side, he will be a much better signing, being far more likely to perform better when he starts playing for you. Versatility is important too, signing a player who can play in multiple positions can solve a lot of problems for you. An example of a decent signing who is both affordable and versatile is Simão (above), who can serve as a good CDM, RB and CB. This versatility is key to a good signing. Another thing to look out for is strikers who can also double as inside forwards on the wing, as this allows you to change from two striker formations to one striker formations without having to drop quality players. Finally, home-grown status and age are important due to squad registration, sometimes you may sign a great player, only to see that you cannot use him or have to drop another player in order to use him in your squad.
Value for Money, injury history/report:
The other thing to consider, alongside attributes and player quality, is value for money. There are several ways to establish whether or not you are getting your money's worth. Firstly, injury history and proneness should be a very important factor for whether or not you sign a player. Managers often slip up in the game by signing players for big money who nearly always get injured – kind of like Arsene Wenger in real life (I'm looking at you Tomas Rosicky). Therefore, it should become second nature for you to check the injury history of a player before you make an offer. Arjen Robben (below) is an example of a fantastic player who you should avoid signing due to his injury proneness. As you can see, across the duration of the first in-game season, Robben picked up six injuries, missing nearly four months in the progress. If you had spent big on a player like Robben, yet barely got to play them due to injuries, this is a big loss.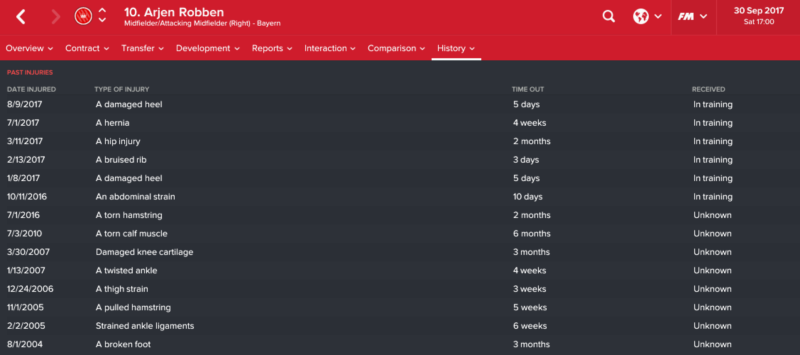 Price, wages, signing on fees:
Cost and wages are two other important parts of getting your money's worth. Some players are valued at a lot more than they are worth (specifically players who are on high wages in leagues like the Chinese Super League). If you are going to be forking over £50-£60million for a player with the same attributes as someone valued at a quarter of the price, the latter is the much better alternative. Additionally, you should be looking for players who do not ask for extortionate wages, as these can often deplete your budget extremely quickly.  Simão, the versatile player mentioned before, is a good example of value for money. He is both a free agent and someone who doesn't demand ridiculously high wages. He asks for around £2.05M per year, which is good value for a player of his quality.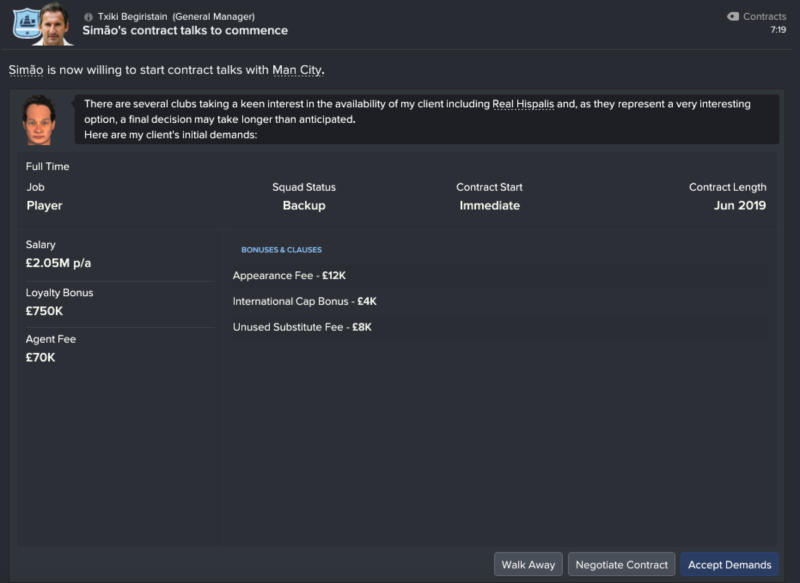 Player Potential Ability and Resell Value:
The final factor to consider when signing a player is his potential for growth: both in ability and value. Players such as Kylian Mbappé (below) are great because they cost so little yet by the time you may wish to sell them, their value will have increased by a large amount. Yielding great profit when you eventually decide to let them go. Additionally, if you decide that you want to keep them at your club in the long-term, wonderkids like Mbappe will eventually grow into world class players that can become stars at your club in the future!

I hope that you have learnt something from this guide and that you now have a better idea of what to look for before making a signing.
What top tips would you give to a new manager before they make a signing? Let us know in the comments below or on Social Media!

Subscribe to our Newsletter