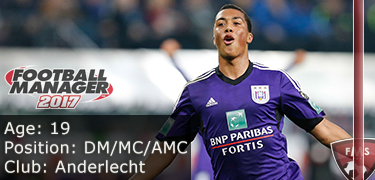 Youri Tielemans
Age: 19
Position: DM/MC/AMC
Role: regista / deep-lying playmaker / advanced playmaker
Club: Anderlecht
Nationality: Belgian
Value: £10 million
Price tag: £17.25 million – minimum fee release clause – (patch 17.1.1)
CA: 126 / PA: -9 (between 160 and 190)
Youri Tielemans profile in 2016 (after starting new game, 17.1.1)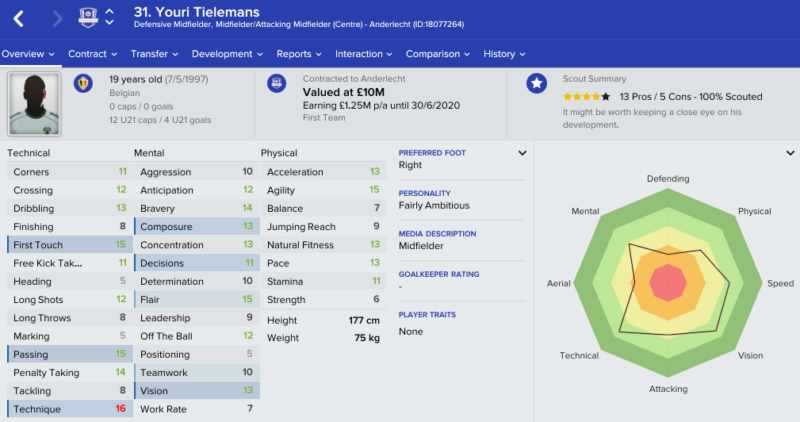 Youri Tielemans aged 25 in the year 2022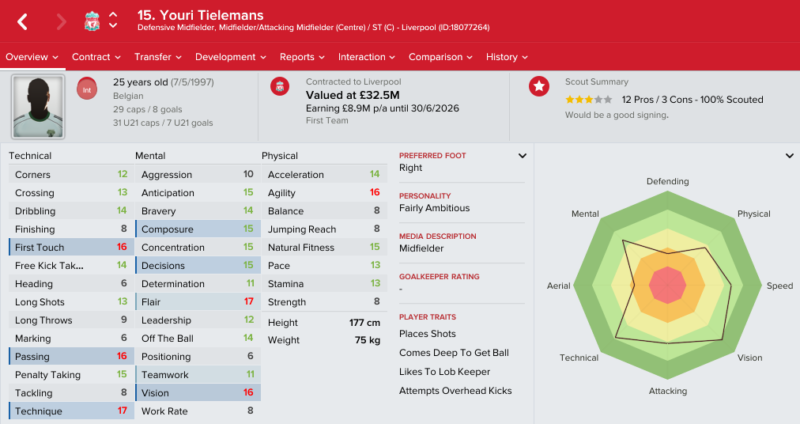 Youri Tielemans career history until 2022

The FM 2017 player profile of Youri Tielemans shows a well-known wonder kid from previous editions of the game, still a special player in FM 17. He has a minimum fee release clause in his contract with Anderlecht, worth 17.25 million pounds, the Belgian club will never agree to sell him for anything less.
In my test save Liverpool decided to pay that release clause but only in the summer of 2019. His development might have been better if a big club would have bought him earlier, but he still turned into a very good playmaker.
His technique and passing are excellent, creativity and other mental attributes as well. Last but not least, he has natural ability to play in three different positions: DM, MC and AMC.
Did this player develop better in your FM 2017 save? Share a screen shot of his future profile with us by uploading the file below! (please include your name/nickname in the file name)
[simple-wp-dropbox]

Subscribe to our Newsletter