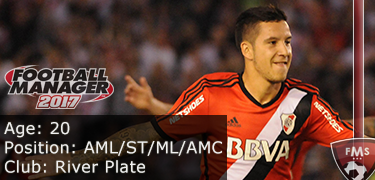 Sebastian Driussi
Age: 20
Position: AML/ST/ML/AMRC
Role: inside forward / false nine / complete forward / trequartista
Club: River Plate
Nationality: Argentinian
Value: £1.6 million
Price tag: £5 million (patch 17.2)
CA: 129 / PA: -8 (between 130 and 160)
Sebastian Driussi profile in 2016 (after starting new game, 17.2)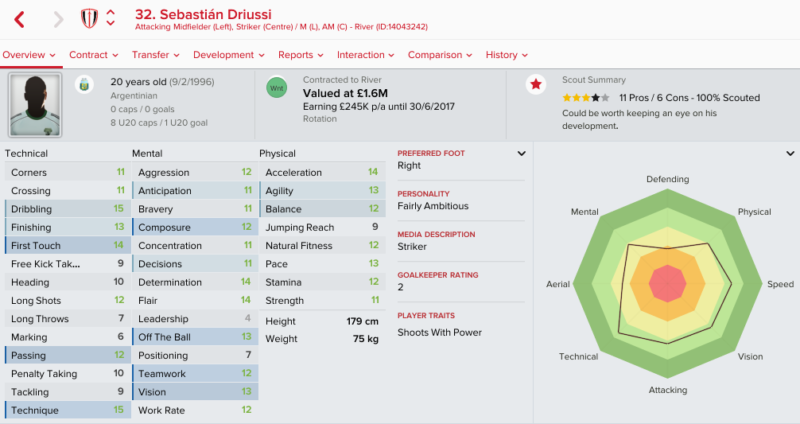 Sebastian Driussi aged 28 in the year 2024
Sebastian Driussi career history until 2024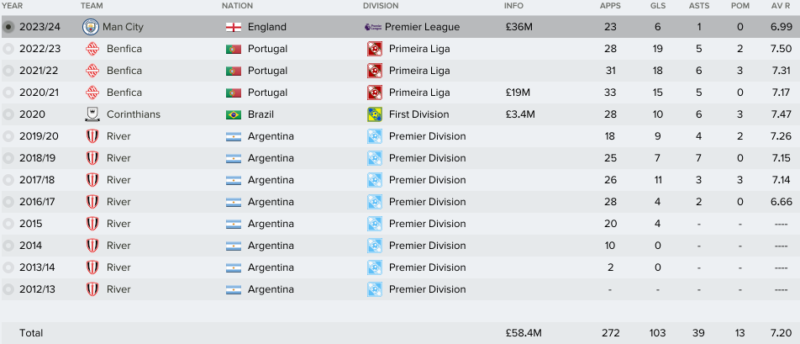 The FM 2017 player profile of Sebastian Driussi shows a solid young striker, also capable of playing on the left wing as an inside forward. River Plate are willing to let him go for 5 million pounds at the start of the game, but I think there is space for an even lower price a few months into the game. Good news is that he will be granted a work permit to play in England.
In my test save he remained at River for a while, then moved to Corinthians, who made a huge profit on the deal by selling him to Benfica. He ran the show in the Portuguese top flight, bagging an impressive amount of goals over three seasons, and Man City ended up paying 36 million pounds for him.
He turned into a quite competitive forward, with exceptional technique and finishing, great movement off the ball plus fine speed and agility as well. He is not competitive in the air, though, so if you need a striker that can dominate that area you will have to look for someone else.
Did this player develop better in your FM 2017 save? Share a screenshot of his future profile with us by uploading the file below! (please include your name/nickname in the file name)
[simple-wp-dropbox]

Subscribe to our Newsletter