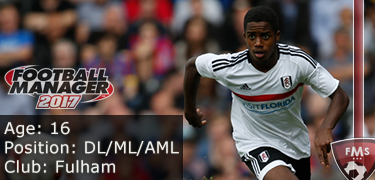 Ryan Sessegnon
Age: 16
Position: DL/ML/AML
Role: complete wing-back / wing-back / full-back
Club: Fulham
Nationality: English
Value: £1.7 million
Price tag: £1.5 million (patch 17.2)
CA: 119 / PA: -8 (between 130 and 160)
Ryan Sessegnon profile in 2016 (after starting new game, 17.2)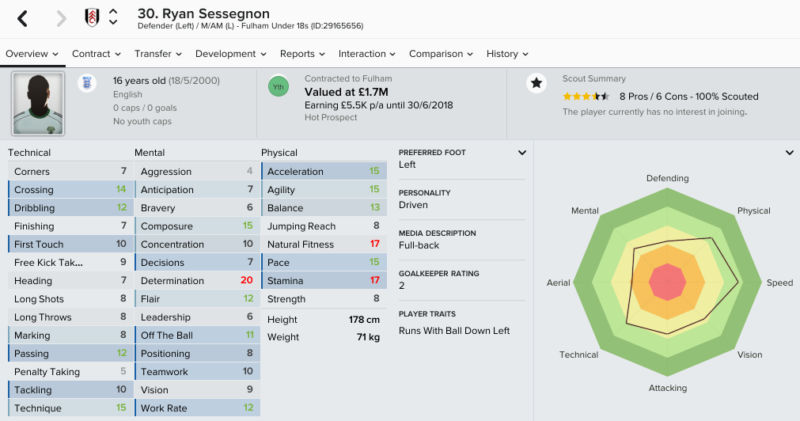 Ryan Sessegnon aged 23 in the year 2024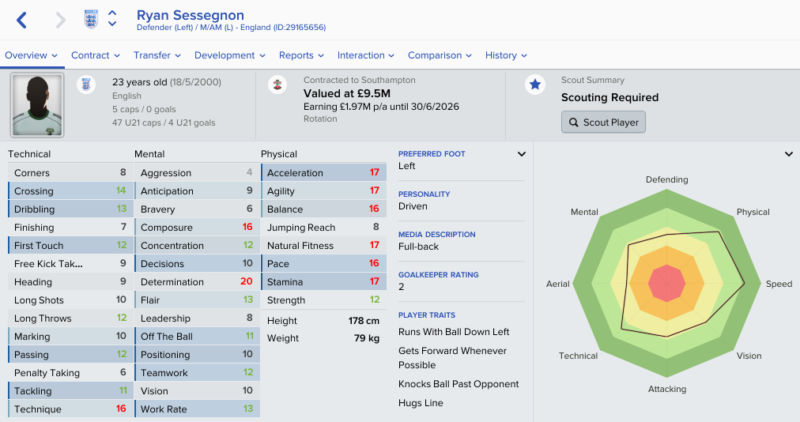 Ryan Sessegnon career history until 2024

The FM 2017 player profile of Ryan Sessegnon shows a quick and determined young left-back, with enough potential to become a future England international. He is on a youth contract at Fulham at the start of the game, so you can approach to sign him directly in exchange for a compensation fee of 1.7 million. The club would accept 1.5 million, but the player won't be persuaded easily to switch clubs.
In my test save Southampton brought him to the Premier League in 2019 for over 10 million pounds and he continued to develop pretty well at the Saints, even though he did not manage to become the first-choice left back there.
His set of physical attributes is outstanding, he can run all day and he's extremely fast as well, technique developed pretty well too, while his determination is outstanding. His potential is not that of a world-class player, but he can surely hold a first-team place in pretty much any top-flight team.
Did this player develop better in your FM 2017 save? Share a screenshot of his future profile with us by uploading the file below! (please include your name/nickname in the file name)
[simple-wp-dropbox]

Subscribe to our Newsletter