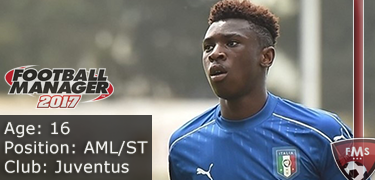 Moise Kean
Age: 16
Position: AML/ST
Role: inside forward / false nine/ poacher / deep-lying forward / advanced forward / target man
Club: Juventus
Nationality: Italian
Value: £170K
Price tag: £1.1 million – compensation – (patch 17.1.1)
CA: 88 / PA: -9 (between 150 and 180)
Moise Kean profile in 2016 (after starting new game, 17.1.1)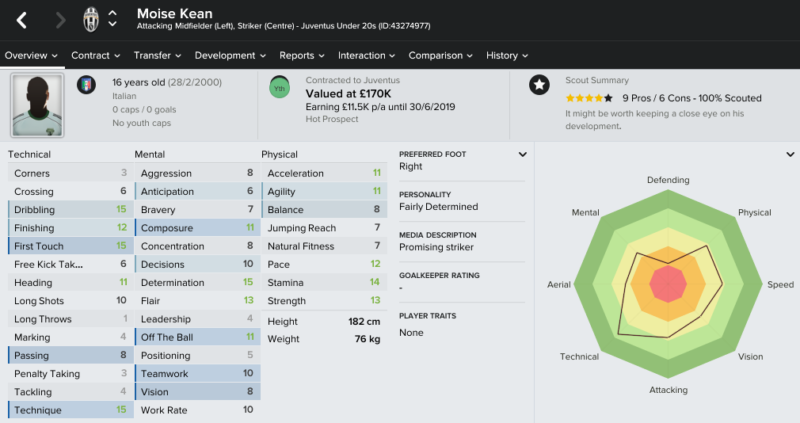 Moise Kean aged 24 in the year 2024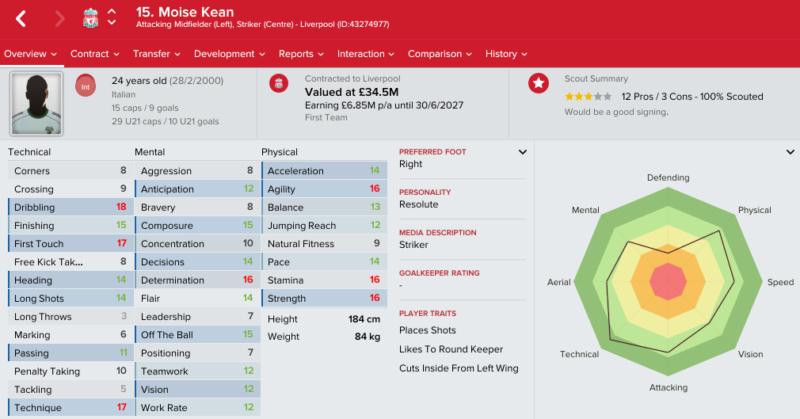 Moise Kean career history until 2024

The FM 2017 player profile of Moise Kean shows a raw talent that could develop into a real star both in FM 17 and in real life. There is a chance to grab him for a low price at the start of the game, while he is still under a youth contract with Juventus. You will have to act right away, because they will offer him a professional contract very soon.
In my test save he continued his development at Juventus until 2021, with a few loan moves along the way, before Liverpool decided to spend over 20 million pounds to bring him to the Premier League. He adapted well in England, bagging a few goals every season, but he is still in development at the time of the future screen shot.
He is absolutely brilliant when it comes to technique and dribbling, he is also strong, agile and fairly quick. Those mental attributes should improve with age and experience, making this youngster a deadly attacking force in any of Europe's biggest clubs.
Did this player develop better in your FM 2017 save? Share a screen shot of his future profile with us by uploading the file below! (please include your name/nickname in the file name)
[simple-wp-dropbox]

Subscribe to our Newsletter