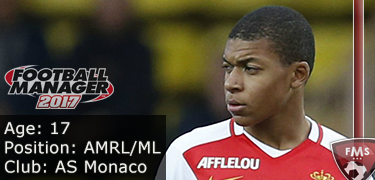 Kylian Mbappe
Age: 17
Position: AMRL/ML
Role: winger / inside forward
Club: AS Monaco
Nationality: French
Value: £1.2 million
Price tag: £60 million (patch 17.2)
CA: 114 / PA: -9 (between 150 and 180)
Kylian Mbappe profile in 2016 (after starting new game, 17.2)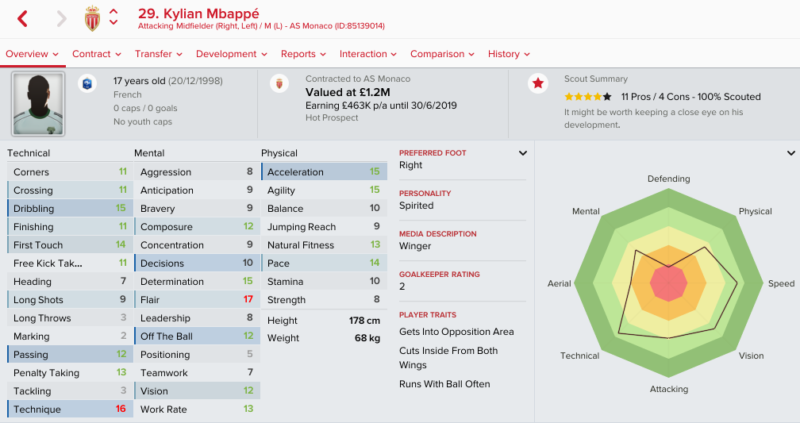 Kylian Mbappe aged 25 in the year 2024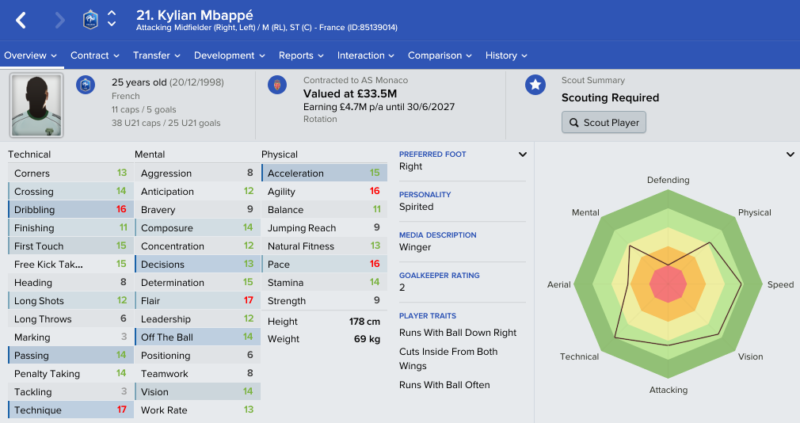 Kylian Mbappe career history until 2024

The FM 2017 player profile of Kylian Mbappe shows a very talented young winger, able to play on either of the two flanks. Buying him will be pretty tough unfortunately as Monaco want to keep him at the club.
In my test save he remained at the French club until 2024 and did a pretty fine job as he also earned some international caps and scored some goals for France as well.
He developed amazing technique and dribbling, he is also very fast and agile and has superb flair as well. This lad can be a killer on the flanks but I doubt you'll have too many chances to sign him for a decent fee.
Did this player develop better in your FM 2017 save? Share a screenshot of his future profile with us by uploading the file below! (please include your name/nickname in the file name)
[simple-wp-dropbox]

Subscribe to our Newsletter