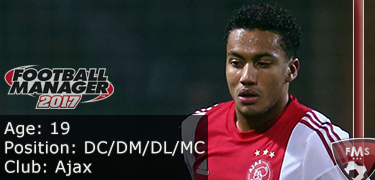 Jairo Riedewald
Age: 19
Position: DC/DM/DL/MC
Role: ball-playing defender / central defender / defensive centre-back / deep-lying playmaker / regista
Club: Ajax
Nationality: Dutch
Value: £3.3 million
Price tag: £25 million (patch 17.2)
CA: 133 / PA: 159
Jairo Riedewald profile in 2016 (after starting new game, 17.2)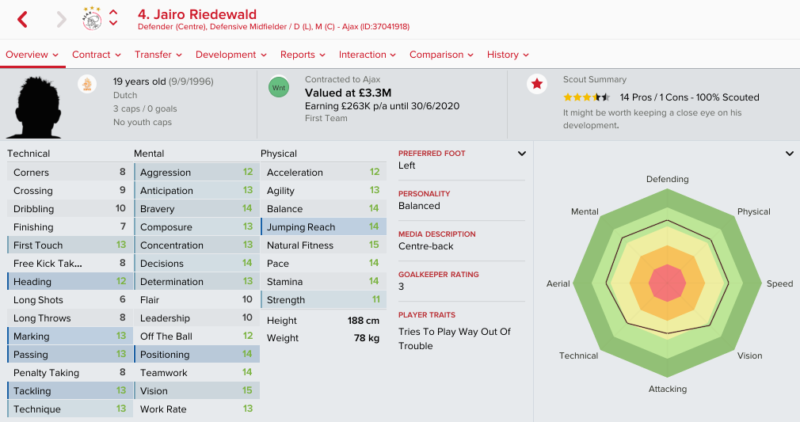 Jairo Riedewald aged 27 in the year 2024
Jairo Riedewald career history until 2024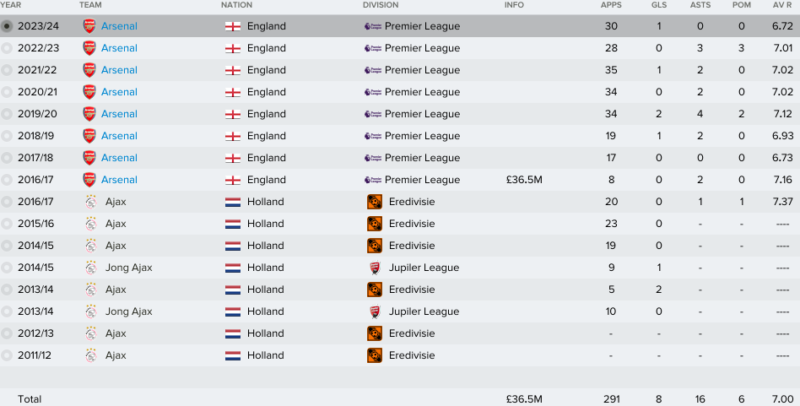 The FM 2017 player profile of Jairo Riedewald shows a talented young central defender, also capable of playing in front of the defence as a deep-lying playmaker. Ajax are willing to negotiate for him but they do want a lot of money, not sure he's worth all that much but he's definitely worth adding to your shortlist in case an opportunity comes along.
In my test save he joined Arsenal in January 2017. At first he was a backup player, getting a few appearances here and there, but eventually he became a first-team regular at the Emirates Stadium, with solid performances overall.
He has everything that a good central defender needs, strong and reasonably quick and also with a good ability to win the ball in the air. He's not just a central defender, he has decent passing skills as well and very good vision in case you want to employ him in front of your defensive line as a regista or deep-lying playmaker.
Did this player develop better in your FM 2017 save? Share a screenshot of his future profile with us by uploading the file below! (please include your name/nickname in the file name)
[simple-wp-dropbox]

Subscribe to our Newsletter