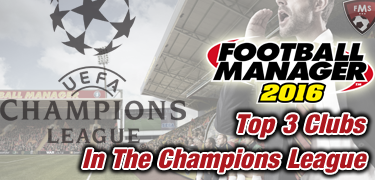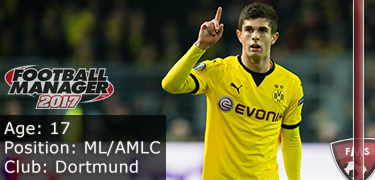 Christian Pulisic
Age: 17
Position: ML/AMLC
Role: wide playmaker / winger / inside forward / advanced playmaker / trequartista
Club: Borussia Dortmund
Nationality: American
Value: £16.75 million
Price tag: £16 million (patch 17.1.1)
CA: 135 / PA: -9 (between 160 and 190)
Christian Pulisic profile in 2016 (after starting new game, 17.1.1)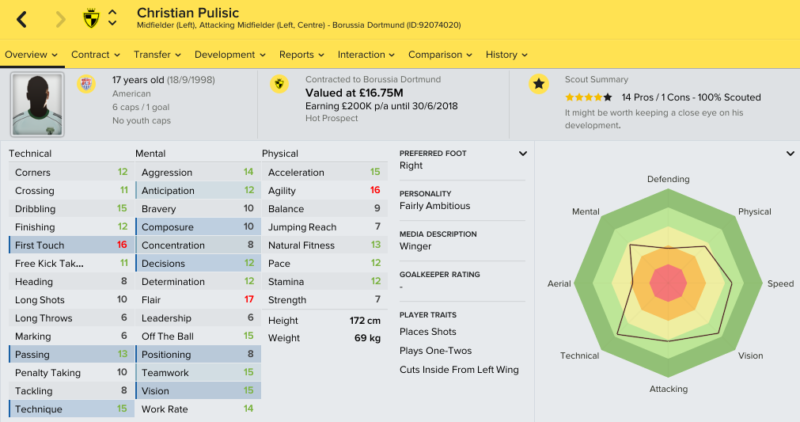 Christian Pulisic profile aged 23 in the year 2022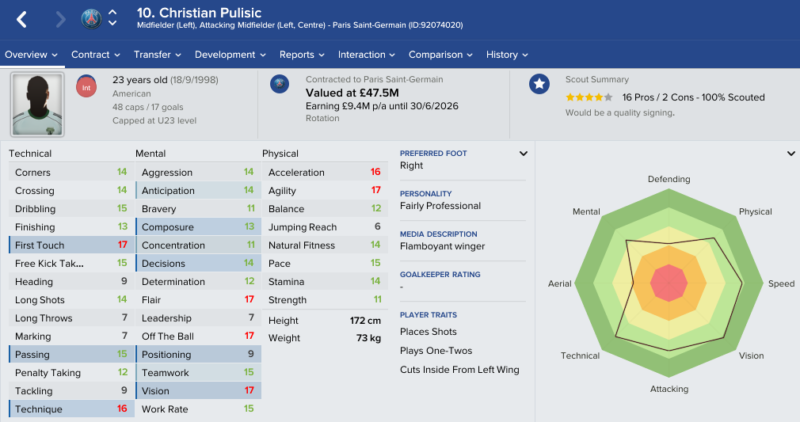 Christian Pulisic career history until 2022

The FM 2017 player profile of Christian Pulisic shows a young attacking midfielder with bags of talent, his potential could make him become one of the top creative players in Europe. Borussia would be willing to let him go for 20 million pounds at the start of the game, that's a bit of a surprise as I was expecting them to demand a lot more.
In my test save he remained in Dortmund for a while, providing great numbers during the seasons when he was not injured. Eventually, PSG decided to splash the cash on him and he delivered a decent first season in France.
He is natural in quite a few positions, like ML, AML and AMC. He has the speed and technique to be a good winger, but he also is creative enough to be the man that provides that crucial assist to your striker. Definitely one of the top talents in European football.
Did this player develop better in your FM 2017 save? Share a screen shot of his future profile with us by uploading the file below! (please include your name/nickname in the file name)
[simple-wp-dropbox]

Subscribe to our Newsletter