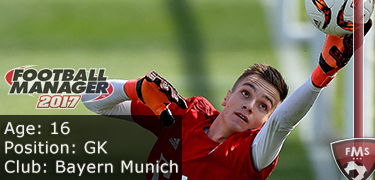 Christian Fruchtl
Age: 16
Position: GK
Role: sweeper keeper
Club: Bayern Munich
Nationality: German
Value: £140K
Price tag: £15 million (patch 17.1.1)
CA: 100 / PA: -9 (between 150 and 180)
Christian Fruchtl profile in 2016 (after starting new game, 17.1.1)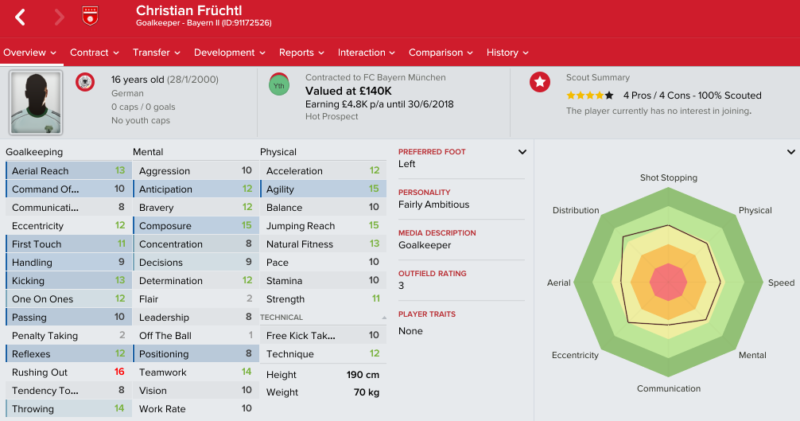 Christian Fruchtl aged 24 in the year 2024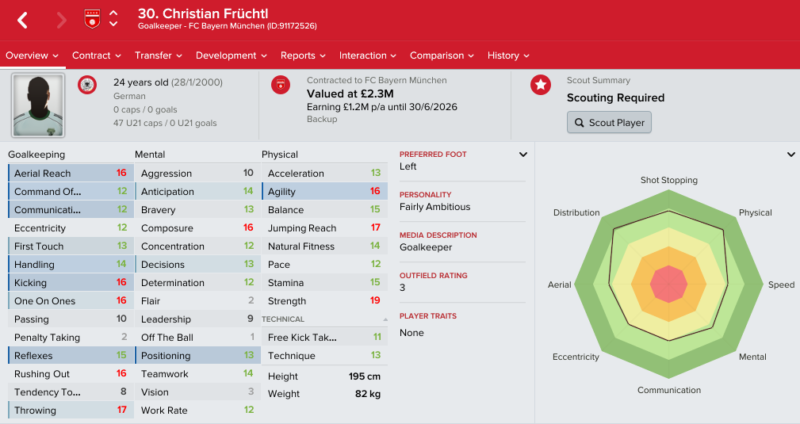 Christian Fruchtl career history until 2024

The FM 2017 player profile of Christian Fruchtl shows a brilliant young goalkeeper, a very talented youngster that could become one of the best goalies in the world. Bayern would let him go for 15 million at the start of the game, not an option if you ask me, but you should keep an eye on him as he might grow tired of growing in Manuel Neuer's shadow sooner or later.
In my test save he remained at Bayern until 2024, warming the bench and admiring the undisputed number one, Manuel Neuer. With his talent, he could have been first-choice at almost any other club, but when you have to compete with somebody like Neuer… chances of success are quite slim.
Despite that severe lack of first-team football, the youngster did manage to develop pretty well. He became a very good sweeper keeper, with excellent goalkeeping attributes and also strength and stature that allow him to dominate the area when it comes to aerial challenges. If you can get him, please do, this youngster is a great goalkeeper that deserves a lot more than being Neuer's reserve.
Did this player develop better in your FM 2017 save? Share a screen shot of his future profile with us by uploading the file below! (please include your name/nickname in the file name)
[simple-wp-dropbox]

Subscribe to our Newsletter