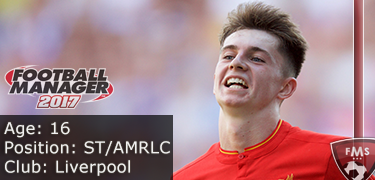 Ben Woodburn
Age: 16
Position: ST/AMRLC
Role: advanced forward
Club: Liverpool
Nationality: Welsh
Value: £150K
Price tag: £900K – compensation – (patch 17.2)
CA: 86 / PA: -9 (between 150 and 180)
Ben Woodburn profile in 2016 (after starting new game, 17.2)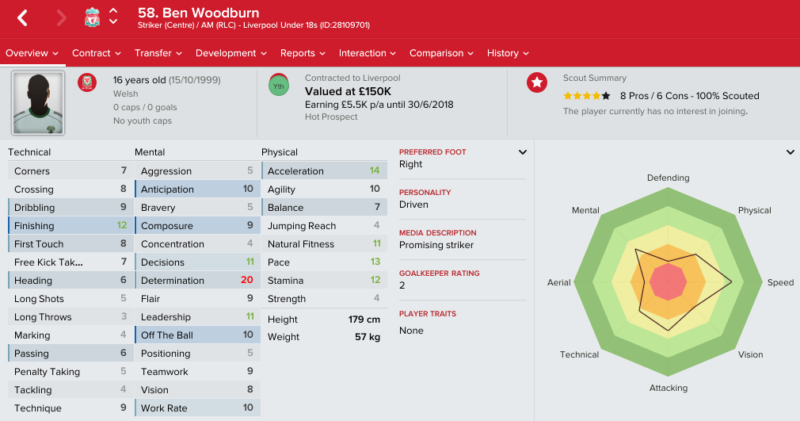 Ben Woodburn aged 24 in the year 2024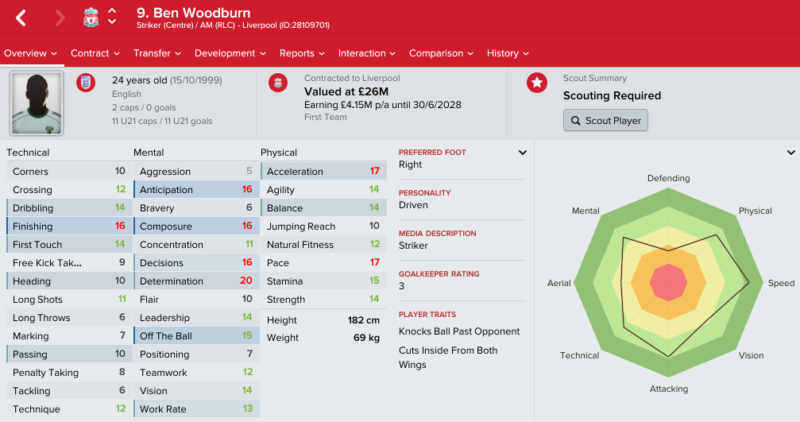 Ben Woodburn career history until 2024

The FM 2017 player profile of Ben Woodburn shows the already famous Liverpool wonderkid and his progress in Football Manager 2017. He is on a youth contract at the start of the game, so in theory you could sign him and only pay a low compensation fee. That won't work because he does not want to enter negotiations with anybody at the start of the game, so you will have to wait for a few months before trying to get him.
In my test save he remained at Liverpool throughout, with a couple of seasons spent on loan in the Championship. He did manage to work his way into the first team set-up at Anfield Road, but he did lose quite a few seasons of first-team football before that.
That time spent without first-team football might have affected his development, I think he can get even better than what the screenshot above shows. However, he did manage to become a great pacey striker, he developed amazing speed and also incredible finishing and composure for such a young player. He definitely has the potential to become a deadly striker, but you will have to be careful with his development process.
Did this player develop better in your FM 2017 save? Share a screen shot of his future profile with us by uploading the file below! (please include your name/nickname in the file name)
[simple-wp-dropbox]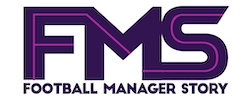 Subscribe to our Newsletter