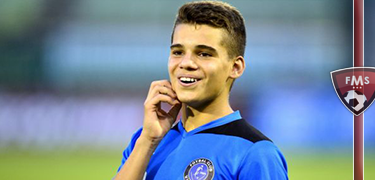 Ianis Hagi
Club: Viitorul Constanta
Position: AMRLC
Age: 16
Nationality: Romanian
The kids a bit like: his father
Ianis Hagi could be one of the best FM 2016 wonderkids, he surely is one of the most eagerly awaited wonderkids by Romanian FM fans. He is the son of the best Romanian player ever, Gheorghe Hagi, a man who played for both Real Madrid and Barcelona and will surely be remembered for what he did at the 1994 World Cup. On numerous occasions Hagi said that his son has the potential to become better than he was, especially because he can hit the ball just as well with either foot (the old man had a tremendous left foot).
At the moment Ianis Hagi plays for his father's club in the Romanian top flight, Viitorul Constanta, Gheorghe Hagi is both the owner and the head coach of the team. The kid has gradually made it into the first team and even managed to score his first top-flight goal last season. He has good control of the ball, solid vision and also a very good ability to take set pieces (both with his left foot and with his right foot).
Ianis Hagi stats
Viitorul Constanta: Appearances: 9 / Goals: 1
Romania Under 15: Appearances: 4 / Goals: 2
Romania Under 16: Appearances: 6 / Goals: 3
Romania Under 17: Appearances: 6 / Goals: 0
What should we expect from this FM 2016 wonderkid? He surely should have good potential overall but especially his vision, creativity and technical skills should be above average. He was linked with a move to Fiorentina this summer in real life, I hope that won't make him too expensive in FM 16.

Subscribe to our Newsletter