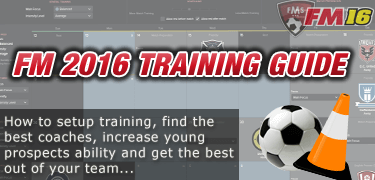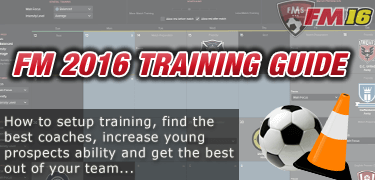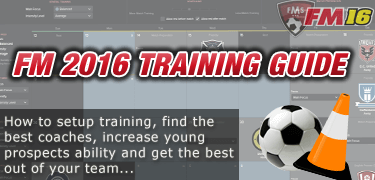 Welcome to this FM 2016 training guide. I hope to show you how to find the best coaches, when to change general training and manage individual training. Much of this FM 2016 training guide is opinion and experience based. I do not claim to know the officially correct way to setup but I do know what works well for me. Below is my step by step guide.
FM 2016 training guide – coaches
Go to training>coaches and you'll see a bunch of coaching categories across the top. You ideally need one coach per category, the less categories a coach is spread across, the higher his performance.
The golden nugget is to have as many 4-5 star coaching categories as possible. However, beware of 'coach workload', this can damage performance also. To lessen coach workload employ one of two coaches to cover all training categories, their star rating won't matter as they are just lending a hand so to speak. Below is an example of how the coaching screen should look only with more five stars :)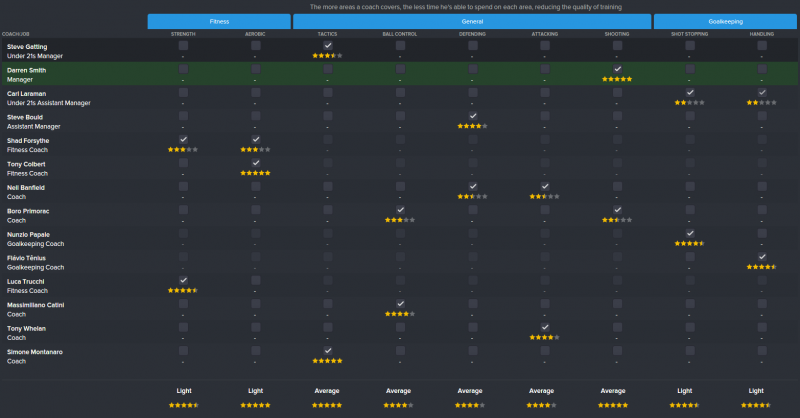 Knowing how to assign duties isn't even half the battle, we also have to find the right coaches. If staff numbers allow, I recommend getting a coach for every category and below are the attributes you should look for in each coach.
Mental attributes
All coaches: determination, level of discipline and motivation
Coaching attributes
Fitness coach: fitness
Goalkeeping coach: goalkeepers, technique (handling), tactical (shot stopping)
Ball control coach: technique and mental
Shooting coach: technique, mental and attacking (maybe not the official attributes but works for me)
Tactics coach: tactical
Attacking coach: tactical and attacking
Defending coach: tactical and defending
What level of attributes  you filter for will come down to your team. I would start with 12 for mental attributes and 15 for technical if in the top flight and adjust your level from there depending on whom appears in the search.
FM 2016 training guide – team training
There are no perfect answers here, just what works in certain scenarios. I always set scheduling as below, pushed more towards match training with rest before match unticked and after match ticked.

I split general training and match prep with settings suited to pre-season and the competitive calender.
Pre-season: General training alternate between 'team cohesion' and 'fitness' week or two. Match preparation set to 'match tactics' to increase the squads familiarity.
Competitive season: General training set to balanced. Match preparation should vary on your next opponent. Generally attacking against weaker opposition or if you struggled to score, defensive positioning for those tough away days and set piece specific when needed. I rely heavily on my assistants advice here.
Intensity: I personally stick with 'average', it seems the best mix for development, fitness and injuries…but you could try heavy in pre-season.
FM 2016 training guide – individual training
Before setting individual player training, set your tactics and work out where each player should fit in, this is extremely important.
Position/role: Sounds simple but should be set to the position and role you expect your player to fill…taking the time to do so will increase their ability within your system.
Additional focus: Any weak areas that need improvement, ie quickness for slow players. Check each players required attributes for the role they play and it will soon be apparent what needs setting up. I recommend you review this at least monthly to keep players happy and keep training fresh.
New preferred move: I don't use this often but would if a player could benefit from acquiring or dropping a specific part of his game.
Tutoring: A great tool to help speed along the development of youngsters. The key here is to pick the right tutor. Youngsters will pick up on tutors good and bad personality traits…I think the best tutors are ambitious and/or professional. If you have an already professional or ambitious kid don't have him tutored, or you'll risk decreasing those attributes and therefore damaging his ability to develop.
That is all for this Football Manager 2016 training guide, I hope it helps and as always please place you questions in the comments section below.

Subscribe to our Newsletter