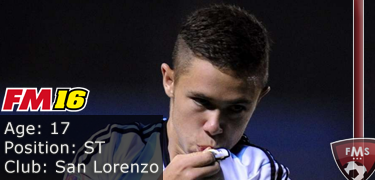 Tomas Conechny
Age: 17
Position: ST
Role: advanced forward / poacher / false nine
Club: San Lorenzo
Nationality: Argentine
Value: £950K
Price tag: £3.5 million (16.3)
CA: 98 / PA: -8.5 (140-170)
Tomas Conechny profile in 2015 (after starting new game, 16.3)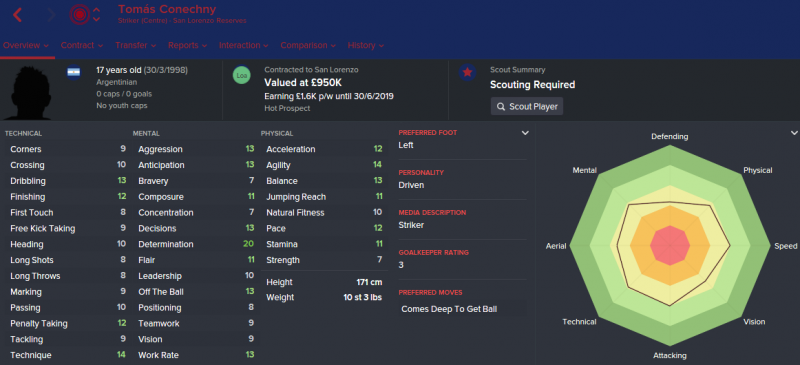 Tomas Conechny profile aged 23 in the year 2021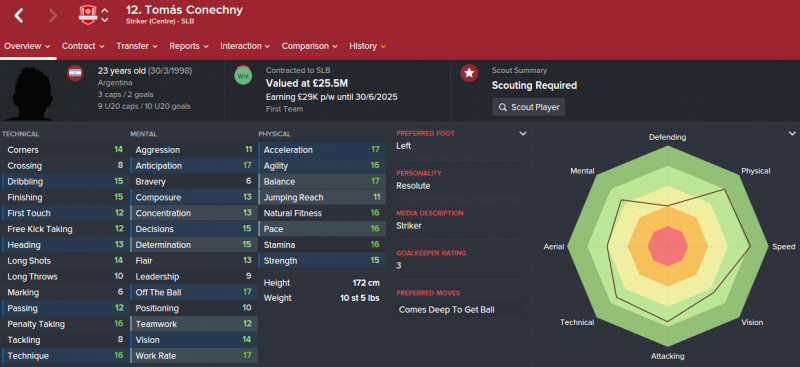 Tomas Conechny career history until 2021

Note starting attributes can vary for such young players.
This FM 2016 player profile of Tomas Conechny shows a striker with great potential, a promising future and available for a reasonable price. Such players are hard to profile as Conechny can start with different attributes from save to save, his current ability remains the same but the distribution of his ability is different. Either way, there is no doubting his potential and if my test save is anything to go by the kid could be a fantastic false nine, advanced forward or even poacher.
By 2021 the wonderkids attacking, speed and physical skills had rocketed making Conechny very hard to track and keep pace with. A risky signing yes but for £3.5 million you could have a new cult hero.
Did this player develop better in your FM 2016 save? Share a screen shot of his future profile with us by uploading the file below! (please include your name/nickname in the file name)
[simple-wp-dropbox]

Subscribe to our Newsletter