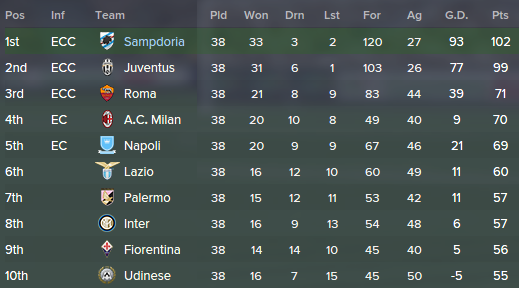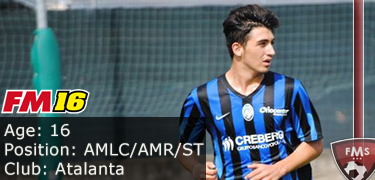 Christian Capone
Age: 16
Position: AMLC/AMR/ST
Role: inside forward / shadow striker
Club: Atalanta
Nationality: Italian
Value: £40K
Price tag: £500K – compensation – (patch 16.3)
CA: 72 / PA: -8.5 (between 140 and 170)
Christian Capone profile in 2015 (after starting new game, patch 16.3)
Christian Capone profile aged 22 in the year 2021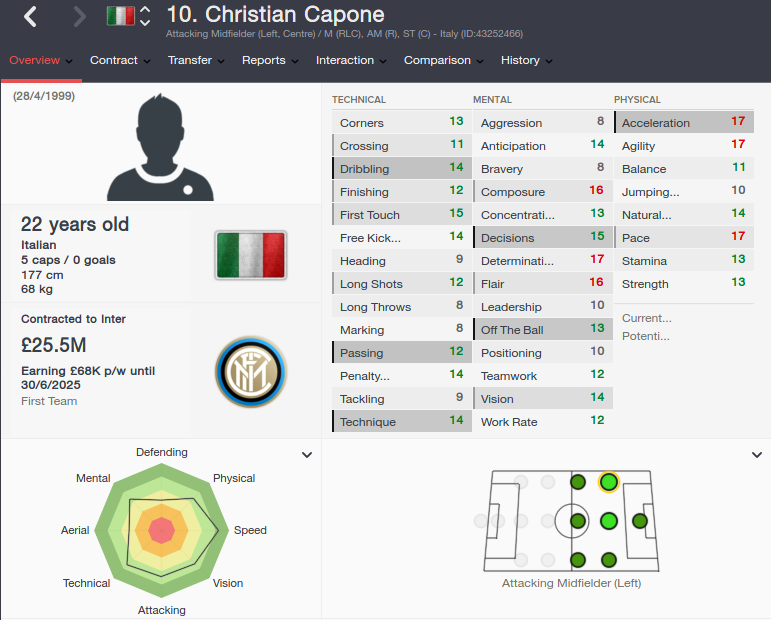 Christian Capone career history until 2021

The FM 2016 player profile of Christian Capone shows a very talented and cheap attacking midfielder with solid potential. You can buy him for just half a million pounds at the start of the game, you don't even have to negotiate with his club. His starting ability is not much but his potential is definitely worth a lot more than the price tag.
In my test save he continued his development at Atalanta, broke into the first team and then finally made the big move to Inter Milan. His performances were excellent at the new club, proving that he can play at the highest level once he develops.
He developed great speed and agility in my save, and the technical attributes also went up nicely. You have to keep in mind that the future screen shot was taken at the age of 22, when a player is still developing. Bottom line: definitely worth a shot at 500K.
Did this player develop better in your FM 2016 save? Share a screen shot of his future profile with us by uploading the file below! (please include your name/nickname in the file name)
[simple-wp-dropbox]

Subscribe to our Newsletter