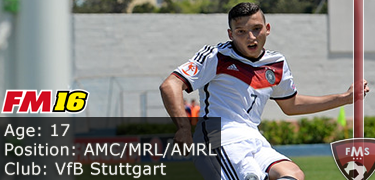 Arianit Ferati
Age: 17
Position: AMC/MRL/AMRL
Role: advanced playmaker
Club: VfB Stuttgart
Nationality: German
Value: £525K
Price tag: £25 million (16.3)
CA: 115 / PA: -8.5 (between 140 and 170)
Arianit Ferati profile in 2015 (after starting new game, 16.3)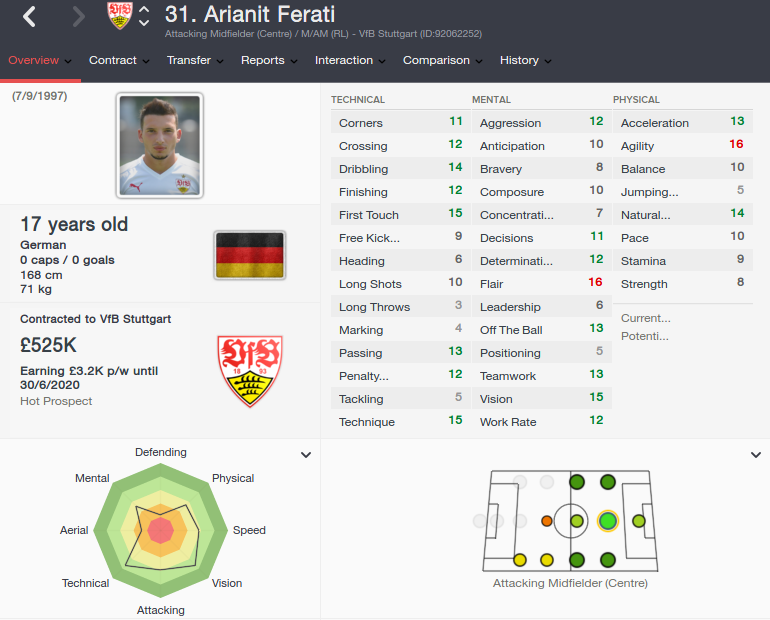 Arianit Ferati profile aged 23 in the year 2021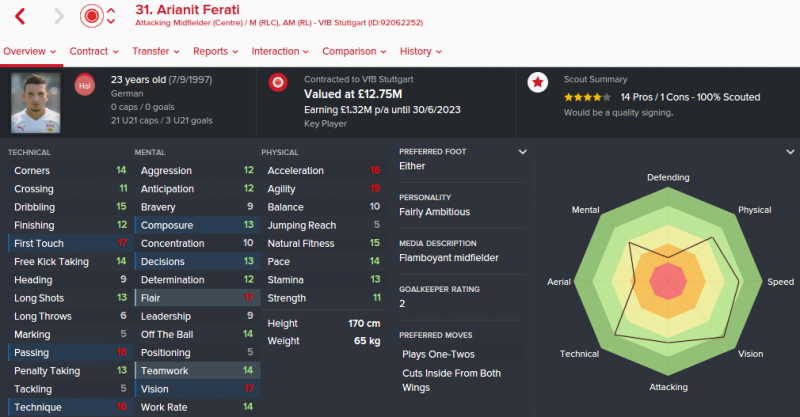 Arianit Ferati career history until 2021

The FM 2016 player profile of Arianit Ferati shows a very talented and versatile young attacking midfielder, who can cover almost any role in midfield and behind the strikers. He's not cheap but not impossible to buy, I reckon you would be able to get him for a reasonable fee if you insist.
In my test save he remained at Stuttgart until 2021, developing nicely and providing better and better performances. In the last season he was the leader of the team, providing plenty of goals and assists and recording a very good average rating.
He has extraordinary agility, tremendous flair and great technique, so he would make a very good advanced playmaker. His versatility is also important, he can hit the ball with either foot and can play on both flanks as well as in the middle.
Did this player develop better in your FM 2016 save? Share a screen shot of his future profile with us by uploading the file below! (please include your name/nickname in the file name)
[simple-wp-dropbox]

Subscribe to our Newsletter