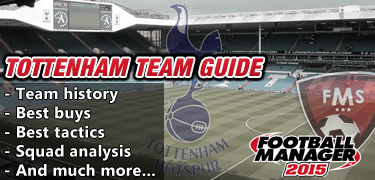 Overview:
One of the top 6 teams consistently in England, Tottenham Hotspur are a club that offers the chance for a fun and lengthy Football Manager save. Established in 1882, and with 8 FA Cups, 2 UEFA Cups and 2 First Division wins to their name, you would have to go a long way to find a football fan who hasn't heard of Spurs.
Now is your chance to take the club to the next level, and turn them into a European powerhouse. The club nurtured superstar Gareth Bale into the player he is today, can you do the same with Harry Kane and develop him into the worlds next best striker? Here is how I would do it, with this FM 2015 Tottenham Guide.
Facilities:
Spurs have very good infrastructure compared to many English clubs. State of the art training facilities and top youth facilities (both 5* rated) mean that you can focus on developing players and your youth team, and not have to go out into the market and buy the world class players in their peak.
However, the stadium may be an area that will require some investment in the future. Although by no means a small stadium, at over 36,000, and will provide some useful income, as you look to turn Tottenham into the biggest club in the world, this will need to be expanded.
Expectations and Budgets:
Working at a club like Spurs allows you a good budget to work with, and improve the squad. The minimum expectation is Europa League qualification, with £20m offered, and a wage budget of £1.55m. This shouldn't be too much of a challenge, with an already strong squad, with only a few signings needed.
The next step up is Champions League qualification, with a budget of £24.5m available and a £1.69m wage budget, and finally Champions League qualification with a budget of £27m, and a £1.72m wage budget.
As always, you must be wary when choosing your expectations, as the board will constantly be judging you by this criteria through the season, so if you decide on a Title Challenge, and then have a bad start, it could lead to an early sacking!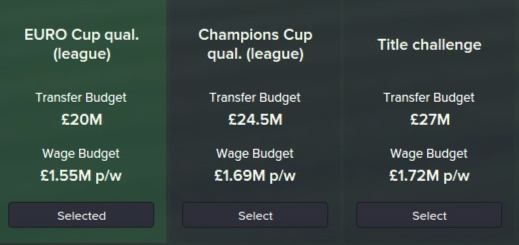 The Squad:
Goalkeeper:
Spurs are blessed with keepers. Lloris is the obvious number 1, with Vorm or Friedel as the backup. I would look to move on whoever you choose to be the number 3 keeper, and keep an eye on young McGee as he looks to have the potential to be a decent future backup.
Right Back:
Walker is by far the best choice in this position. However, Yedlin provides good backup, whilst Dier and Chiriches can also cover well. Furthermore you also have a Walker-Peters who looks to be a good shout for the future.
Left Back:
Danny Rose and Ben Davies are the best bets here, and are both capable. Personally I would go with Ben Davies, and have Rose as a good backup. They are both young so can grow further with experience.
As with the RB role, Walker-Peters should grow into a good option here, so give him game time and let him develop!
Centre Back:
Centre Back is a strong position for Spurs, with Vertonghen being the best player here, but with Fazio, Chiriches and Kaboul also good enough to start. Furthermore, Dier, Carter-Vickers and Veljkovic can also grow to become good players.
I would look to move on a couple of players like Khumalo here, as you will not be able to give everyone a game, and players like this will only stunt the development of more talented youngsters.
Right Midfield/Attacking Midfield:
The obvious and best option for this role is Lamela, with Townsend providing good backup and an option for rotation.
Elsewhere you can look at Chadli, and Lennon when he is back from his loan for other options.
Left Midfield/Attacking Midfield:
This left side is another area where Tottenham have some depth. Chadli and Lamela are both equally rated here, with Townsend the third best option. Furthermore with McEvoy coming through the ranks you a potentially very good player.
Defensive/Centre/Attacking Midfield:
For the CDM it is a toss up between Capoue and Stambouli. For me, Stambouli gets the nod, due to being a few years younger and looking to have a higher potential ceiling. Bentaleb can also due a job here, and Veljkovic should play some part for seasons to come once he is back from his loan.
Spurs do not have an outstanding Centre Midfielder, but do have some very good depth and a variety of strong options. Paulinho, Dembele, Capoue, Mason and Eriksen are all good shouts. However, your best bet would be to play Bentaleb and allow him to develop into the very good player he could become. Elsewhere Carroll and Alli could be good options for the future.
Christian Eriksen is quite simply a shoe-in for the CAM role. Lamela and Mason are the next best players, but with Lamela being the best winger at the club, Eriksen should not have any trouble holding down this place in the side.
Striker:
Adebayor and Soldado should be moved on as quickly as possible for me, due to their average ability and huge wages.
Kane is the outstanding player in the Spurs frontline, as the update has given him a well deserved boost in PA. He should start scoring from the off, and with good management can become a club legend underneath you. Elsewhere Azzaoui looks a very good bet for the future, so keep an eye on him!
Youth:
Spurs seem to be very blessed with youth in Football Manager 2015. Veljkovic, McEvoy, Carter-Vickers, Azzaoui and Walker-Peters could all eventually challenge for first team spots.
Furthermore, there are an abundance of talented and youthful first teamers as well, with Kane, Eriksen and Bentaleb all under 22 years old.
Top 3 Transfers:
Right Back:

While Walker is injured you need to find another option for the RB role. Mayke seems to be the best option in my opinion, and will develop into a very solid and dependable defender. Whilst not spectacular he will be a good option for any Premier League team to have.

Striker:

An ideal option to partner Harry Kane would be Bernard. Although he is not cheap, he should already be able to perform for you in the league, and is also versatile and can play on the wings should you decide to go with a 1 striker formation.

Centre Midfielder:

Spurs need a star in their midfield. I would go out and buy Lucas Romero, who will make an instant impact, is young and also pretty cheap. Looking ahead you should also be able to make a huge profit on him if you choose to sell. What's not to like?
FM 2015 Tottenham Tactics:
4-1-1-3-1:

This formation allows a strong DM to break up the play, dominate the midfield, and protect the back 5, allowing the creative players further up the pitch to concentrate more on attacking and scoring goals. The striker should receive support from the wingers and from the CAM, resulting in a good amount of goals being scored. The DM can be moved further up the pitch into a CM for weaker teams that may sit back more.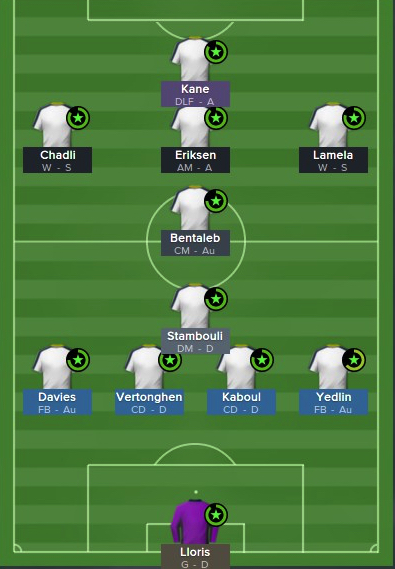 4-1-2-1-2:

If you want to go with 2 strikers, then I'd suggest a 4-1-2-1-2. This is a formation that you can use all of your best players in, and allows a DM and AM to link defence, midfield and attack. The lack of width is a worry but this can work very well and is suited to Spurs.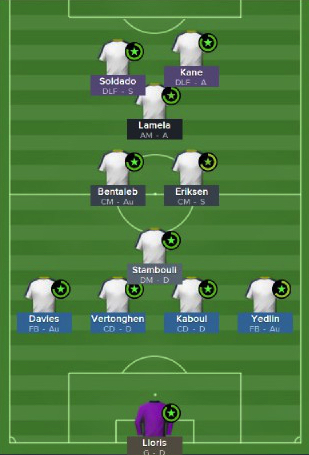 The Final Word
I would highly recommend giving this save a go. Spurs already have a very good squad, a big budget and good facilities. Can you go one better than the current set up and win a trophy in your first season? If you want an enjoyable save that is not too strenuous, this is a team for you.
Thanks for reading this FM 2015 Tottenham Guide, and if any of you decide to use it, or have any questions about any aspect of the guide then feel free to comment below and I'll get back to you! Ive got a couple of ideas for the next guide, but any suggestions for my next FM 2015 Team Guide would also be appreciated! Happy FM'ing!

Subscribe to our Newsletter