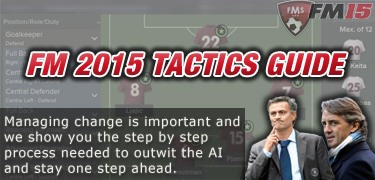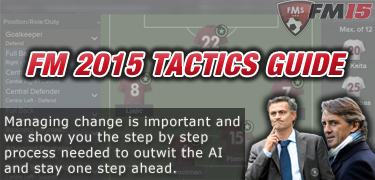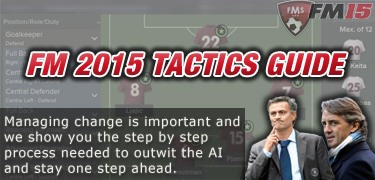 Hello and welcome to this FM 2015 tactics guide on how to manage change. I quite often enjoy a great first season with teams like Hull, Everton and Newcastle performing above and beyond expectations, then fall stale in the second and third season. The same can be said for second tier teams, if we get promoted first season I'll then enjoy the second season being in a new league, but the third or fourth season sees the same old struggle rear its ugly head.
Why does this happen and how can it be avoided? That is what I'd like to discuss today. This is not your normal FM 2015 tactics guide, I am not here to tell you about game mechanics and how FM is programmed, in all honesty I couldn't say with 100% accuracy, all I can do is set out my story and explain my thinking along the way.
The key is my opinion on why my teams demise and what happens after the first few seasons. Simply put, we enjoy a great rise to the top with mediocre reputation, the clubs rep then soars and as a result, either the AI changes its approach, or my system becomes outdated. If I do not then adjust myself then there is only ever going to be one outcome. This is of course my perception of what happens, whether it is technically correct I couldn't say.
The past
I am from the age of click and play managers, the one tactic wonder generation. With every new release (especially FM 2015) the AI is getting smarter and we need to do the same. We can no longer just plug in a super tactic and expect to gain results.
Even worse, these super tactics worked for me during seasons one and maybe two, leading to a false sense of security. This could have been the underdog status getting results, as opposed to the tactic itself. Maybe the club grew in size due to results and the tactic I'd used just wasn't suitable for a club of our new stature, or maybe the AI had just learned how to deal with my system.
The first half of the first season would be brilliant, the second half would be scrappy but still seeing results, by the second or third season that so called super tactic wouldn't feel so super anymore. I toiled coming to terms with this and played through many new saves hoping it was a one off and trying to avoid a change in approach.
Having accepted reality, I started a save with Bournemouth.
Bournemouth 2014-2017 – The Rise
The first 3 seasons saw me adopt my usual approach with one single tactic. Created to suit my Bournemouth players then simply maintained until results started to suffer.
I created a very stable 4-1-4-1. We got men behind the ball and built from there, I would only adjust my strategy from counter to control depending on the opponent. This worked a charm and we broke records, the tactic suited my team and more importantly my club stature, a mid-table Championship side. You can see more detail on this tactic right here.
Results were great, we gained instant promotion, then finished fifth in the EPL and by the third season won the title. All of this success was carried out with an underdog status, this I believe was vital to our success and the tactic working. We improved the players year on year and the results improved with this until we won the league, but I never felt like our status as a club had risen much until the title had been acquired.

Bournemouth 2017/18 – Time To Change
Based on previous experience I knew this season would be the one to change. With a title over our heads, like so many times before, I would struggle to break the lesser teams down and the AI would now start exploiting my systems weak links.
However, I decided to start the season with my trusted tactic and gauge our performances hoping not to lose too many points. We got results early on but teams were lining up differently against us and around five games into the season I experienced my first wobble with a run of draws. It was the performances more than anything that worried me, even in victory the match hung on a knifes edge.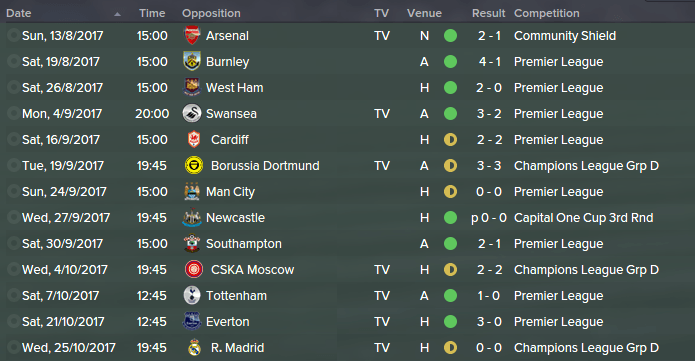 The clubs sudden change in stature meant I had to start thinking like a big club as opposed to the underdog. I decided to give Tinkerman's winning Diamond ago. An attacking direct tactic it would guarantee chances but may leave us open at the back.
For the first 5 games I played around with the system until Watford at home where I landed on what worked for me. The main change being one of the strikers adjusted to poacher.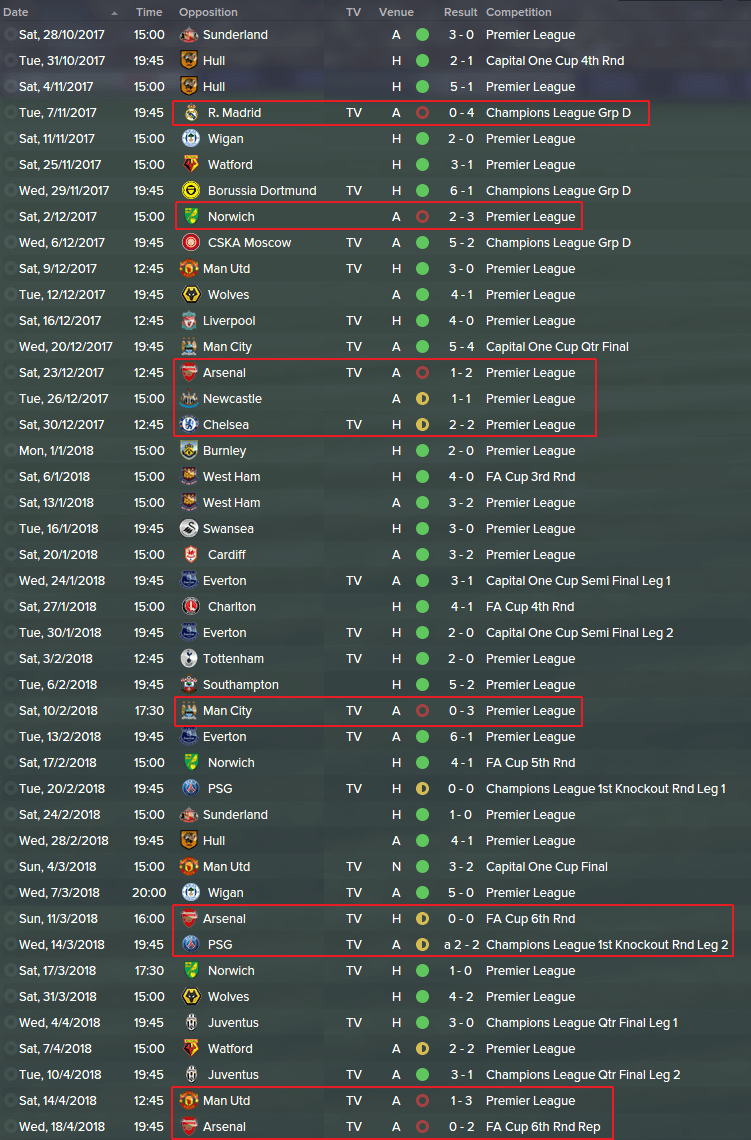 The highlighted results above bothered me. Our form in general was amazing and when we drew or lost I felt hard done by. However, we were still dropping points. This was very apparent against better opposition especially away from home, so I had to re-address my approach.
I also felt game by game the lesser opposition were learning how to defend against us. This is obvious by the decrease in winning margin as time ticked on.
It then dawned on me, this yoyo of stick and twist would repeat itself season on season. I had to start using more than one tactic and pick my system based on the opposition. Thinking like a big club doesn't just mean changing to an ultra-attacking tactic. I needed two systems, one to get goals and be direct and another to grind out results.
Using two systems would hopefully keep the AI off my scent. While it could learn both my tactics, it wouldn't necessarily know which one I'd use game in game out. But more importantly, I'd have two completely different systems to select from meaning I could take advantage of a clubs form, stature or tactic if selecting the right system for the right game. I already knew the weakness in both tactics I'd use and what they worked against.
Tinkerman's winning diamond is a direct system that creates lots and lots of chances, but can leave you a little open at the back, whereas my 4-1-4-1 is the complete and utter opposite.
Setting up to defend a narrow direct system with two strikers and an AMC is vastly different to setting up against a counter attacking wide tactic featuring short passing and men behind the ball. Using both these systems in tandem should have the AI running around in circles, providing I pick the right system to use at the right time.
Below are my remaining 7 matches, I have marked up in which games I used the 4-1-4-1 and when I used Tinkerman's winning diamond. See the key below.
Tinkerman's winning diamond: O
My lower league 4-1-4-1: O

OK, let me try and explain my thinking for all these matches and why I landed on each tactic.
Man Utd (H) – Quite simple, I used Tinkerman's diamond in the League Cup final and dominated United at a neutral ground, so fancied my chances of the same at home.
Liverpool (A) – Liverpool use a diamond formation that gets in behind easily and overpowers your defence centrally, I had to go with my 4-1-4-1. Using Tinkerman's diamond would lack cover and leave too many gaps.
Not to mention I believe you should only ever match a team's formation if 'a' you have the better players or 'b' you're confident your style of play will take advantage of their weaknesses. I was not comfortable with either.
Man Utd (A) – Playing a team at home and then away are two completely separate games. United would be on the front foot at home and I couldn't go to Old Trafford all guns blazing.
Besides, sitting back with my 4-1-4-1 and countering would soak up pressure leaving gaps for us to exploit, my tactic is made for games like this. Especially with United using a 4-2-3-1, just think of my players positioning, its man marking heaven.
Chelsea (A) – Same as above, big team away from home, the 4-1-4-1 was my only option. Chelsea had a lot of players out in attacking positions also, so if I felt like we needed something different I could switch tactics later on in the game, but early days we needed to keep a clean sheet.
We got our goals early anyway so no need to change.
Arsenal (H) – I took a big risk here, we had to win to overtake Arsenal at the top. But, the Gunners were on a poor run, I was at home and they used a 4-2-1-2-1 (2DM's, 1MC and AMR/AML.) Based on being at home I saw this as an ideal opportunity to dominate the very middle of the park. But in all honesty the main factor was my home form using Tinerkman's diamond.
Newcastle (H) – Newcastle would use a 4-5-1, I was at home and using Tinkerman's diamond this was an ideal opportunity to peg the Magpies back and leave them there. Being at home and by far the better team screamed for the more attacking option.
Barcelona (N) – The Spanish giants were on an excellent run and had Suarez, Messi and Neymar in unbelievable form. They would field a 4-3-1-2, sheer speed alone would rip me to shreds using Tinkerman's diamond as the defensive line is too high and we'd commit too many forward. I had to go with the 4-1-4-1, get behind the ball and use our opportunities to counter.
Both teams had a similar amount of chances, difference was we had more cover when Barcelona attacked and they were left exposed when we went forward.
Conclusion
My 4-1-4-1 worked well grinding out results as a general underdog or mediocre mid-table team. However, once we rose to the top we lost that clinical edge and the tactic seemed to no longer suit our stature.
Tinkerman's diamond was the perfect replacement to carry the mantle forward as EPL winners. However, it was only a matter of time before the AI understood how to defend against it. Also, matches away from home to the better teams proved very tough indeed.
The answer to both these issues was simple, combine the two tactics in rotation. The AI may know both tactics but won't know which one I'll use and I also solved the issue of an overly ambitious tactic losing high profile matches.
If you feel your great tactic is not working anymore then it's time to make a change, add another tactic to the mix to keep the AI guessing and address your rise in reputation.
Thanks for reading.

Subscribe to our Newsletter