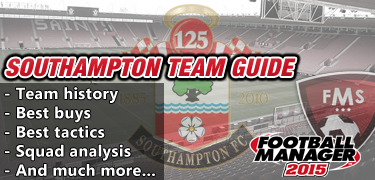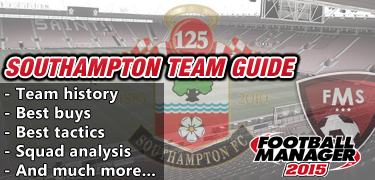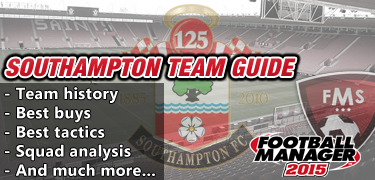 Southampton have had a great few years. It was only at the start of the 2010 season that they were languishing down in League 1, yet nowadays we see them threatening for European football at the top of the Premier League. The Saints are a club famous for their youth academy, producing talents such as Shearer, Le Tissier, and more recently stars like Lallana, Walcott and Bale.
However, at the end of last season the club had some of their shining lights poached, with Lallana, Lambert and Lovren signed by Liverpool, and Chambers and Shaw signed by Arsenal and Manchester United respectively. The squad has undergone a big change, and it is now up to you, with the help of this FM 2015 Southampton Guide, to take them to the next level.
Facilities
Southampton are blessed with great facilities. Their youth facilities are rated 5* and a Youth Level of 1, to help your young prospects reach their potential, and their training facilities rated at 4.5*.
Furthermore, whilst they do not boast the largest stadium in the Premier League, St Mary's is still of a good size, at over 32,000, providing a useful and steady income for the club.
Expectations and Budgets
The budgets on this save give you a significant opportunity to make moves in the market. The minimum expectation is a Top Half finish, with £14m offered, and a wage budget of £923k. This shouldn't be too much of a challenge, with an already strong squad, with only a few signings needed.
The next step up is Europa League qualification, with a budget of £19.25m available and a £1.06m wage budget.  Finally there is Champions League qualification with a budget of £21m, and a £1.09m wage budget.
As always, be wary when choosing your expectations, as the board will constantly be judging you by this criteria through the season, so if you decide on a Title Challenge, and then have a bad start, it could lead to an early sacking!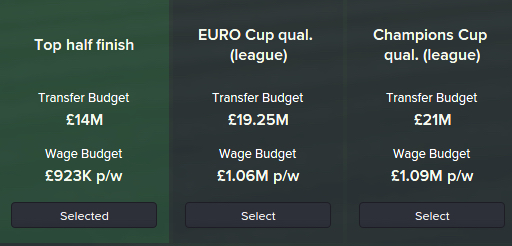 The Squad
Goalkeeper
Southampton are blessed with 2 keepers who are at a very similar level in ability. Forster and Boruc. These 2 options should be more than enough to see you through the season.
However, if you are looking to free up a larger chunk of your wage budget, it could be worth looking to move on Boruc, as in the reserves you have a veteran called Kelvin Davis who would be a solid enough number 2.
Right Back
Clyne is of course the number 1 choice here, but competition for RB may be needed. You should certainly look to keep Clyne, as he is a very strong option on decent wages, so unless you get a great offer, hold on to this lad.
Alderweireld is the next best option at RB, which perhaps shows why this poisiton should be strengthened. Personally I would not waste Alderweireld in this position, and would bring in a strong back up.
Left Back
This is probably the weak point in the Southampton defence, with the on loan Ryan Bertrand being the best bet. He has some solid stats, but if you want to become a real European force, I would look to upgrade.
If not, a back-up will still be needed. Targett looks a decent third choice, and is also homegrown, but I would not risk him having to play extended periods in the Premier League if Bertrand were to get injured.
Centre Back
Alderweireld is the best Centre back at the club, and should command a starting berth in your team, and I would look to utilise the future fee of around £8m later on in the season.
Fonte, Gardos and Yoshida all look decent options, but there is not one that stands out as a great partner for Alderweireld. I would look to move at least one of these players on (probably Yoshida), and replace them with a solid and young Centre back to build a foundation with.
Right Midfield/Attacking Midfield
The right wing is a position where Southampton are blessed with some depth. Jay Rodriguez is the best player at the club for this position, but is out with a long term injury.
Apart from him, Long, Davis, Tadic and Ward-Prowse all play this position to a decent level, so this area can be left alone.
Left Midfield/Attacking Midfield
This is another area where Southampton have some decent strength. Tadic and Mane are the best players for you here, with Tadic shading it as the number one option for me.
Elsewhere, Rodriguez, Isgrove, Long and even Bertrand can all do a job here.
Defensive/Centre/Attacking Midfield
Wanyama is the man you need in your CDM role. Young, cheap wages, good ability, and big potential mean that he should be playing as much as he can. Cork and Schneiderlin provide the cover should the big man get injured.
Schneiderlin and Wanyama are also the best Centre midfielders at the club, closely followed by Cork and the promising Ward-Prowse. The CM and CDM positions look to me as though they do not need much strengthening.
The CAM role is another story however. You could look to Steven Davis, or even wait a season for Gaston Ramirez. However I would use this as the position where Ward-Prowse fits into your team, as you should be desperately looking to find a role for him, because quite simply he could become immense.
Striker
This could be a position you look to strengthen, as Southampton are not too rich in this department. Pelle is the best forward currently at the club, whilst Shane Long provides a decent deputy.
Mayuka looks okay, but I would move him on and promote Sam Gallagher as third choice. This kid looks to have good potential, and the game time will help accelerate his growth. Even if he doesn't make it long term in your side, you should still be able to get a decent price for him in the future.
Youth
Strangely enough, Southampton do not look to have too many great youth prospects. Ward-Prowse, Gallagher and Sims seem to be the standout 3 players, and could all develop into very dangerous attacking players.
Other than this, Mason, Mells and McCarthy all look as though they could become solid players that could at least deliver a decent transfer fee in the future.
Top 3 Transfers
Centre Back:

Eder Alvarez Balanta is of course one of the better options here. This guy seems to be a must buy on most saves, and this one is not much different. He and Alderweireld will provide a great back 2 that you can build a team on, whilst also providing good cover for the weak LB position.

Right/Left Back:

Liverpool's Jon Flanagan would be the answer for me here. He's versatile, young and has very good potential, whilst also having the bonus of being trained in England. You should be able to get him for a decent price too, and have the full backs sorted for years.
FM 2015 Southampton Tactics
4-1-2-3:

This formation allows a defensive midfielder to break up the play, and protect the back 5, allowing the players further up the pitch to concentrate more on attacking and scoring goals. The striker should receive support from the wingers and from an attacking minded midfielder, resulting in a good amount of goals being scored. The DM can be moved further up the pitch into a CM for weaker teams that may sit back more.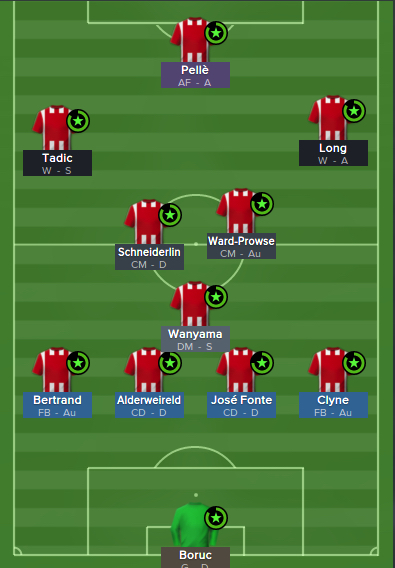 4-4-2:

This is a formation that needs players who can attack as well as defend. If you find these players this will work brilliantly, with support in scoring and defending. The strikers will have more room to work with because of their partner, and the wingers can run riot starting from a deeper position.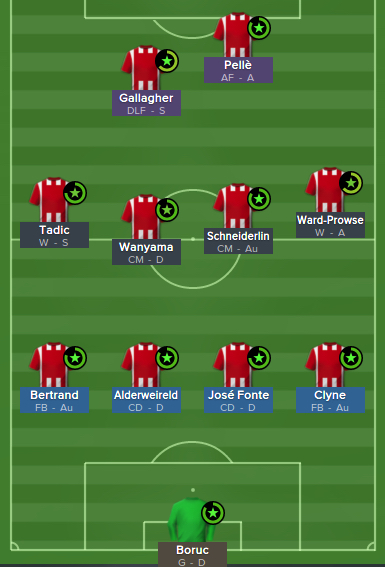 The Final Word
This save is one that I am sure the majority of people will try this year. Southampton are the surprise package of the league, and Koeman is doing a really good job for them, but can you do better? With good facilities, a sizeable budget and a strong squad this save can go on for years, as you try to break the trend of the bigger clubs winning the Premier League.
Thanks for reading this FM 2015 Southampton Guide, and if any of you decide to use it, or have any questions about any aspect of the guide then feel free to comment below and I'll get back to you! Im working on a lower league team guide next, but any suggestions for future FM 2015 Team Guides would also be appreciated! Happy FM'ing!

Subscribe to our Newsletter