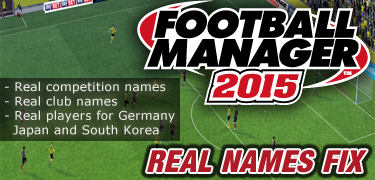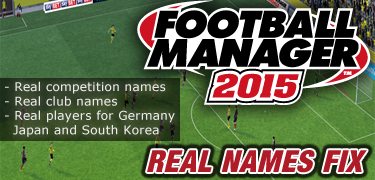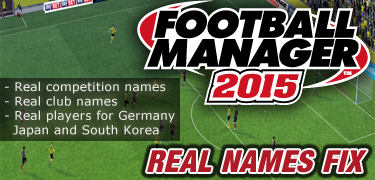 Due to licensing issues some competitions and clubs have fake names in FM 2015. For instance all the clubs in the German Bundesliga have fake names, the English Premier League is called "Premier Division", the German national team has fake players. All these issues can be solved easily with our FM 2015 Real Names Fix, download, install it with our step by step instructions and enjoy a more realistic game!
Get real names in Football Manager 2015, replacing "Premier Division" with "Premier League", "Champions Cup" with "UEFA Champions League" and much more. Several real competition names are included in this fix, along with real award names and real players in the Germany national team, South Korea national team and Japan national team. 
After you install this fix you have to restart FM 2015 and your should be able to see the real names in your game. Something like this: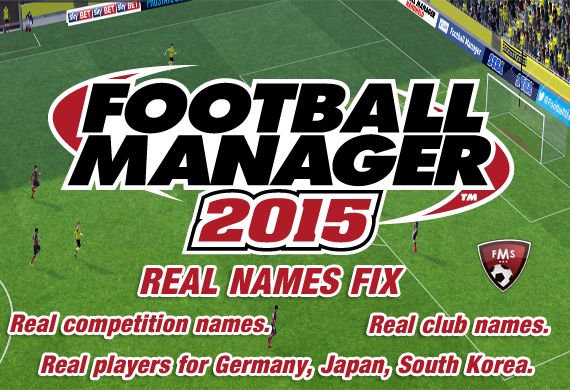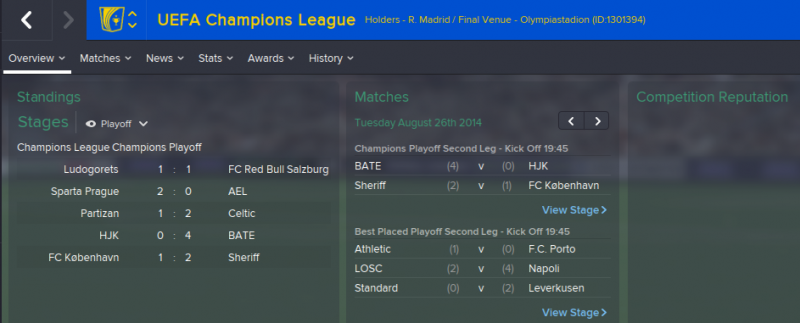 Here's a quick list of the most important things that are included in this download:
FM 2015 Real Competition Names
UEFA Champions League
UEFA Europa League
UEFA Youth League
Barclays Premier League
Serie A TIM
Serie B Eurobet
Primeira Liga (Portugal)
Segunda Liga (Portugal)
Bundesliga
2. Bundesliga
3. Bundesliga
And many more, including real names for all European and South American domestic competitions.
FM 2015 Real Club Names
FC Porto
Benfica
Sporting CP
Real names for Bundesliga and 2. Bundesliga clubs, including FC Bayern Munchen, Borussia Dortmund and Schalke 04.
FM 2015 Real Players*
Real players in Germany national team.
Real players in Japan national team.
Real players in South Korea national team.
* – Real players will appear after a squad is selected for an international match. 
Download FM 2015 Real Names Fix
Download the file by clicking the button below:


Please note: If you want to share this download on your website you will have to link back to this page, hosting the file elsewhere is not allowed! 
How to install FM 2015 real names fix
1. After downloading the file, which is a zip archive, you will have to extract it to this folder: Program Files>Steam>steamapps>common>Football Manager 2015>data>db>1500>lnc
(replace the "all" folder with the new one, along with all the files in it)
After patch 15.3.0 you will also have to extract the file to this folder: Program Files>Steam>steamapps>common>Football Manager 2015>data>db>1530>lnc
2. If asked whether you want to overwrite any existing files in that folder, select "yes".
3. That's it, start or re-start your game and enjoy!
If you spot any teams or competitions in FM 2015 that need name changing, please let me know and I will release a new version of this download to fix them.
That's it, enjoy the game! Make sure you follow us on Facebook and Twitter for more FM 2015 goodies!

Subscribe to our Newsletter