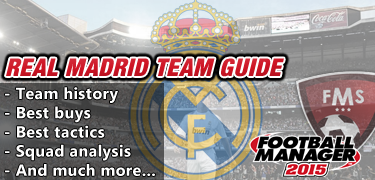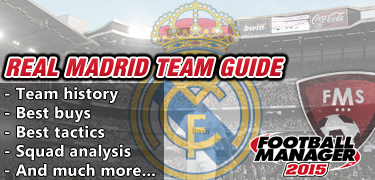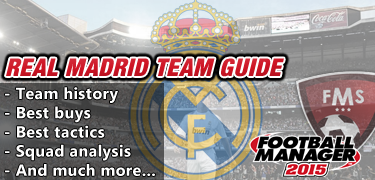 Real Madrid is regarded as one of biggest club in the world. It is believed that only Barcelona and Manchester United can challenge them on this front. They also have a chairman chosen by the members of the club so you can get fired if you are not doing well if new chairman is voted in. But it also mean that you can get unexpected reinforcements in form of big name players. You are expected to do well on all fronts and losing the wrong game can also cost you the job.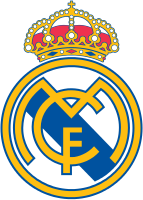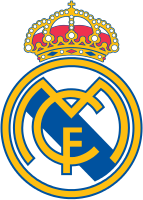 Background
Founded in 1903 the team became a quick success with a cup win in 1905. In 1920 they adopted the name Real Madrid. The word real means royal in Spanish and was given to them by King Alfonso XIII before he fled the country a few years later when the Second Spanish Republic was proclaimed.
They won the first 5 Champions League tournaments ever played. Real Madrid is the joint most successful club in European competitions with AC Milan and joint most successful club in Spain with Barcelona. Both counted in the number of trophy's they have collected.
Real Madrid can boast of having most of the elite players in Europe on contract at one time or another. Recently nicknamed Los Galácticos because of this. On the other hand the clubs youth players have suffered and have on many occasion had to sign with other teams to get playing time.
Iker Casillas, Dani Carvajal, Alvaro Arbeola and Jese are the only players from the youth system in the team currently but Dani Carvajal and Alvaro Arbeola left the team and was resigned later. Jese almost left the team but got playing time in the end. The youth system is still considered on of the best, because of the players later appearances in the national team. They are only rivaled by Barcelona on this front.
Real Madrid is also one of a few teams to field 2 reserve teams in the league system. Real Madrid Castilla in Segunda Division B and Real Madrid C in Tercera Division.
At First Glance
This is my first look at the team. What I see is a very good team with very good young players, maybe a little lacking in depth on the wings. One or two signings may be needed to fill the ranks. I would look at young players that can play easier league matches and cup matches.
Budget, Facilities, Philosophies and Expectations
You have a budget of £17 million to buy players and £3.1 million a week on salaries with nothing left over. The facilities are considered state of the art and may be one of the best in the world. So developing players should not be a problem. Real Madrid did not have any philosophies on my game so you are free to do whatever you want, you just need to win games. The Liga BBVA and Champions League is your most important tournaments. You are suppose to win the first and go to the final of the other. With the financial fair play in order I would suggest you try to switch to a more developing youngsters type of organization. After the elections you can get a huge boost in transfer funds as I did.

The Team
Goalkeepers
You have Iker Casillas who is one of the best goalkeepers in the world. Although he is getting older he is still you number one. Keylor Navas is a great number 2 and can take over if Iker Casillas get's injured. But my suggestion is to look for a youngster here as soon as you can. If you want you can try and sign Victor Valdes, but it will be hard and he is injured during the first few months. During his injury I would suggest talking to him often if you want to sign him. Navas is a non-EU player and in the Spanish league system you can only have three and you have four in the Real Madrid first team. Fernando Pacheco from Castilla (reserve team) is a good 3rd option.
Full-Backs
Here you have many options. Dani Carvajal on the right is a great fullback with offensive prowess and he is first option on the right. Marcelo is probably your best option on the left but he is the only player that can rotate with Bale as a left winger, so I would use him as a winger. Alvaro Arbeola is you best sub as he can play both sides. Fabio Coentrão is a great left full-back and he is better defender than Marcelo but are still a great crosser. Last is Guillermo Varela and he is on loan from Manchester United. A decent full-back but he is touch and go if he would grow enough to be of Real Madrid caliber. I would use him in easier games in the first season but I would not buy him. You also have Nacho as a reserve if you get injuries in this area. My suggestion would be Fabio Coentrão and Alvaro Arbeola on the left and Dani Carvajal and Guillermo Varela on the right. I would be looking for a new full-back in the January transfer window and send Varela home if he plays really bad. If you think you can wait the season it may not be necessary as players on loan will come back. More on that later.
Central Defenders
Pepe and Sergio Ramos is you first option here, they are both great defenders and very all-around. Raphaël Varane is a great you defenseman that during the first season can challenge Pepe/Sergio Ramos for a first team spot. He needs regular game time though. Your next option is Nacho, a versatile player that can play on all back four positions. His best position is probably the central defense. He is good to have around so keeping him happy with low level games like Copa del Ray. A young central defender would be a good idea. But I would also advice to wait for the right player.
Central Midfield
The strongest area in the team with abundance of talent. Isco is a 22 year old advanced playmaker and one of the best in the game. If he worked a little on his physical stats he world be hard to stop. The physical part of the game have you sub him out at end of games and he can't play as many games as you want him to. But later he will be unstoppable. His biggest contestant for the advanced playmaker role is James Rodriguez. He can play across the field like Isco but is best as a playmaker. He has lethal free-kick and score on a regular basis. You have two more playmakers that can play deeper which makes them perfect for a Deep-Lying Playmaker role. Toni Kroos newly recruited from Bayern is 24 years old. He has amazing passing skills and vision and often makes great through balls. He rotates with Luka Modric which is the elderman in the central midfield. To help the defense you have Sami Khedira in an Anchor role and Asier Illarramendi is a great younger option for Khedira. The are both hard-working players that will not let you down. They could both work on their marking and tackling but they can play the big games from the start. A transfer here would probably be a huge waste of money.
Right and Left Midfield.
On the right side you have Real Madrids best player, Cristiano Ronaldo. I would consider him one of the best Inside Forwards in the game. I would rotate him with Jese when he gets back from injury. Before that I used Burgui from Castilla. A decent player that do a decent job in games against smaller teams. On the right side you have Gareth Bale as your first option. I would rotate him with Marcelo. Both I would use as in a Winger role. Marcelo has actually scored a few goals in this role and Bale got a lot of assist both from passes and crosses. He tend to dribble inwards at times and the goalkeepers usually save the shot but the strikers are there to pick up loose balls and a few goals have been scored in this fashion. The reason I would suggest waiting on buying full-back is that you have a good winger out on loan. Denis Cheryshev can rotate with Bale 2nd season. That give you the option to return Marcelo to the full-back position and Arbeola return to right back. I don't think you need a new player here either.
Strikers
Karim Benzema is your best striker and I would use him as a false nine or poacher. He do okay in an advance forward role to. He scored a lot in my save. You also have Javier Hernandez who goes by the name Chicharito on the field. A classic poacher and only did well for me in this role. Beats the defense with speed and gets a lot of one on ones. He is on loan from Man Utd and you should see if you can buy him later in the season. Only if he performs well for you. I did not buy him. I opted for a young striker to take his spot that could develop to be able to perform different roles.
Youth
Real Madrid has a few promising youngsters. Marcos Llorente could be a great Deep-lying Playmaker in the future. Jose Rodriguez is also a promising playmaker that could play both deep-lying and advanced playmaker. With the right training Raul De Tomas can be a great poacher. Fernando Pacheco can be a good future goalkeeper. All of them plays in Castilla, one of Real Marid's reserve teams.
Transfer Market
I would not do any big transfers other than looking for talented youngsters. When Denis Chyrshev comes back from loan you have a good team. Looking for replacements to Iker Casillas, Alvaro Arbeola and Pepe may be necessary but you don't need any panic buy. Focusing on youngsters is more important. You will probably get a huge transfer budget by November/December as I got one from the new chairman to around £126 million.
At this time you can try to buy Javier Hernandez from Man Utd if he performs well for you on loan. I personally looked for a younger striker to take his place. I arranged for a transfer of Lucas Boye from River for around £5 million. I arranged it after the season to have him play more with River and to clear way with the departing Javier Hernandez. He was a good striker but only as a poacher and as a 26 year old he would probably not evolve into something more. As both are considered foreigners Hernandez has to leave before Boye joins. But it is up to you how you handle the situation.
Tactics
I would suggest the V-shaped 4-1-2-2-1 or 4-5-1 as it is also known. This is my first eleven. All spots have players to rotate. This is a possession type of tactic with short passing and a control mentality. Benzema can play many roles but if you use Hernandez a poacher role is almost required. [Download tactic]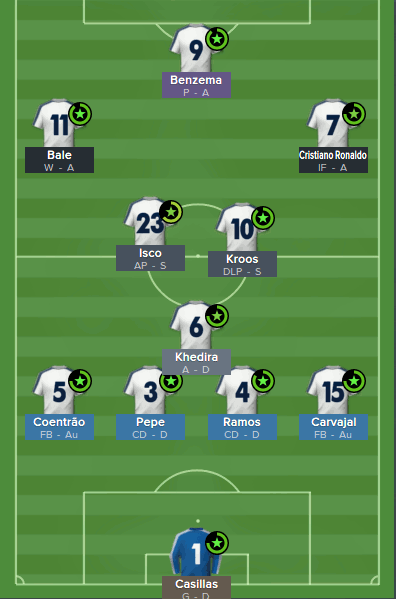 I also had a 5-4-1 which is really the anchor converted to a central defender. This is the late minute tactic grind out type tactic for games when you are in the lead. More direct passing is applied with counter attack. As this tactic is really defensive the striker need to be an advanced forward. [Download tactic]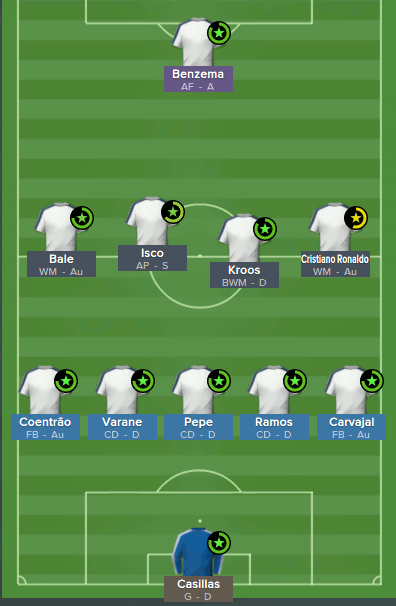 For really easy games I would choose a more offensive 4-5-1 just to throw the scouts off a little. There is no real difference from the first tactic other then new positions for the midfield. The striker can have many roles here. With Hernandez your only option is poacher. [Download]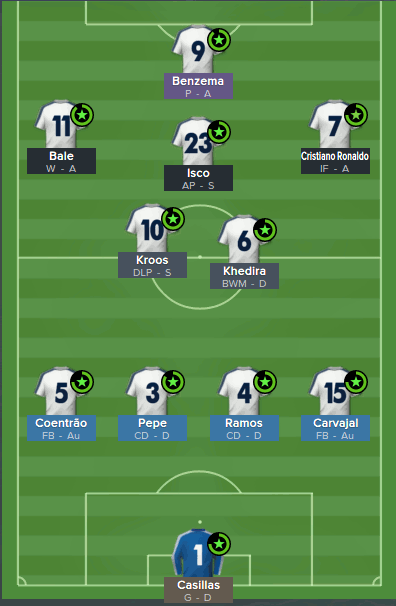 Staff
For a big team you need to do some changes with your training staff. You are going to need a Fitness Coach as you only have one. Tactics, Attacking and Defending coaches may be needed depending on you own stats. I would recommend Rene Meulensteen as he is probably one of the best coaches in the game. You probably need to check the Youth Teams coaches as well.
Conclusion
In my game I did not do any transfers for the first team. With 4 foreigners in the squad Guillermo Varela did not make the Liga BBVA squad the first time around. So he played in the Champions League and Spanish Cup games to get some playing time. At the next registration window Keylor Navas had become a Spanish citizen. So Varela was included. I won the European Super Cup, Spanish Super Cup, Liga BBVA, Champions League and the World Club Championship with this squad. With the increased budget I got, most players could be bought. But I focused on youth. I got 15 straight wins before losing on the odd goal (2-3) against Valencia away. Real Madrid is a great team right from the start.
Thanks for reading this FM 2015 Real Madrid guide, stay tuned for more!

Subscribe to our Newsletter